Kingston Venturer Scouts readying for Jamboree in South Korea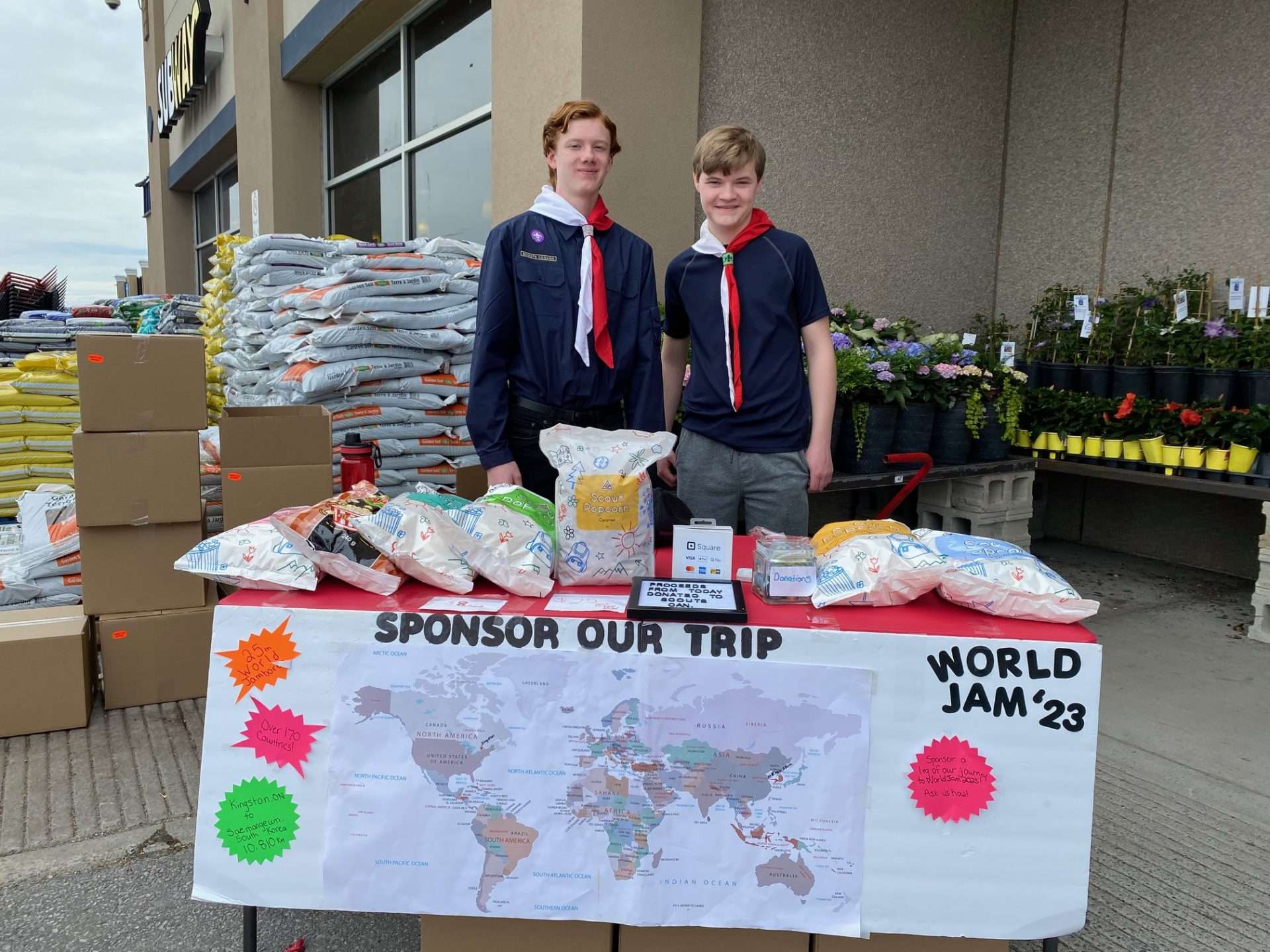 Once every four years, the Scouting youth of the world gather to learn from each other at the World Scout Jamboree. This year, they will meet in South Korea and a group of young men from Kingston will be there.
Venturer Scouts Brett Pruefer, Cole Cummings, Nicolas Gordon, Declan Longfield and their Scouter, Rob Longfield, all of the 1st Bayridge Company, have been working hard to prepare for the trip to the 25th World Scout Jamboree (WSJ 2023) on August 1 to 12, 2023, in SaeManGeum, Republic of Korea.
If you are not familiar with the word 'jamboree,' it generally means a boisterous celebration. Organized by the World Organization of the Scout Movement and held every four years, the World Scout Jamboree is certainly just that; The world's largest youth camp, the World Scout Jamboree sees tens of thousands of young people and leaders from 170 countries share culture, experience, and friendship and put concrete global citizenship into practice. Korea won a bid for the 25th World Scout Jamboree at the 41st World Scout Conference in Baku, Azerbaijan in August 2017.
In a newsletter, the Jamboree is described as a "once-in-a-lifetime experience that brings the entire world to your fingertips, where all Scouts can freely and enthusiastically share their cultures with one another in the spirit of the Scout Law. Each and every Scout has but one opportunity to attend a World Jamboree as a Participant."
The four Kingston boys and their Scouter will be joining more than 50,000 Scouting participants from over 170 countries. They will have the opportunity to meet Scouts from around the world, take part in exciting activities and have an amazing adventure.
Scouter Longfield has never been to a World Jamboree before, but he has been involved in some international visits here in Kingston.
"After the last Jamboree [in West Virginia], some Scouts from the UK visited Canada for about four days. And the local scouts in Kingston got to camp and spent four days with scouts from the UK and it was a very rare experience… it was pretty exciting. It was interesting to meet people from around the world. So, I think this is going to take that experience to a whole new level," he explained, noting that he anticipates there will be a lot of connecting with other international scouting youth at the upcoming event in South Korea.
"The jamboree is broken down into sub-camps… each unit is 36 youth and four adults and there's 50 of those, and in each little sub-camp you're very close to a couple hundred other kids. So making personal connections is strongly encouraged," Longfield explained. The Kingston contingent will be joining with groups from Ottawa.
Longfield said that other activities are planned by the team in Korea and will be based on scouting experiences there, giving the example of four years ago in West Virginia. "Because of where it was located, there was whitewater rafting and mountain climbing and mountain biking and ziplining. And so there'll be a lot of Korean culture to experience," he explained.
The 25th World Scout Jamboree will take place at a newly built campground in Saemangeum, Jeollabuk-do, South Korea, which encompasses 8.8 square kilometres. The largest section is 6.1 kilometres wide and 1.8 kilometres long. Stretching beside the West Coast near Byeonsanbando National Park, the huge Jamboree campground (35'42" N 126'35" E) is endowed with rich natural surroundings, and one side of the venue abuts the Yellow Sea.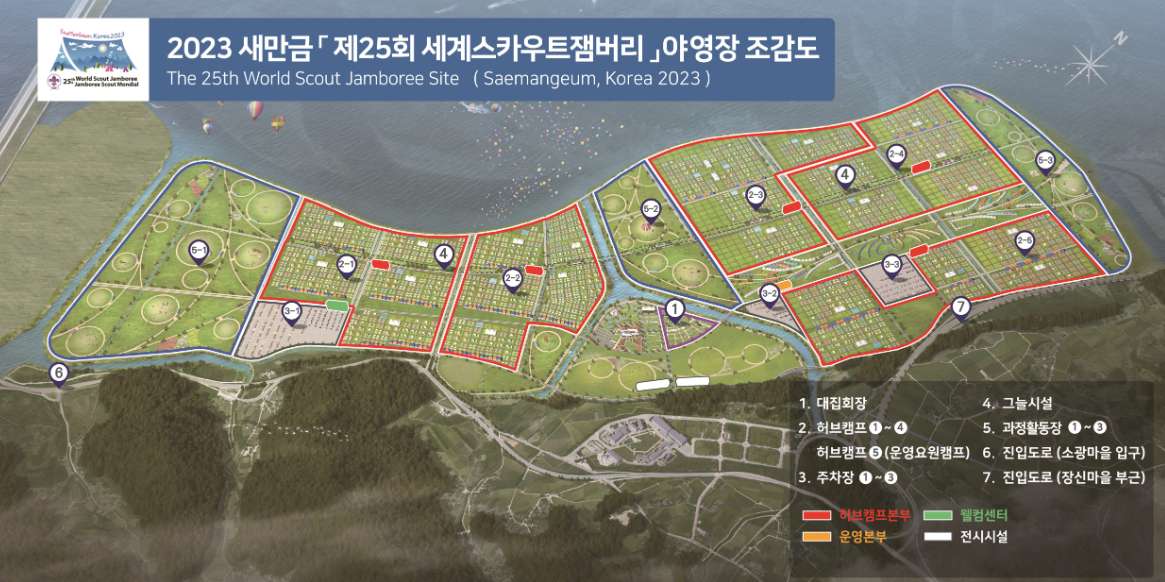 The WSJ23 website lists several "exciting adventures and challenges in Saemangeum's diverse natural environment… mountain biking, hiking, canoeing marine activities and… programs to experience the unique culture and traditions of Korea… [and] opportunities to experience cutting-edge technology. By sharing opinions about the problems of the world we live in, you will be able to broaden your thoughts on sustainable development. Above all, you can experience a wider world and understand various cultures by becoming friends and interacting with scouts from all over the world. You will have a chance to grow into a global active citizen through one of the best experiences of your life."
A trip of this calibre is not without significant financial undertakings, including roundtrip airfare, food, accommodations, insurance, and transportation in Korea. The website for the Canadian Contingent states, "This adventure is excellent value for the money and is also a once-in-a-lifetime unique investment in the life of a Canadian Venturer. Speak to anyone who has been to a World Jamboree and they will affirm this!" The cost listed $6,000 per person.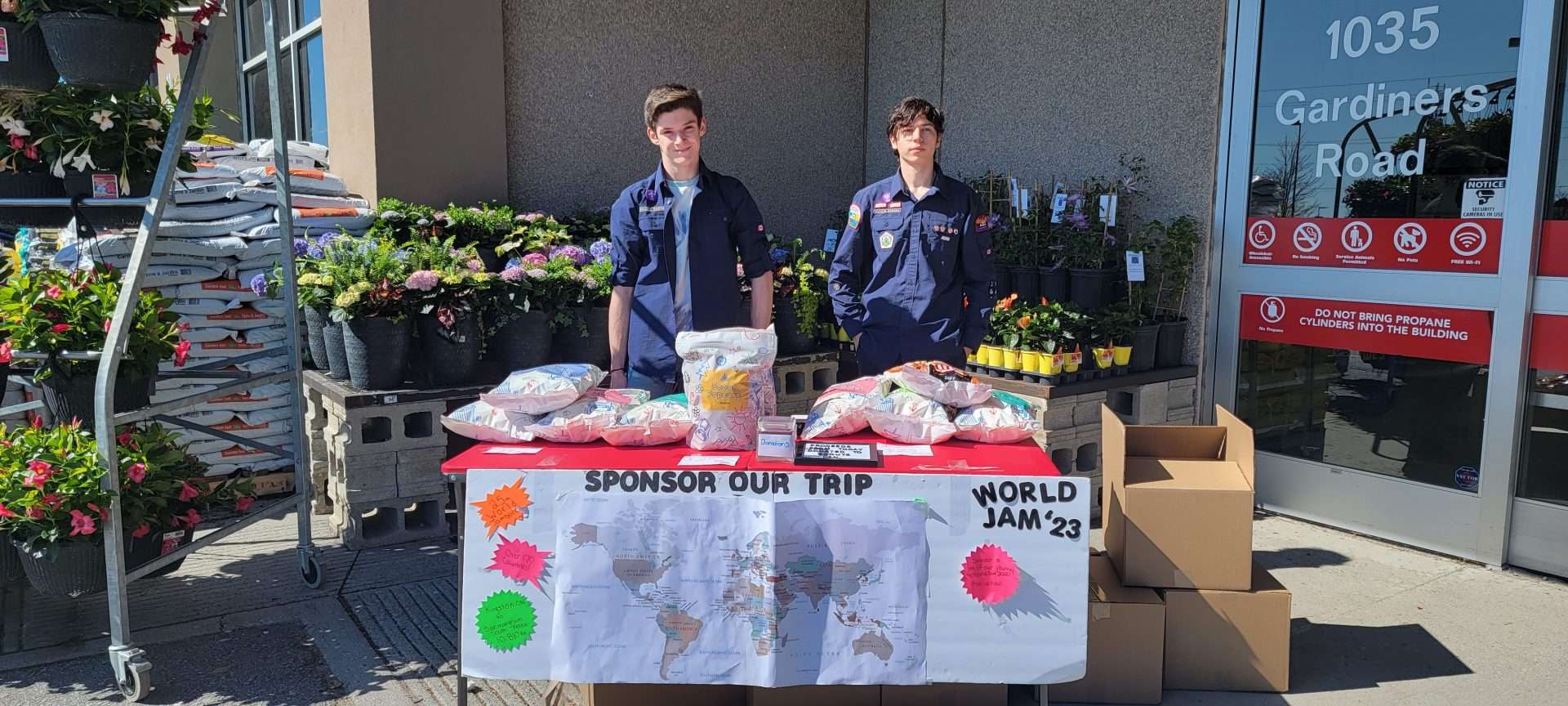 The boys have been doing as much fundraising as a group of four 16- and 17-year-olds can do, Longfield detailed: "We've done bottle drives, garage sales, bake sales… we have been selling and continue to sell Scout popcorn… and we did the 'chuck a pep' fundraiser and sold Scout Popcorn at the Kingston Frontenacs Game in the winter."
The Venturer Scout program for 15- to 17-year-old Canadian youth "provides an exciting and enriching experience… by setting and achieving goals, measuring progress… and realizing their potential as members of Canadian society," according to Scouts.ca. Venturer Scouts focus on the importance of developing character, and building a team that takes advantage of the entire skill set of the group, according to the organization.
"Venturer Scouts work together to ensure everyone reaches his or her personal summit. However, the main focus for the Venturer Scout is on personal development—a Solo Climb."
Visit the Scouts Canada's website to learn more. Those wishing to support the Kingston contingent to the Jamboree can do so online using Square.