Kingston spa raising funds for Alzheimer Society in memory of beloved father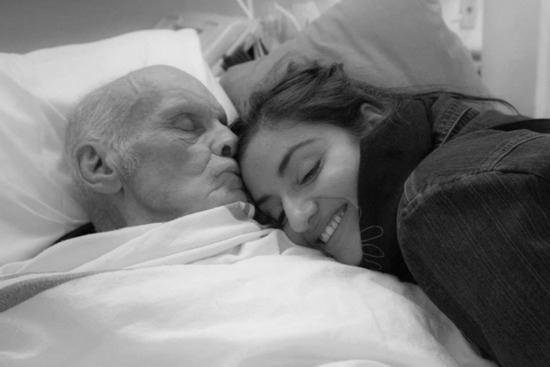 In memory of her father, Total Diva Boutique Spa owner, Andrea Latimer-Scahill, is partnering with the Alzheimer Society of Kingston, Frontenac, Lennox & Addington (KFL&A) to raise funds to help people diagnosed with dementia, and to raise awareness for the cause. The online Coffee Break & Silent Auction fundraiser will run from Monday, Nov. 29 to Saturday, Dec. 4, 2021, and is the first online fundraising event in a series of fundraising activities over the past five years in Kingston.
Two years before his passing, Latimer-Scahill's father, Gary Byron Latimer, was diagnosed with dementia. This was the primary reason she and Total Diva became involved in fundraising events with the Alzheimer Society in 2016.
"We had no idea that three days before the event, my dad would pass due to complications from the disease," said Latimer-Scahill. "I thought we would have to cancel the event. That night, I walked into the shop to see my staff and friends rushing around, putting together the auction tables and coffee bar, determined more than ever that this would be happening. [It] was a magical moment. [It's] something that means a lot to us at the Spa and continues to grow a little each year."
Before the pandemic, the Alzheimer Society's primary fundraiser was always in-person 'Coffee Breaks' — a few pennies or dollars for a cup of coffee and a conversation at many different establishments around the city. Crave Coffee House and Bakery also have a close partnership in this event, as the owner's father lived with the same disease.
"There would be large amounts of coffee flowing and trays of [Crave Coffee House] goodies. COVID has changed that for the time being, but there are still Crave gifts with all donations given," said Latimer-Scahill.
"The amazing feeling of community among small businesses that continue to donate every year is heartwarming and kind, and the fact the 100 per cent of what is raised goes to the Kingston and area Alzheimer's chapter and stays 100 per cent local to help our community is important to all of us, for various reasons."
Lesley Kimble, Fundraising Coordinator for the Alzheimer Society locally, said that there are currently 4,300 people officially diagnosed with Alzheimer's in KFL&A. That number is expected to increase to over 10,000 by 2031.
"We do know that there are more who are not diagnosed officially — people who perhaps are living in more rural areas where they don't have great access to healthcare or don't visit a family doctor regularly," said Kimble.
"Also, many people do not go to a physician immediately when they are experiencing memory loss issues. Some feel it's a 'normal' progression, especially If they are older, or they don't go because of stigma."
Kimble explained that stigma is a huge factor in getting a diagnosis, and in being open with people about your diagnosis or the diagnosis of a family member. The Alzheimer Society tries to educate the community about the disease to combat its stigma, hopefully leading to earlier diagnoses, deeper understanding, and better treatment.
More than 60 per cent of the Alzheimer Society's budget is derived from donations and fundraising activities. Funds are allocated to programs such as music and art therapy, support groups, one-on-one counselling, recreational activities, and support for caregivers and family members, something which has grown even more critical during this time of social isolation.
Donations being auctioned off include items and gift cards from many local businesses, artists, and individuals; a complete list of items available has now been released. The auction opens for bidding at 10 a.m. on Monday, November 29, and bidding closes at 5 p.m. on Saturday, December 5, 2021.
You can view the auction and place bids at: https://www.32auctions.com/TotalDiva.