Kingston Police investigating homicide at Bath Rd Legion
Kingston Police have now confirmed that they are investigating a homicide at the corner of Collins Bay Road and Bath Road and that one person has been arrested as a result.
Initially, Ontario Provincial Police (OPP) responded to the scene at approximately 11:30 p.m. on Friday, Oct., 28, 2022. Shortly after their initial response, Kingston Police were also dispatched to the scene.
"On Friday October 28, 2022 at approximately 11:55 p.m., Kingston Police responded to a call in regards to an incident involving a deceased person in the area of Bath Road and Collins Bay Road in Kingston's west end," Kingston Police confirmed in a written statement following Kingstonist inquiries.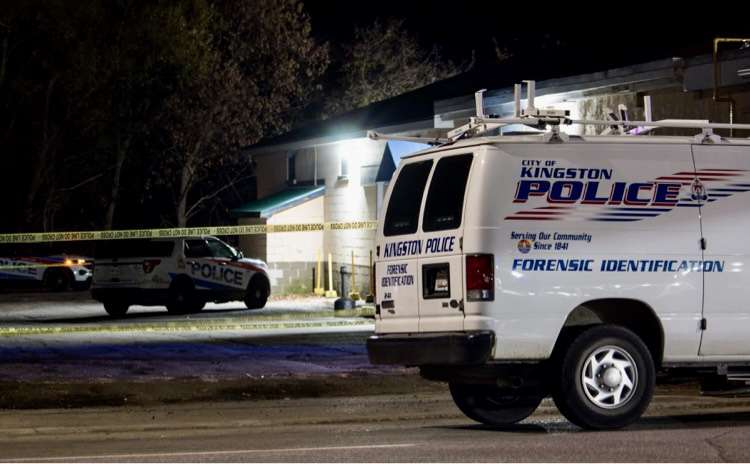 "The Kingston Police Criminal Investigations Unit was called in as the death was deemed to be a homicide," police confirmed. "Police have since arrested a 58-year-old male for one count of homicide and he is currently being held in custody pending a bail hearing."
The suspect, Anthony Whitlock, of Amherstview, Ontario, will have his next court date on Monday, Oct. 31st, 2022 at 1 p.m. He has been charged with Second Degree Murder.
Kingston Police have now identified the victim as Patrick Millar, 69 years old and of Amherstview, Ontario.
The Legion Branch building was taped off for much of the evening while Kingston Police detectives and the Forensics Unit investigated the scene.
At around 2 a.m., a single vehicle was towed from the Legion's parking lot. Its relationship to the incident has not been confirmed.
The Legion building remains taped off and closed as of 9:20 a.m. on Monday, Oct. 31, 2022.
Early on Saturday morning, Kingston Police had also blocked off and secured the Amherstview Golf Club on Golf Course Road, in Amherstview. Police confirmed that their presence was related to the homicide, however they could not provide any further information at this time. According to Flagstick Golf, club Amherstview Golf Club management confirmed that no staff or club members had been injured.
Whitlock briefly appeared in court on Monday, Oct. 31, 2022 but, following private discussion with his defense lawyer, his appearance was postponed to Monday, Nov. 7.
"Anyone with information in regards to this incident [is asked] to please contact Detective Constable Amanda Smith at 613-549-4660 ext. 6292 or by email at [email protected]," Kingston Police said.
You can also provide tips anonymously by calling the Kingston Police general number 613-549-4660 ext. 0 and asking to remain anonymous.
This is a developing story, check back for further updates.