Kingston Humane Society launches 'Meet the Misfits' program 
The Kingston Humane Society (KHS) announced their 'Meet the Misfits' adoption campaign to find homes for animals who may otherwise be overlooked by adopters on Monday, Aug. 19, 2019.
KHS described the 'misfit' animals as pets that "may not be the perfect fit for everyone, but they might be the right fit for you!" The 'misfit' pets have reduced adoption fees, and each pet is given a detailed and humorous bio for potential adopters to read.
Volunteer Michelle Lee described how KHS population manager Christie Haaima and other staff get to know the dogs before they become available for adoption through their medical exams, during their temperament test, and interactions while providing their daily care.
"The staff is always coming up with new ideas on how to showcase these animals," Michelle said. "With social media and the website, the animals' profiles can reach far and wide to find their new homes."

The ads praise 2 year old male cat Catrick Swayze for his "sublime dance skills" and "energy for days" and describe Dolce, an 11 year old female cat with hyperthyroid, as "Meryl Streep's alter ago" as well as a "firm believer of equality for all." Five year old beagle mix Gunner is said to "enjoy a cold beverage on a friday night" and "prefers Hank Williams over Garth Brooks."
Lee, who has been working with Gunner since July 2019, said that "he is rather vocal, but he's such a good boy otherwise. He's very playful, very cuddly, and has energy to spare." Lee said she looks forward to seeing Gunner "make an active, fun-loving family so happy."
Horace, a 6 year old Husky mix that has been at KHS since early June 2019 "loves to play fetch, splash in the pool, cuddle, and work for treats with the volunteers," according to Lee, but has not yet found a family as "he needs a very patient and experienced family. He does not like most other dogs and can be pretty vocal about it." However, Lee believes that Horace has great potential and that the right family "will see him as the treasure we do."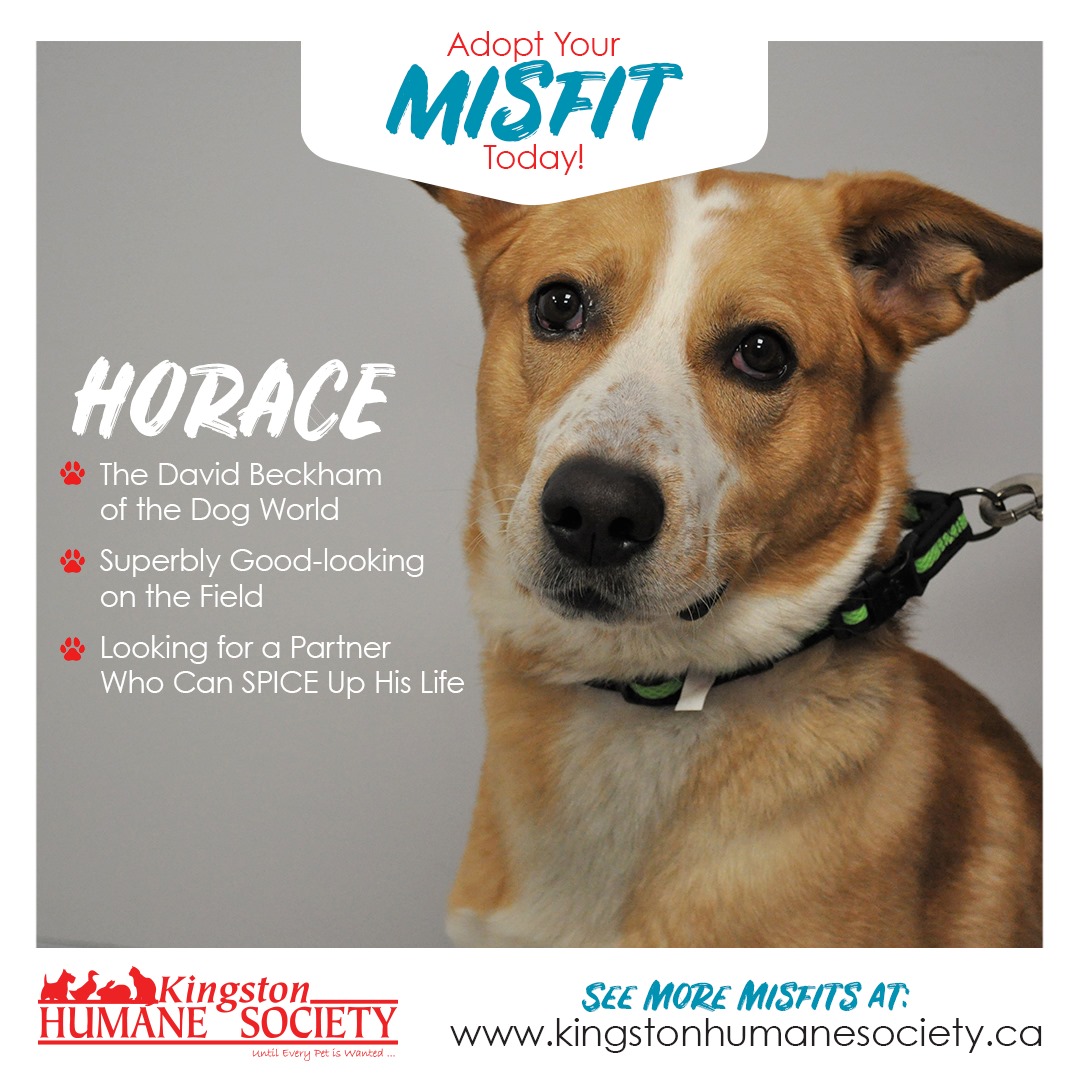 The program has already succeeded in finding one pet a home. After making an ad for Tucker (a 'misfit' dog Lee described as similar to Horace) and his "award winning smile," Tucker found "owners that saw the good in him and he's living his best life now."

"The other volunteers and I work hard at keeping them exercised, loved, and we work on basic training, but we are no substitute for a forever home," said Lee, describing how "heartbreaking" it was to see animals become "stressed and frustrated" after being passed over for adoptions and remaining in the shelter.
"If providing a little incentive and some extra publicity makes a potential adopter take a second look and be willing to see beyond how a dog presents in the kennel, it's well worth it," she said.

The adoption fee for Misfit dogs is $80 and Misfit cats are $40. Other animals who qualify for the Special Needs, Senior, or VIP adoption programs can also be adopted for a reduced fee. To see an album of the current available 'misfit' pets, visit the KHS Facebook page.
To inquire about adopting, fostering, or sponsoring a pet, apply on the Kingston Humane Society website at https://kingstonhumanesociety.ca or visit them at 1 Binnington Court between 11 a.m. to 6 p.m. on weekdays and 10 a.m. to 4 p.m. on weekends.