Kingston Health Coalition calls on Ford to 'correct critical condition' in LTC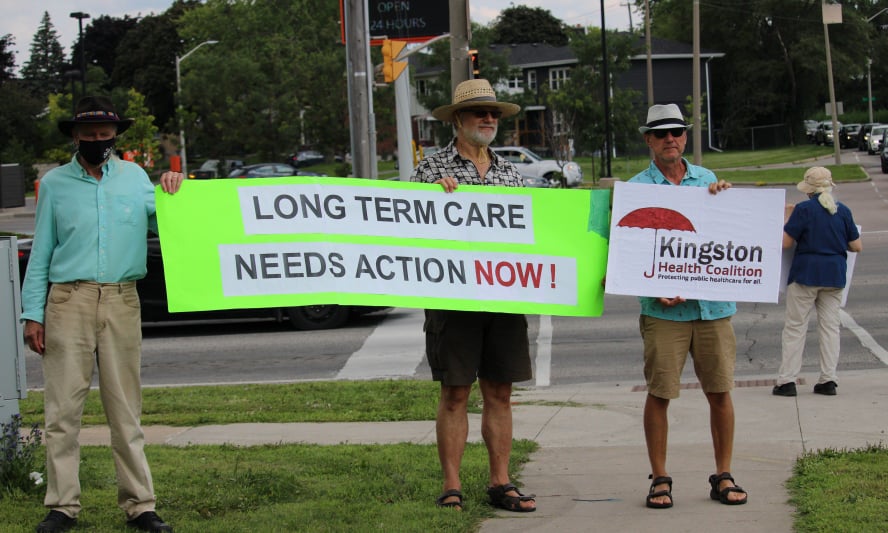 About a dozen demonstrators gathered at the corner of Sir John A. Macdonald and Princess streets Thursday, Jul. 22, 2021 to raise awareness of the "critical condition" in long-term care (LTC) homes.
"The Ford government has to take firm action to correct the critical condition [in long-term care homes]. He has to act quickly," said Matthew Gventer of the Kingston Health Coalition in an interview.
Quality of care of seniors in long-term care homes is the most pressing, most prominent issue, according to Gventer. Some things that need to be done include moving away from a for-profit model, ensuring a minimum four hours of care per resident per day, and for the government to deny renewing licenses for long-term care homes with "terrible records," he said, citing Orchard Villa in Pickering having had its license just renewed, even though it had a high number of COVID-19 deaths.
While Kingston's retirement homes have generally fared well, according to Gventer, "we're not just dealing with Kingston. What we're dealing with is the culture of the sector, [which] is distorted by the for-profit component, which plays a major role in long-term home care."
The critical issues that need to be addressed include inadequate staff at retirement homes — particularly personal support workers (PSW), lack of enforcement of inspections, and insufficient work hours given to staff.
"[Some] seniors have dementia. It's very common for seniors in long-term care to have hydration problems, fall problems," said Gventer.
He describes a situation when staff in retirement homes are pressed to deliver quick results, but are unable to do so because they are short-staffed.
"When someone is running a red line, and they're helping someone in the washroom in a high pressure situation, when they [have to] leave the person in the washroom to help another staff member, the fall prevention plan where they're not supposed to leave a person alone [is not followed]."
Gventer said, should the resident fall, the staff member is chastised, criticized, possibly fired. This situation is not unusual, he said. "It's a common problem when you're short staffed."
A four-hour minimum care plan for seniors would ensure that staff follow hydration plans, incontinence care, and address social interaction needs for residents.
"Many of them are isolated," Gventer expressed, noting that the time was right to stage a demonstration.
"We want to press the government to do something, to do the right thing. The Ford government has many connections—political connections—with long-term for-profit sector."
Being top of people's mind is part of the reason the coalition is demonstrating, with more demonstrations planned over the coming weeks.
Looking forward to the next election, Gventer said that he will judge candidates based on their commitment to dealing with long-term care.
The Kingston Health Coalition is an affiliate of the Ontario Health Coalition, a non-profit, non-partisan public interest activity coalition and network whose primary goal is to protect and improve Canada's public health care system, according to their website. For more information, visit https://www.ontariohealthcoalition.ca/.