Kingston Frameworks presents 'We Remember: 100 Years of Kingston'
There are many ways to define Kingston – A university town, a tourism hub in eastern Ontario, a city rich in national history – but one thing that is undeniable is this city's connection to the military.
This is evident when looking through historic images of Kingston. Not only does the city boast an incredible array of significant military buildings, and, of course, CFB Kingston, but, when one looks through historic photos of Kingston, there's another theme that stands out: most of the very best aerial photographs of the old Limestone City were taken by two of Canada's most decorated members of the military, WWI Air Aces Billy Bishop and William Barker.
Those at Kingston Frameworks are very familiar with these images. The locally-owned framing studio and gallery works in partnership with Queen's Archives to offer framed prints of historic photos of Kingston to the locals and tourists that love the city. In looking over the breath-taking images of Kingston taken by the two celebrated WWI pilots, Wayne and Colin Morris, the father-son co-owners of Kingston Frameworks, realized something significant was coming up – something so significant, they knew they had to act on it.
Recognizing that it has been 100 years since the time the Billy Bishop and William Barker aerial photos were taken, the Morris' wanted to be able to show the then-and-now of Kingston. That's when they approached Jay Bridges, a local photographer, to recreate the photos taken by Bishop and Barker in 1919.
"He does drone flights, and he's just really got a great eye for landscapes, cityscapes, and just in general. He's a really great photographer," Colin said of Bridges. "And he agreed."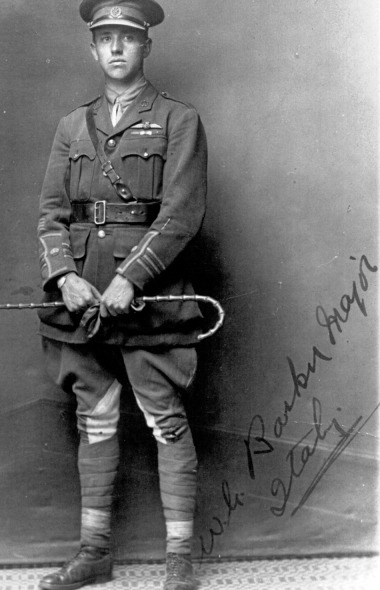 At first, the Morris' were planning on having an event at Kingston Frameworks to allow the public to see the images side-by-side when the new aerial photographs were unveiled. However, as they considered the fact Remembrance Day and Veteran's Week were approaching, the concept became far bigger and more involved. They connected with the Kingston Military Family Resource Centre (KMFRC) and Personnel Support Programs (PSP) of the Canadian Forces Morale and Welfare Services (CFMWS), and, through those connections – as well as a lot of research and time going through images at Queen's Archives – they created a uniquely-Kingston event that will offer a once in a lifetime experience.
"We wanted to create an immersive experience for people," Colin said of We Remember: 100 Years of Kingston. "We decided that, by making the event a fundraiser for MVP+, the event would really speak to connecting the then-and-now of the military community in Kingston."
MVP+ (Military Veteran Program), is a fairly new health and wellness program designed specifically for military veterans.
"The MVP+ program was developed to ensure that we continue to provide veterans with access to both facilities and programs at CFB Kingston," said Lesley Lehman, Partnership Development Specialist with PSP Kingston, and Director of KMFRC.
Taking place at the Warrant Officers' and Sergeants' Mess at CFB Kingston, We Remember: 100 Years of Kingston will serve as the official unveiling of Bridges' 2019 aerial photographs of Kingston, presented alongside the images taken of the same places by Bishop and Barker 100 years ago. At the same time, the event will offer street-level photographs of Kingston a century ago, allowing those in attendance a better understanding of what the city looked like when Bishop and Barker were shooting photos of Kingston instead of shooting in dogfights.
"We've got even more great photographs from that time period so you can see Kingston from the streets – you'll see horse-drawn carriages next to cars, next to the old tracks with the trolley on them going right down Princess Street," Colin said, clearly imagining some of the photos in his head with excitement.
"It was an incredible time. And I can tell you from experience, having sifted through the Queen's Archives images myself: Only five years before that, Princess Street was a dirt road with mostly horses on it. It's amazing the amount of transformation that happened in that post-war boom."
And while the focus of the event is on celebrating the men and women of the armed forces, their history and connection to Kingston, and the history of Kingston itself, there's another reason the event is so special to the team at Kingston Frameworks, Colin explained.
"For us, we really appreciate what people in the military do from a different sort of perspective. Veterans come into our store, and they shadow box their careers," he said, pride evident in his voice. "That includes their medals, their decorations, their photographs, their stories, and their artifacts, like swords and even bullet casings."
It is in practising their art that those with Kingston Frameworks have come to be so connected to the Kingston military community, he expressed.
"We always try to be very tasteful about it… We help them remember why they did it all. Because we know they went through a lot," Colin said.
"In doing that, we get to hear the stories of these men and women. Their history is now as much a part of the store as anyone else in Kingston."
And as someone who has seen images of Kingston through the decades for most of his life, Colin said he's been "completely floored at seeing the transformation" the city has made over the past 100 years. It's an experience he feels a lot of Kingstonians will find both interesting and moving.
That experience, paired with amazing food, drink, and 1920s music in the beautiful Mess Hall is sure to transport attendees, and an ideal way to kick off Veteran's Week in advance of Remembrance Day in an exciting and meaningful way – and with proceeds going directly towards helping the men and women who have served this country.
"I hope people in Kingston really feel the impact of this," Colin said. "History is our story, and when you actually connect with that, there's a certain amount of pride that comes with it."
Sponsored by the Bank of Montreal (BMO) and Queen's Archives, We Remember: 100 Years of Kingston, a military veterans' fundraiser, will take place on Friday, Nov. 1, 2019 from 4:30 to 6 p.m. Refreshments and a beverage ticket are included in the $50 ticket price (those 18 and under get in free). There will also be a Kingston-landmark-themed contest where participants will look through photos, locate specific landmarks, and fill out a bingo card to be eligible to win a print of one of the new aerial photos of Kingston.
Tickets to We Remember: 100 Years of Kingston will only be available until Tuesday, October 29, 2019. For more information, visit the We Remember: 100 years of Kingston event page on Facebook. To get tickets through EventBrite, click here. Tickets are also available at Kingston Frameworks and BMO locations throughout the city.
This article is sponsored content.