Kingston City Council to consider options for Encampment Response Pilot Project
At a special meeting on Thursday, Jun. 29, 2022, members of Kingston City Council will debate options related to a proposed Encampment Response Pilot Project, after Council directed staff to pause the City's eviction protocol and evaluate options for a six-month encampment pilot project.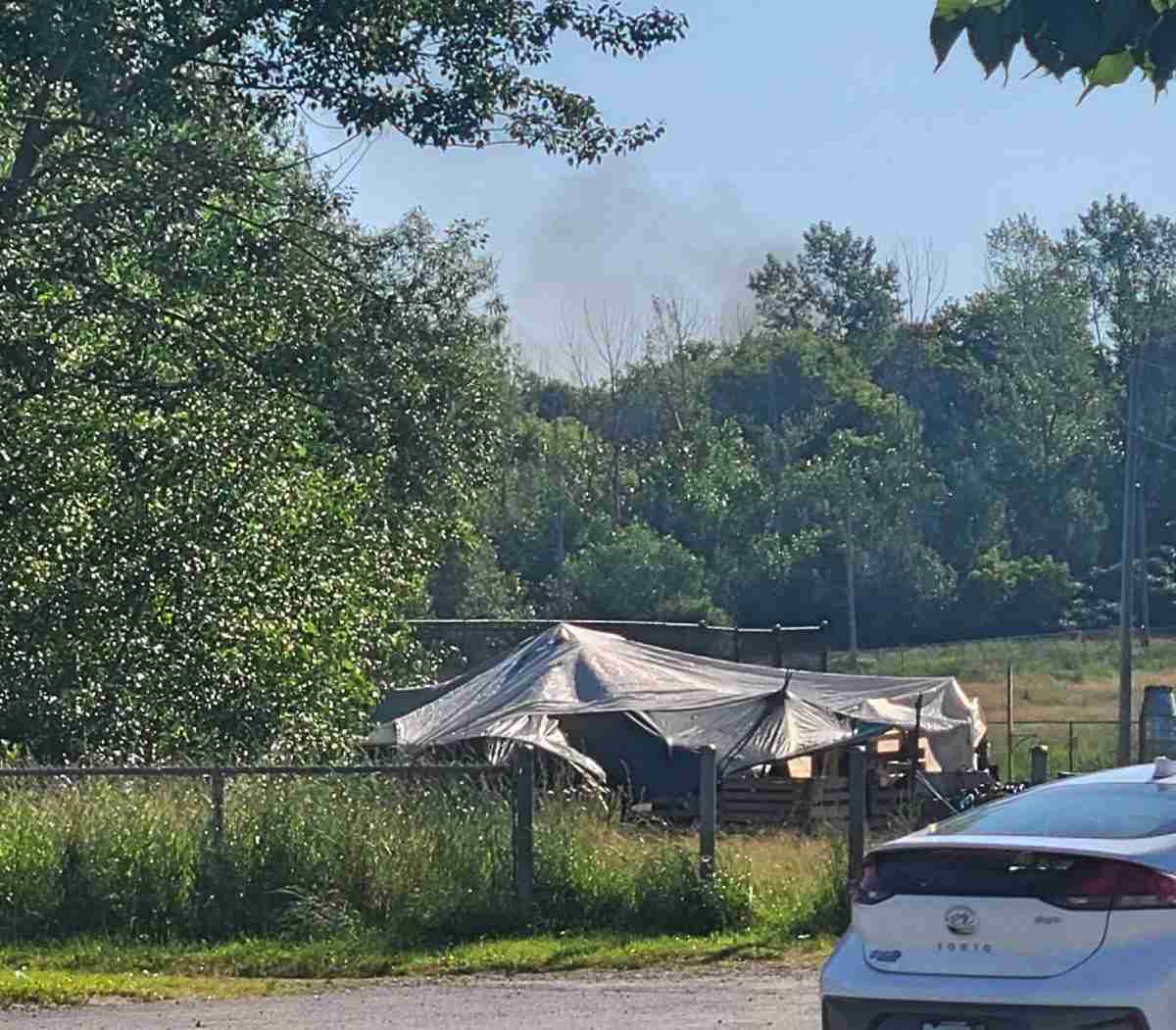 The call for exploration of options came about as rumours began to circulate earlier this spring that the City was set to evict people camping at and around the Integrated Care Hub (ICH) on Montreal Street in May 2022. In 2020, encampments of unhoused people began popping up at the ICH and Belle Park. While the City of Kingston initially allowed the shelters to stay in place throughout that spring and summer, officials cleared the Belle Park encampment in September 2020.
With Kingston's unhoused population continuing to face challenges finding safe and secure shelter space, many have once again set up camps behind the ICH. At next week's special meeting, Council will hear from City staff about the various options, as well as locations they have identified for a more permanent encampment. In total, councillors will have five different options to choose from.
The first three options would see "sanctioned encampment [sites]" permitted at either the ICH, Belle Park, or a third location, which has yet to be determined. A fourth option would see some combination of the first three proposals. Meanwhile, option five would see the City continue with an outright ban on encampments on public property.
Each of the relocation options would see a slight delay between now and implementation, with the ICH option set to begin August 15 (with an estimated cost of $209,800), while relocation to Belle Park would be ready starting July 15 (with an estimated cost of $74,200), according to a report that will go before Council at the meeting. "The time frame for the official start of the encampments is based on time required to source and install amenities as well as get individuals registered and organized," the report noted. The first four options would all see the encampments stay in place until November 15.
Should Council approve one of the first four options, staff have recommended that councillors approve additional rules and regulations for the encampments, including the size of campsites and what behaviours are to be permitted among residents. These regulations were proposed in response to complaints from those residing near the ICH site who expressed "[concern] for their safety due to behaviours exhibited by unhoused individuals."
That matter is quite likely to be on the councillors' minds Wednesday night, and for good reason, as both Kingston Fire and Rescue and Kingston Police have responded to multiple incidents over the last few weeks at the encampments.
Of note this week alone, Kingston Fire and Rescue responded to a call on Monday, Jun. 20, 2022 at approximately 10:00 p.m. of a reported brush fire on Wellington Street, adjacent to MetalCraft Marine. That fire led to a small explosion, the local fire department stated.
"On arrival, fire crews observed a brush fire. Fire crews quickly extinguished the fire," Kingston Fire and Rescue relayed via email.
"The cause of the explosion [was] two small propane cylinders that vented due to heat from the fire."
According to Kingston Fire and Rescue, no injuries were sustained as a result, and no nearby buildings were damaged. The propane cylinders were property within a small encampment at the site, an area resident shared.
"I've been asking the City to address this encampment for weeks and nothing has been done," said the area resident, who will remain anonymous. "When is the city going to enforce the laws and stop these illegal situations? I can't walk my nine-month-old son by the river without being accosted or threatened."
And today, Friday, Jun. 24, 2022 – the same day the City of Kingston published the agenda for the upcoming Special Council Meeting – Kingston Fire and Rescue and Kingston Police both responded to calls regarding a fire within Belle Park. Concerned residents had called both services after thick, dark smoke was spotted in the area at approximately 8:38 a.m.
"On arrival, fire crews proceeded on the gravel service road and observed heavy smoke and flames in the wooded area near Belle Park Island," Kingston Fire and Rescue stated.
"Firefighters worked quickly to extinguish the fire. No injuries were sustained, and no buildings were damaged. Due to the circumstances surrounding the fire, Kingston Police has been advised of the incident."
For their part, Kingston Police confirmed this account.
"[Kingston Fire and Rescue] attended and put out a small fire outside at this location. Individuals had been burning the small fire," said Const. Ash Gutheinz, Media Relations Officer for Kingston Police, noting that no arrests were made.
"Police spoke with those involved."
In total, since the beginning of June 2022, Kingston Police have responded to 11 calls for service at the ICH property, one of which was for an assault. Police have been called to Belle Park five times in the month thus far. Kingston Fire and Rescue have responded to four calls to the Belle Park area in the last week.
Staff have also called on Council to allocate up to $358,200 from the Housing and Homelessness Reserve in order to "support the establishment and maintenance of encampments, including amenities and services."
Alongside the various encampment options, the report also recomends that Council approve five additional sleeping cabins at Portsmouth Olympic Harbour, as well as additional funding for the Home Ownership Program within the Housing and Homelessness Reserve.
Since the May meeting, staff have engaged with members of the community, including those residing at the existing encampments as well as neighbours of the ICH and other sites. The report found that people currently living at the encampments were "generally positive" regarding the establishment of a dedicated pilot project. In terms of location, the report noted that some encampment residents felt a need to be close to the ICH and the services it offers, while "others would prefer to not be there."
With regard to response from community residents, including neighbours of the ICH, the report noted that residents "shared… a variety of challenges they have experienced over the last few years since the ICH has been located in the neighbourhood." According to the report, area residents suggested that "a variety of encampment locations should be considered to allow for smaller, more manageable camping locations."
Along with the establishment of an official pilot project, staff have also recommended that Council reinstate the encampment protocol, which provides a framework for by-law officers to remove individual encampments from City property, "once alternative service options have been provided to individuals." The protocol was paused last November alongside the rise of the COVID-19 Omicron variant wave in Kingston and its impact on the city's unhoused population.
"Even though the official implementation date of the pilot encampment sites would not start until mid-July, staff are recommending that Council [reactivate] the encampment protocol and associated by-law on June 30 to avoid further public concerns related to safe use of all other public spaces," the report stated.
Alongside the options for an encampment pilot project, the report to Council also mentioned a number of additional housing options and shelter spaces which will be coming this fall. "The options identified in this report provide an additional 54 transitional supportive housing units, including additional sleeping cabins, temporary housing units at 805 Ridley Drive, and scattered transitional housing units in partnership with not-for-profit organizations."
As of Jun. 1, 2022, the City has identified 203 homeless individuals as per its "By Name List." According to the report, there has been a "slow but steady decline in the By Name List over the last five months," which the City attributed to "new transitional housing solutions such as sleeping cabins and Tipi Moza Indigenous transitional supportive housing that the City worked on introducing with community partners in early 2022."
With files from Tori Stafford and Phillip Stafford.