Kingston cab companies battle Taxi Commission over 'poisoned pill' price hike
The owners of Kingston's largest taxi companies are so upset by a 40 per cent increase in fare charges imposed upon them by the Kingston and Area Taxi Commission (KATC), they are refusing to collect it — despite threats of fines and loss of licencing. The drastic rate hike, they fear, could equal a severe drop in business and the possible death of the industry in Kingston.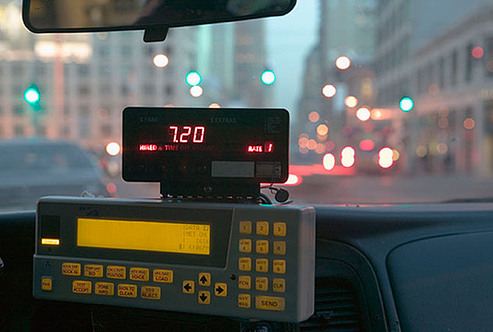 In a Report of the Kingston Area Taxi Commission Spring 2022 published on April 11, 2022, the KATC confirmed to the public and The City that it would be imposing a fee increase. "In response to concerns raised by the Industry about increased gas costs and general inflation, the Commission convened a special meeting on March 23, 2002 to consider submissions from the Industry and Public on increases to fares and the associated drop rate. The consensus was that there urgently needed to be an increase to assist the industry in dealing with these costs." (The KATC became nearly autonomous as part of ongoing negotiations between the Commission and City, through City Council, with regard to rideshare regulations. The bylaw that dictates this authority, 'By-Law Number 2022-06, A By-Law to
Regulate and License Transportation Network Companies in the City of Kingston,' will be discussed again in Council Chambers on Tuesday, May 3, 2022.
While the increase was indeed asked for by most members of the industry, including company owners, Brian Campbell of Modern City Taxi and Mark Greenwood of Amey's Greenwood Taxi, the 40 per cent jump in price was a surprise to everyone.
"Amey's and Modern Taxi, along with the majority of taxi owners and drivers, are against this massive increase, as it will hurt our customers, thus, the taxi industry as a whole," Greenwood wrote in an announcement to his customers on Monday, Apr. 4, 2022, after the increase was made known to him. "We approached the commission for a 20 per cent raise due to the effects of inflationary costs on both owners and drivers. This 40 per cent increase was pushed through by the commission."
Greenwood alleged that the Commission based its decision on, "a survey of the public (of approximately 120 people) and a petition from the industry asking for a substantial raise – which most assumed was 20 per cent, not 40 per cent… I firmly believe this massive increase is not supported by the public or the taxi industry, and will hurt our industry and the public."
Greenwood reported, "I wrote a letter [to the KATC] saying that the owners and the drivers do not want a 40 per cent increase, it would make [our prices] higher than the ride shares and basically kill our business, and the public doesn't want it." This, he said, is when KATC "just doubled down" and stopped listening to the taxi companies.
Reached for comment, Brian Campbell, Co-Owner of Modern City Taxi, expressed extreme frustration with the Taxi Commission. "This commission is made up of people with nothing at stake and here we are trying to just provide a public service… we thought a 20 per cent [raise in prices] would be reasonable. And given the landscape of what's going on, and why they want to take this giant leap… do [they] want to harm us?"
"This Commission, whose time we believe has come and gone," Campbell continued, "recently, they've changed the bylaw. They're going to give us fines of tens of thousands of dollars, maybe even shut us down [for not complying with the rate increase]. And we're like, 'well hang on a second here, it was only a handful of months ago KATC were fining Ubers, bandit taxis, whatever, who were actually breaking the law, and those fines were only in the hundreds of dollars and then after dancing around with those for a couple of years they threw them out.'"
"We've been in business since 1939 and Mr. Greenwood's company is celebrating its 100 anniversary this year and, after a century of service, [the KATC] are coming after us now for not wanting to swallow a poison pill of 40 per cent that is going to harm our industry?" he said, his frustration palpable. "I mean, we've got people that depend on our service, whether it's the [going to] cancer clinic or getting to work, or the single mom at two o'clock in the morning with an ill child. I mean, she's going call a cab to take child to the hospital. What about the gentleman that just had heart surgery and had his driver's licence suspended for three months because he can't wear a seatbelt? This is how it works. The service we provide, there are people out there who need it for a multitude of reasons."
KATC, for their part, have told both Greenwood and Campbell that they don't represent their employee's best interests. Commissioner Steven Fraser raised a complaint at a publicly-broadcast meeting of KATC on Wednesday, Mar. 23, 2022.
"Is there a reason that [taxi owners and drivers] are not communicating directly with the Commission?" he posed. "We do require having names and — just like every other organization that deals with public money — we have to justify everything that we do with names of people who say [they oppose the increased rate] in order to verify their opinions, rather than listen to the company representatives."
This was reiterated multiple times by Commissioners at their April 2022 general meeting, which was also broadcast on Facebook.
To this end, Greenwood has formally petitioned his drivers and brokers, and over 90 per cent of signatories saying they are opposed to the 40 per cent hike.
"There is a major problem with clarity and communication here," asserted Greenwood, pointing to the political jargon used by the Commission in missives and meetings, which might be daunting to many drivers and cab owners. "It's no wonder people have a hard time approaching [the Commission]. We got a nasty letter from them saying that they are going to impose [these fines based on new bylaws]… I said, 'what are these eight bylaws, and when were they discussed?'"
According to Greenwood, the KATC responded that he'd have to watch the Commission's Standing Committee meetings, which are "five-minute meetings on Facebook where they don't explain the decisions they are making," and the ideas discussed are referred to solely by their bylaw numbers.
"I wrote them back, and I said, 'I don't get it, the drivers don't get it, the public doesn't get it. No one has any idea when you refer these bylaws… we have no idea what you're actually trying to pass,'" he shared.
Greenwood said he also finds it strange that much of the work of discussion seems to be done by a Standing Committee of just three members – Joseph Dowser (Chair), Dianne Aziz (Secretary-Treasurer) and Councillor Simon Chapelle (Kingston City Council representative) – and not by the entire group of membership of the Commission. (There are seven members on the Commission, the four aforementioned members, as well as Joseph Abreu (Commissioner), M. Renee Belzile (Commissioner), and Mike Budarick (Loyalist Township Council representative).
Greenwood asserted that, at meetings of the smaller Standing Committee, unpopular ideas are discussed and decided upon by these Dowser, Aziz, and Chapelle, and then fed to the other Commission members as 'done deals.'
"One of them was to impose fines on us, the same as Toronto and Ottawa have – fines up to $50,000 for the company, and up to a $25,000 fine for executives of the company… This is ridiculous," Greenwood said, pointing out that, in Toronto and Ottawa, there are thousands of taxis, while here "there are only 212 cars in the entire city, so this fine is extremely disproportionate, and it's heavy-handed."
Watching their Facebook meetings, it is hard to deny Greenwood's point about communication. On April 20, 2022, he was continually talked over and spoken down to by Commissioners Dowser, who kept making points of order and accused Greenwood of, "misleading your industry in order to gain your opinion," as well as Aziz, who insisted, "the commission is really quite confused as to why you have a public campaign and refuse to implement the increases that you and your company supported," despite reams of official letters that show the contrary on both counts.
For his part, Campbell was not allowed to speak at all because his application to present as a delegation was 40 minutes overdue. "They play games… This is all part of it… What a clown show," he griped.
As the situation has unfolded, members of the public have wondered how the members of the KATC are appointed. The City Clerks' office explained that the City receives applications from public members to serve on the Commission and City Council considers for approval appointments to the Commission, as recommended by the Nominations Advisory Committee.
Councillor Simon Chapelle, Kingston City Council's representative on the Commission, did not respond to email requests for an interview on the matter. Instead, Aziz responded, providing several documents and indicating she was to be the media point of contact for the Commission.
Quite the opposite became apparent, however, when attempts to achieve clarification of several discrepancies, between the reports themselves and the recorded meetings, were met with resistance by Aziz. One of the points of clarity requestion was regarding the sudden and recent imposition on the Taxi drivers of a stricter, more formal dress code where they could no longer wear shorts or shirts without collars.
"Dress Code" was not an item for discussion on any of the agendas posted by the Taxi Commission in 2022, and no minutes from those meetings have been posted publicly. Asked when this matter was discussed, Aziz denied that there had been any changes beyond the specification that no ripped jeans should be worn, when that was clearly not the case based on their own documentation. She also would not say when this was discussed at a public meeting.
Calls to the KATC office in an attempt to speak to the Taxi Licensing staff and Taxi inspector were met with a reprimand by Aziz, who insisted that all media requests must be vetted by her (no explanation for this was provided).
A second attempt to speak with Councillor Chapelle on behalf of the people of Kingston went unanswered, as did an attempt to speak with Loyalist Township Councillor Budarick on behalf of the people of Loyalist.
A request for a conversation with Aziz by phone to get clarity on several issues, including the name of the current Taxi Inspector, discrepancies between reports, and why some subjects seem to have been discussed behind closed doors, were met with Aziz's last communication with Kingstonist: "The commission does not do interviews."
Further requests for additional information and clarification received no response.
The matter of ride share regulation and the KATC's authority over both local taxi services and ride share services will be discussed again at City Council tonight, Tuesday, May 3, 2022, when Council will receive a report, which includes an update on, "negotiations arising from a proposal dated January 31, 2022, which has been received from the Kingston and Area Taxi Licensing
Commission ("KATC") seeking agreement in principle to a transfer of aspects of administration and enforcement of By-Law Number 2022-06."
This is a developing story. Kingstonist will continue to monitor this situation and provide updates as more information becomes available.