Kingston area rugby players sweep bronze medals at Ontario Summer Games
Several young rugby players from the Kingston region are wearing new hardware this week following a trip to the Ontario Summer Games (OSG) in Missisauga, where the Eastern Ontario Rugby Union U15 and U17 Seven-a-Side (7s) teams swept the bronze medals.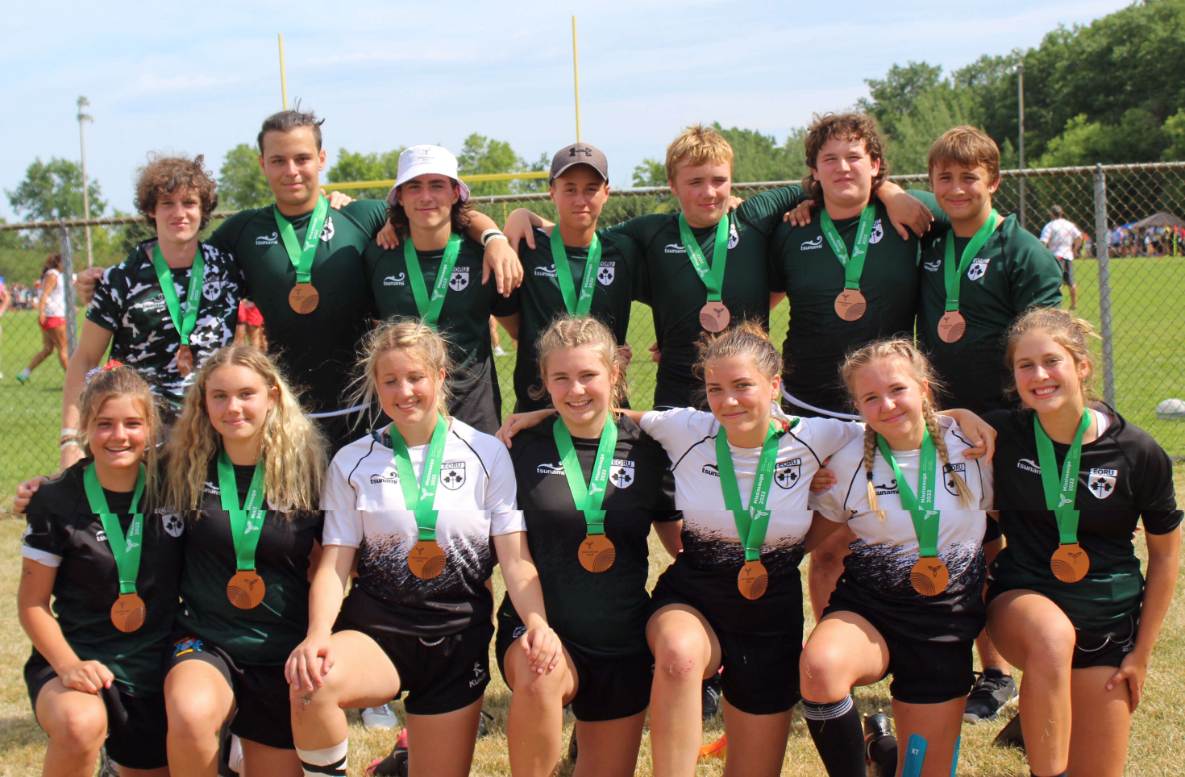 The Rugby 7s competition featured teams from all four Rugby Ontario branches: the Eastern Ontario Rugby Union (EORU), the Niagara Rugby Union (NRU), the Southwestern Ontario Rugby Union (SWORU), and the Toronto Rugby Union (TRU). Each branch fielded U17 and U15 boys and girls 7s teams in the event.
Kingston Panthers Rugby Football Club (KPRFC) member Anna-Claire Young of Napanee only started playing rugby this year as a ninth grader at Holy Cross Secondary School in Kingston. In fact, the whole EORU U15 team only got together in early July for the first time, explained Young. "[The players] came from all different schools. There were girls from Ottawa,… from Belleville, and everywhere."
Young said it was exciting to take part in the OSG opening ceremony on Jul. 21. The athletes paraded into Celebration Square through a tunnel to the cheers of the crowd and were able to see themselves on a giant screen. This was followed by a torch lighting ceremony and an indie rock concert by the Toronto-based Juno award-winning band Monowhales.
This year marks the 26th OSG since the games' inception in 1973. Over 3,500 athletes, coaches, and officials took part in the event, which ran from Thursday, Jul. 21 to Sunday, Jul. 24 and involved nearly 20 sports, including archery, baseball, golf, lacrosse and rugby.
Cameron Gunn, Director of the junior boys program at Kingston Panthers and one of the junior boys coaches, couldn't be more excited for the players who made the EORU teams. "We are really proud of the kids," he said. "They have worked very hard at a sport that they love, and were rewarded with a great experience in Mississauga. It really felt like a mini-Olympics, and they represented Kingston and Eastern Ontario with class and integrity — and most importantly, they had a blast."
Young says it was an amazing opportunity, "It was really fun. I got to meet lots of great athletes and coaches, and learn a lot more new skills." She said even the accommodations were "great" with "extra soft beds and pillows," and she enjoyed having fun with the other athletes at the hotel.
Young, who has previously played a lot of soccer, said she enjoyed learning to play the game of rugby this year and has big plans to try more sports: "Next year, I'm going to go for football."
Why did so many young rugby players from the Kingston area make the Eastern Ontario Teams? Gunn explained, "Many people don't know that we have a very strong rugby tradition in Kingston. With the successful programs at Queen's and SLC (St. Lawrence College), we have an incredibly strong coaching pool, and a lot of players and staff for these young club and high school players to look up to and help them achieve their goals."
Along with Anna-Claire Young, the EORU U15 Girls team included KPRFC's Teagan Hulse, who is going into grade 10 at Frontenac Secondary School (FSS); Ella Simpson who is going into grade 10 at Napanee District Secondary School (NDSS); and Abby Saunders, who will go into grade 10 Kingston Secondary School (KSS).
Kingston Panthers on the U17 Girls team were Claire McConnell, who is going into grade 11 at NDSS; Savannah Shay, who is going into grade 11 at Sydenham High School (SHS); and Willow Snider, who will go into grade 11 this year at La Salle Secondary School (LSS).
Impressively, this was the first year playing rugby for most of these young athletes.
The EORU U17 Girls coach was Jocelyn Poirier, a former KPRFC Jr girls coach, current SLC Women's coach, and newly appointed Manager of Rugby Development with Rugby Ontario. She is also a former Queen's University Women's rugby captain and longtime player with Kingston Panthers.
Representing the Panthers on the EORU U15 Boys team were Duncan Gunn and Liam Thompson, who are going into grade 10 at KSS; Philip Peroff, Aodhan Woogh-Dunleavy, and Kaleb Rooyakker, who are going into grade 10 at FSS; Duncan MacDonald, who is going into grade 9 at LSS; and A.J. Carscallen who is going into grade 10 at Bayridge Secondary School. Many of the boys have been playing for several years with KPRFC, some since they were four years old.
The coach of the U15 Boys team was Denis Aseltine, head coach of the Panthers senior men's team. He also coaches with the Panthers junior boys program and is the head coach at KSS, head coach of St Lawrence College men's team, and OCAA Coach of the Year in 2021.
Jack Ward, who is going into gr. 11 at KSS, represented Kingston on the EORU U17 Boys team and also took home a bronze medal. This was his first year playing rugby.
A full summary of the results can be located on the 2022 Ontario Summer Games website. You can find out more about the Kingston Panthers Rugby Football Club by visiting their web page and following their social media.