KFPL's Climate Feelings Circle will address emotional responses to climate crisis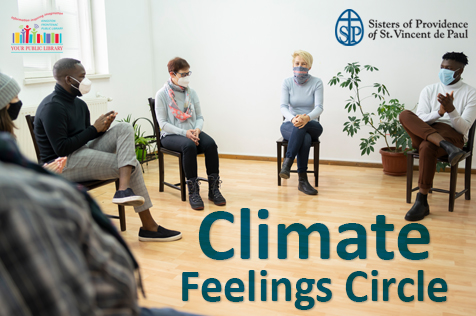 The Kingston Frontenac Public Library (KFPL) has partnered with the Justice, Peace and Integrity of Creation office of the Sisters of Providence to offer the Kingston Climate Feelings Circle.
According to a release from KFPL, the Circle will be a space to connect with other community members experiencing heavy and strong emotions around the impacts of climate change.
The library said that it's not a surprise that many individuals are feeling scared, angry, sad, or stressed when considering, or experiencing, the effects of climate change. They hope to support the community, saying, "If that sounds familiar to you, you don't have to carry those feelings alone."
"Climate change and the emotions it provokes can seem overwhelming," said Anne Hall, KFPL Programming and Outreach Librarian. "But considering it as part of a community is empowering."
The small group will meet at KFPL's Central Branch on Johnson Street. The program dates are September 16, October 7, October 28, November 18, and December 9, from 4:15 to 5:45 p.m.
In the Circle, participants will learn about emotional responses to the climate crisis, and support one another in that learning, the library said. Group members will read meaningful work on the climate crisis, including All We Can Save: Truth, Courage, and Solutions for the Climate Crisis, edited by Ayana Elizabeth Johnson and Katharine Wilkinson, and discuss it in a positive, encouraging space. The library's book club set of All We Can Save is reserved for the Circle's participants.
Enrolment is limited to 12 people for this first five-session gathering, though KFPL hopes to offer the opportunity again soon. Circle members must physically distance and wear a non-medical face mask in a manner that covers their face, nose and chin.
KFPL cardholders age 16 and up can register for this program online. For more information, visit the library's website or call your local branch.