KFL&A region surpasses 300 active COVID-19 cases during 'fourth wave'
The 'fourth wave' of the COVID-19 pandemic is resulting in pandemic milestones for the Kingston, Frontenac, Lennox and Addington (KFL&A) region, as the Public Health district has surpassed 300 active cases of the virus for the first time.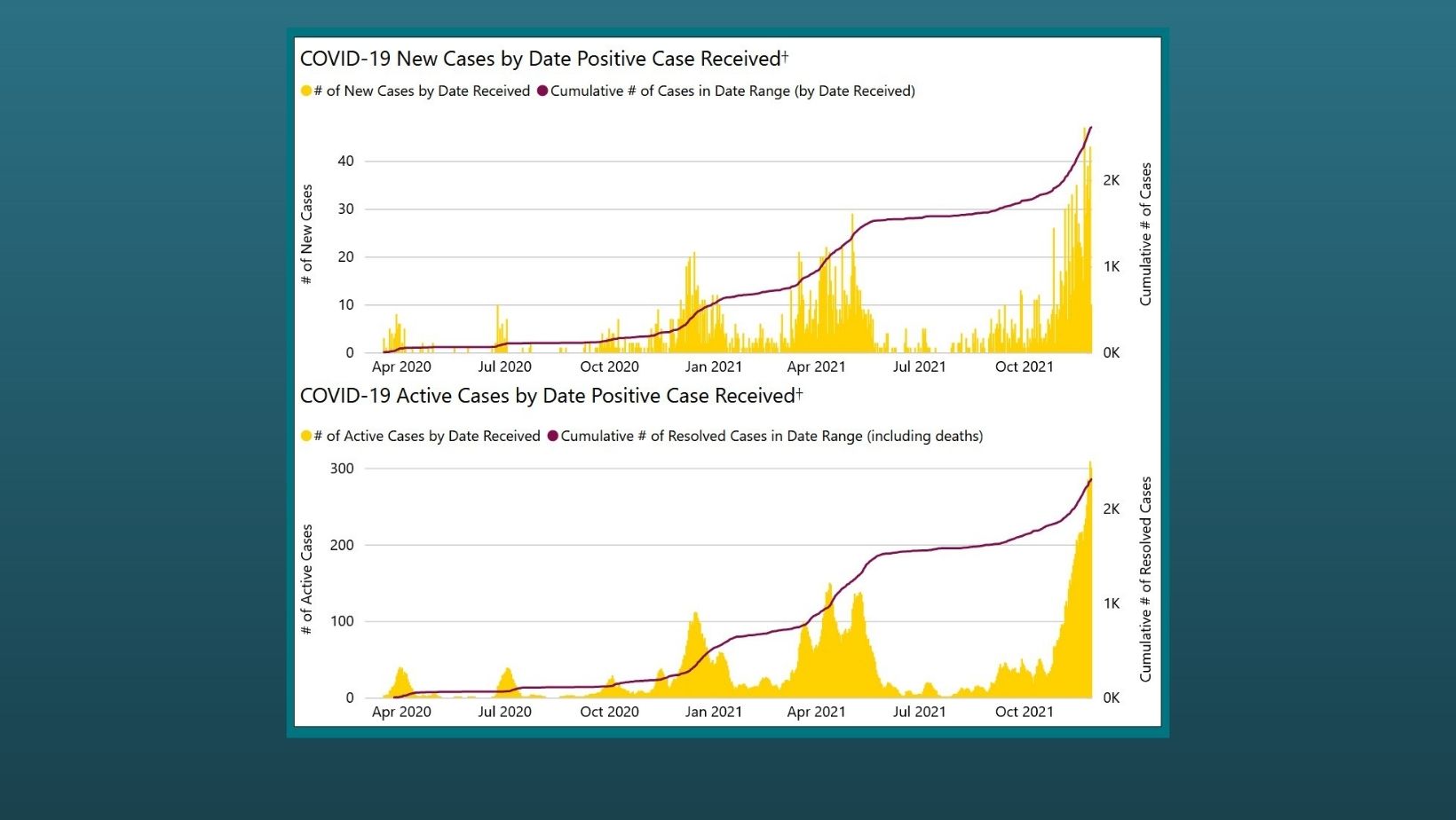 This comes on Monday, Nov. 29, 2021, the same day that the region saw the most new cases reported after a weekend – a staggering 109 cases, and the same day as the KFL&A region saw its ninth death from COVID-19. According to KFL&A Public Health, there are currently 23 local cases of COVID-19 hospitalized.
KFL&A Public Health continues to report increasing rates of COVID-19 vaccination across the region with a total of 92 per cent of those 12 and older having received their first COVID-19 vaccine dose, and 88.9 per cent having received two doses. As well, just last week, the ages five through 11 became eligible for their first dose of vaccine, with up to 4,000 parents and guardians clambering for appointments over the first few days the age group was eligible.
During the same time, the number of COVID-19 cases, hospitalizations, and deaths has continued to increase, as have the number of cases and outbreaks in area schools. There are currently three outbreaks within the Algonquin and Lakeshore Catholic District School Board (ALCDSB) locally, and six within the Limestone District School Board (LDSB). All together, there are 55 active cases at schools within the two boards (within the KFL&A region), with two outbreaks declared at local schools on Monday, Nov. 29, 2021 – one at J.R. Henderson Public School, and the other at Lord Strathcona Public School.
The rise in COVID-19 cases is being driven largely by the 6.2 times higher infection rate unvaccinated individuals — According to data from KFL&A Public Health, the number of COVID-19 cases amongst those who are not vaccinated have been over six times higher than that number amongst those who are vaccinated locally over the past month. At the same time, however, the number of cases amongst the vaccinated population is also climbing slightly.
Public Health data states that percent positivity of COVID-19 tests administered to the fully vaccinated population locally was 2.4 cases per 100,000 people as of Friday, Nov. 12, 2021, while that number was 3.7 cases per 100,000 people as of Sunday, Nov. 21, 2021. The percent positivity of testing among the unvaccinated population was 16.1 cases per 100,000 people as of Friday, Nov. 12, 2021, and jumped to 22.8 cases per 100,000 people as of Sunday, Nov. 21, 2021.
Request for comment from KFL&A Public Health's Medica Officer of Health, Dr. Piotr Oglaza, on whether or not the KFL&A region will see increased COVID-19 restrictions in the coming days and what the quickly rising caseload means for the area were not returned by time of publication. However, Public Health is expected to provide an update on Tuesday, Nov. 30, 2021.
Kingstonist will continue to provide updates as more information becomes available.
---