KFL&A COVID-19 update: Outbreaks, precautionary measures, and St. Patrick's Day on the horizon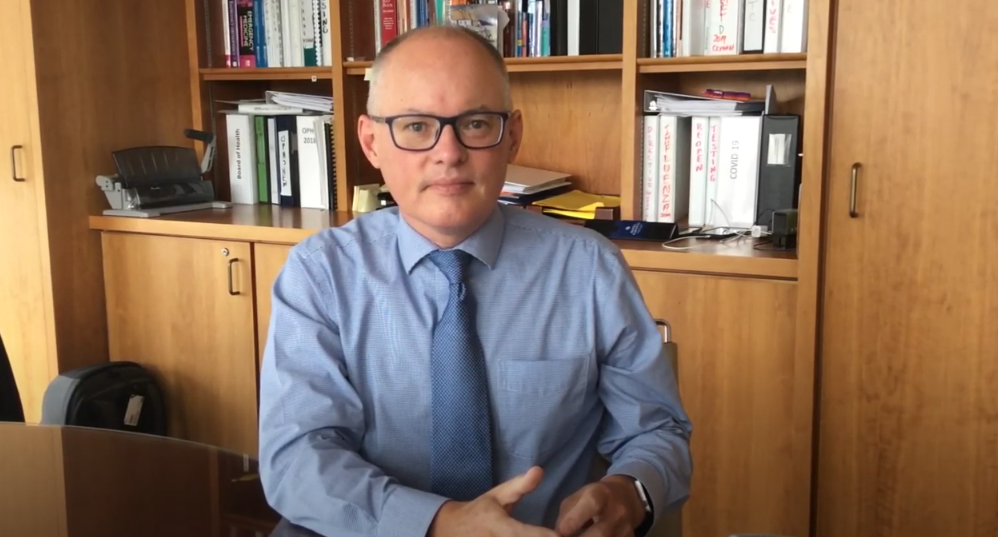 Dr. Kieran Moore, Medical Officer of Health for Kingston, Frontenac, Lennox & Addington (KFL&A) Public Health, spoke with members of the media on Friday, Mar. 12, 2021 to provide an update on a few situations currently unfolding in the region with respect to COVID-19.
Which of the current COVID-19 situations in the region has Dr. Moore worried the most? Well, all of them, he said, but he's most concerned about how parties and social gatherings in relation to St. Patrick's Day might affect the current COVID-19 status of the region.
"I'm asking for restraint. With variants of concern circulating now, potentially, in our community, and the activity that we're seeing on campus in one residence and off campus, now is not the time to hold parties. We really have to stay in small social circles of less than five, indoors and outdoors, we still have to be wearing our mask, still have to have good hand hygiene, and monitor symptoms," he stressed.
"I'm sorry that we've had this sudden increase in activity on and off campus. But it just reminds us heading into this week, we all have to remain vigilant."
LDSB classes forced to isolate after contact of COVID-19 variant of concern identified
On the evening of Thursday, Mar. 11, 2021, the Limestone District School Board (LDSB) sent out a press release indicating that seven classes at five schools within the Board had been dismissed early that day by direction of KFL&A Public Health. This was done "as a precaution" the board said, "following the identification of a contact of a positive COVID-19 case that is known to have a Variant of Concern, or VOC."
The seven classes were dismissed from:
Marysville Public School
Module Vanier
Polson Park Public School
Sir John A. Macdonald Public School, and Winston Churchill Public School
Students in those classes were instructed to remain at home in isolation until KFL&A Public Health carries out further investigation. Since then, affected students from three of the five schools have been given the all clear to return to school on Monday, Mar. 15, 2021.
Dr. Moore explained why classes at five different schools were involved in this process.
"So, we had notification that one or two students from Queen's University had been doing some type of placement or education [involving] exposure to students. And in an abundance of caution, we asked [those students to isolate] until we have some preliminary testing of those students that were exposed," he said, noting that one student within the LDSB had tested positive for a variant of concern.
He said these precautionary measures were taken due to the increase in variant of concern cases across the province.
"It is an approach that we have been taking when we have now a transition across the province of variants of concern becoming a higher proportion of all positive COVID tests. So for example, it's I think it's about 35 per cent of those tested in Ontario are turning positive [for VOCs]. It's been a lesser proportion in KFL&A, but if we're going to limit the spread of these new variants, and best protect our community, we have to be a little more aggressive, and continue that aggressive testing strategy," he explained.
"We want our economy to stay open, our schools to stay safe. And to do that, we may ask communities to hold back until we have a confirmation that everyone has tested negative, and then we can go back to our lives."
Outbreak at Queen's University residence building puts students on lockdown
Also on Thursday, Mar. 11, 2021, Queen's University issued a press release regarding a COVID-19 outbreak at one of its student residence buildings, Watts Hall. According to the University, five students on the same floor of the building have all tested positive for COVID-19. A further six cases in the Queen's community have been identified among those who live off campus.
The university said Thursday that testing of the students is being done on campus that day, and that that testing will also determine if the outbreak is associated with a variant of concern. It is believed the initial case may be the result of recent travel outside of the KFL&A, Hastings and Prince Edward Counties, and Leeds, Grenville, and Lanark regions, Moore explained.
"One of the students has tested positive for a variant of concern," he said, noting that KFL&A Public Health always takes a travel history from those who've tested positive for COVID-19.
"We do know that there was exposure to someone that had traveled, so we know the variants of concern are a high proportion of the testing in and around the GTA and Simcoe Muskoka area, and and we do know of someone that has come from [one of those] area as a potential source."
When further pushed by reporters to expand on the possible connection between the outbreak at Watt's Hall and the students sent home to isolate from the LDSB, Moore said he simply does not have the numbers at this time to expand on the connectivity of the clusters of cases the region was dealing with at this time. He said he hopes to be able to provide an update on that with visual aids (on video) to better explain once he has more data early next week.
Moore also noted that contacts of the students involved in the outbreak have also been advised to isolate, and those contacts may be in other residence buildings. In total, there are about 15 cases connected to the current outbreak – six in residence, six secondary contacts, and three cases that are currently residing off campus.
Some good news to celebrate
Although one more case was identified on Thursday, Mar. 11, 2021 in connection with the outbreak at Tiny Hoppers daycare facility in Kingston's west end, Dr. Moore said he believes that outbreak has "fizzled out," and he doesn't expect to see any more cases connected to it. That outbreak will officially be over soon so long as no more cases are detected in connection, he said.
Moore also pointed to the very good news story of the completion of vaccinations for all those living in long term care in the region who were willing to receive it.
"This is something to celebrate!" he said, noting that KFL&A Public Health will now move into the vaccination of those in retirement homes in the coming weeks. Public Health will travel directly to different retirement homes in order to provide those vaccinations, he said.
Moore: Variants of concern in region raises concerns over St. Patrick's Day gatherings
Dr. Moore, the City of Kingston, and Kingston Police have already made it clear that social gatherings are not to happen in the days leading up to and after St. Patrick's Day, with Moore issuing a Class Order on Thursday, Mar.4, 2021. Moore said on Friday, Mar. 12, 2021 that he's glad he made that order in preparation for this time of year – a time that usually is accompanied by a lot of green and revelry, particularly in the student areas.
He's glad, he said, because there are now variants of concern in the region.
"We, as a community, want to do everything we can to stop the spread of those variants," he said, noting that he thanks the many Queen's students who have voluntarily gone for testing proactively over the last 24 hours.
Despite that, he said he is confident we will see more variant of concern cases in the region in the coming days. And, as Moore concluded the press conference, Kingston Police were already dealing with groups dressed in green gathering in the University District. Well before 5 p.m., police were already out reminding students of the Class Order.
"Hence the reason I think that's a concern right now heading into St. Patrick's Day and week celebrations, and how we all have to just limit our social activity limit our interaction, stay within our small social group, keep wearing your mask and keeping up with hand hygiene. And if you develop any symptoms, consistent with COVID-19 get tested," Moore emphasized again.
"That has always kept us in a good position over the last year, and I have to thank the students that did go forward and get tested. That's allows us to protect the student community, as well as the community at large."