Indigenous Peoples Day ceremony unveils 'Manidoo Ogitigan' at Lake Ontario Park
Manidoo Ogitigan (Spirit Garden), Kingston's largest public art installation, will be officially opened with a small ceremony on Monday, Jun. 21, 2021, National Indigenous Peoples Day.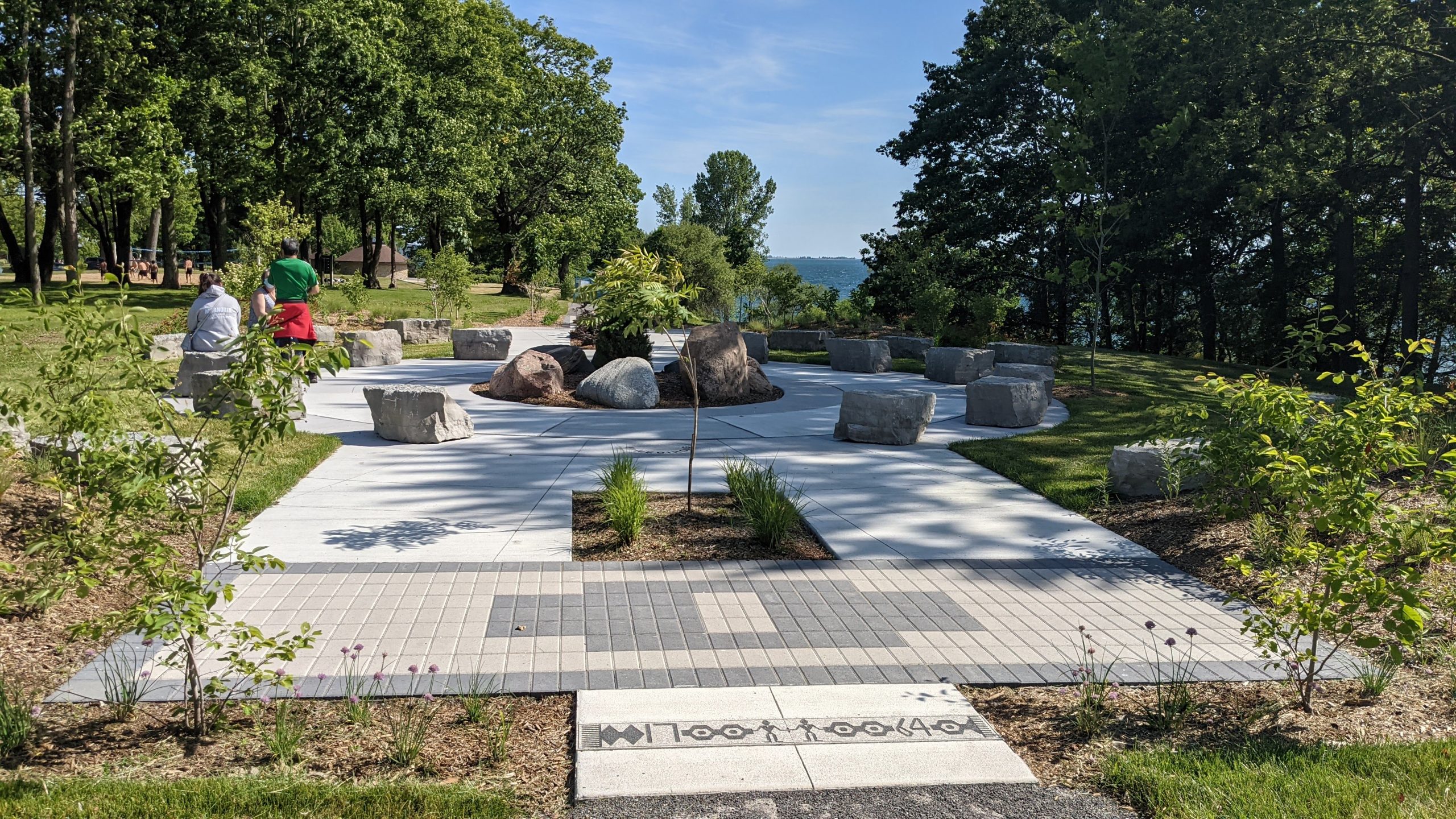 The installation, just steps from the Lake Ontario Park parking lot, commemorates the fact that Kingston is built on the territorial lands of the Mississauga Anishinabeg of the Ojibway Nation.  
Their current Chief, Dave Mowat, says, "I chose the 21st because it's Indigenous Day. It seems to be a fitting day to do this in Kingston. The irony is not lost on me that we've installed a public art installation here and we're unveiling one, while all at the same time the statue (of Sir John A. Macdonald) is being taken down."
Mowat serves on the Sir John A. Macdonald History and Legacy Working Group for the City of Kingston, which recently made recommendations to the City Council about the statue's removal. However, the new installation is not part of the Sir John A. Legacy initiative, and was actually an idea approved by council in 2017. 
Eight years ago, representatives from the Alderville First Nation sat down with Kingston City Staff to establish an effective way to commemorate the Nation's ties to the Kingston region. James Marsden, then Chief of the Alderville First Nation, approached the City with a request to form some sort of partnership in the development of an appropriate vehicle that would commemorate the story of the Mississaugua Nation in Kingston.
There was discussion about a plaque and it was determined that it wasn't the right vehicle for this kind of a commemoration and for what Alderville wanted to explore. Public art was decided on because it has the ability to respond to ideas and connect with people.
Thus began the two stage process laid out in the City's Public Art Policy. There was an open call process, which went out internationally. An all-Indigenous jury, including three members of Alderville First Nation and three Indigenous artists, whittled down the entries to three shortlisted artists.
These were asked to submit a proposal and visit Alderville First Nation to present them to the community.
After deliberations by the jury, Manidoo Ogitigan by Terence Radford was selected as the winning proposal because it was very unique, involving a landscape installation, not just a sculpture.
Manidoo Ogitigan 'Spirit Garden'
Kingston's largest public art installation, cast-in-place concrete, concrete unit paving, granite, stone, soil, and plants make up Manidoo Ogitigan, a living public artwork. It commemorates the historical and contemporary ties between Alderville First Nation and the Katarokwi/Kingston region.
The artwork incorporates the history of important Wampum Belts, the symbolism of the medicine wheel, reference to the Alderville Methodist Church, and select native plant species chosen with guidance from the Alderville Black Oak Savannah. It creates an intimate gathering space for reflection, ceremony and teaching for the Alderville First Nation and all Indigenous Peoples, as well as for residents and visitors along the shore of Lake Ontario, and functions as a shared space that aims to make the broader community more aware of the diverse histories and narratives in this area.
Terence Radford is a practicing contemporary artist working in painting, sculpture, photography, and multimedia installation. He is also a registered Landscape Architect and runs Trophic Design, an Aboriginally-owned and -operated landscape architectural practice in Cobourg, Ontario. Radford's Metis ancestry, his involvement with the BC Association of Aboriginal Friendship Centres and his studies in Cultural Landscape Theory and Indigenous Art History inform his artistic practice.
The City of Kingston and Aldervile First Nation have been working together on the Alderville First Nation Commemoration Project since 2013. From the beginning, the development process was grounded in a respectful, inclusive and collaborative working relationship, according to Mowat.
In 2018, Mowat was a member of the commemoration committee for the Mississaguas and he prepared an extensive history paper in 2018, "Outlining our presence in Kingston and some of the history, and so on the basis Terrence [Radford] used that to help him in his design," he says. 
"Some of the more important Wampum Belts are reflected," Mowat explains, "Wampum is a medium of communication that records history and records agreements. The use of Wampum Belts became a universal form of treaty-making and record keeping. Certainly in eastern North America, the Wampum Belts were used by multiple groups."
"The garden is reflective of what grows here in the Black Oak Savanna," Mowat continues, "And our Black Oak Savanna staff helped to advise Terence on some of the plantings down there [in Lake Ontario Park]."
The art explores how colonization and attempts at cultural assimilation influenced and impacted the living culture of the Alderville First Nation. That story is one of struggle, Mowat expresses.
Historical context
After having lost the American colonies in the American Revolutionary War, the British began to move soldiers and civilians who had remained loyal to the King (The United Empire Loyalists) to the traditional lands of the Mississauga. 
As the population grew, a "land surrender" was negotiated. Mowat explains, "Our people were at Wolfe Island and Carlton Island for the 1783 Crawford purchase, which was the first land purchase after the American Revolution, which allowed us to move into the Bay Quinte area." 
"And then," he continues, "Our people negotiated the retail purchase at Kingston, as well, in 1819. So Kingston is factored in importantly into our Mississauga history. And in the whole Bay of Quinte and Cataraqui area. And, you know, when we're moved out… When the wave of history washed over our people… And Methodism moved into the area."
"And you know," the Chief observes, "There was heavy-duty racism. We talked about John A. Macdonald and his racism, but racism predated John A. Macdonald, and then we had no monopoly on racism in Kingston, that's for bloody sure. In fact, I've come upon sources where the settlers in Kingston looked at our people as 'dirtier than their cleanest hogs.' That's pretty disgusting."
"Another example I have seen is where Lieutenant Governor Simcoe's wife, Elizabeth Simcoe, recorded a letter in Kingston where she said our people were drunken, idle, and unwarlike," Mowat continues.
"And so, in letter and in the oral tradition, in this settler non-Indigenous sort of voice, our people were just seen as dirty and in the way. This viewpoint towards our people was embedded in Kingston long before Macdonald was even out of his knickers.
"That was just the 19th century; these fat old white men, they hated our people and they thought our people were in the way. And so, you know, by the time John A. Macdonald came along, he just helped move through with his reign, the destruction of people's treaty rights. It's not a wonderful history."
"So really," Mowat says, the memorial installation is, "Sort of just a reclamation of our place and our time in history in Kingston, and just signifies our relationship to the land, and also reflects our history in Wampum, and also reflects the influence of the Methodist Church." 
"Some people roll their eyes at that, but they are the people that don't understand history. The Methodists factored heavily into our people's history. And they did help them survive the crushing wave of the new settlement, they helped their people survive that. And then, they moved them to a small island off Belleville, GrapeIisland. The mission on the island was built to help our people; they had rudimentary education, farming, industry, etc.," Mowat explains.
"But the Methodist church also never advocated for a larger land base for our people, and I hold them to account, as well. When we were moved out of the Bay of Quinte, we were moved to the Alderville First Nation, the new surveyed reserve in 1835. That was 2,000 original acres. And then over time, it grew up to maybe 3,600 acres at the most… we're probably down to about 3,100 acres [now]. That's a small reserve base, a small land base. So I hold both the government of the day, and the Methodist Church to account for not advocating for a larger land base for us, and we live with that today."
Through the conversations with the artist and Alderville First Nation, it has been acknowledged that the Manidoo Ogitigan will actually act as a site and space for future gatherings, and as a catalyst for teaching. 
Chief Mowat is disappointed that the opening ceremony on Monday, Jun 21, 2021 will not be open to the public, "Well, I just feel saddened by the fact that we're not going to have a big unveiling with our own membership because of the pandemic. I can see us bringing a group down later after things open up. But, after all these years and then here we are, we're confined to 10 people. That really sucks."
For more information about the installation visit the City of Kingston's web page. For more information about Alderville First Nation, you can visit them on the web.