Incredible luck, AED save man's life at Cataraqui Golf and Country Club
A Kingston man is alive today thanks to an incredible amount of luck, some local heroes, and a well-placed automated external defibrillator (AED). Harry Cumming, 72, had just teed off on the first hole at Cataraqui Golf and Country Club when he went into cardiac arrest on Wednesday, Oct. 13, 2021.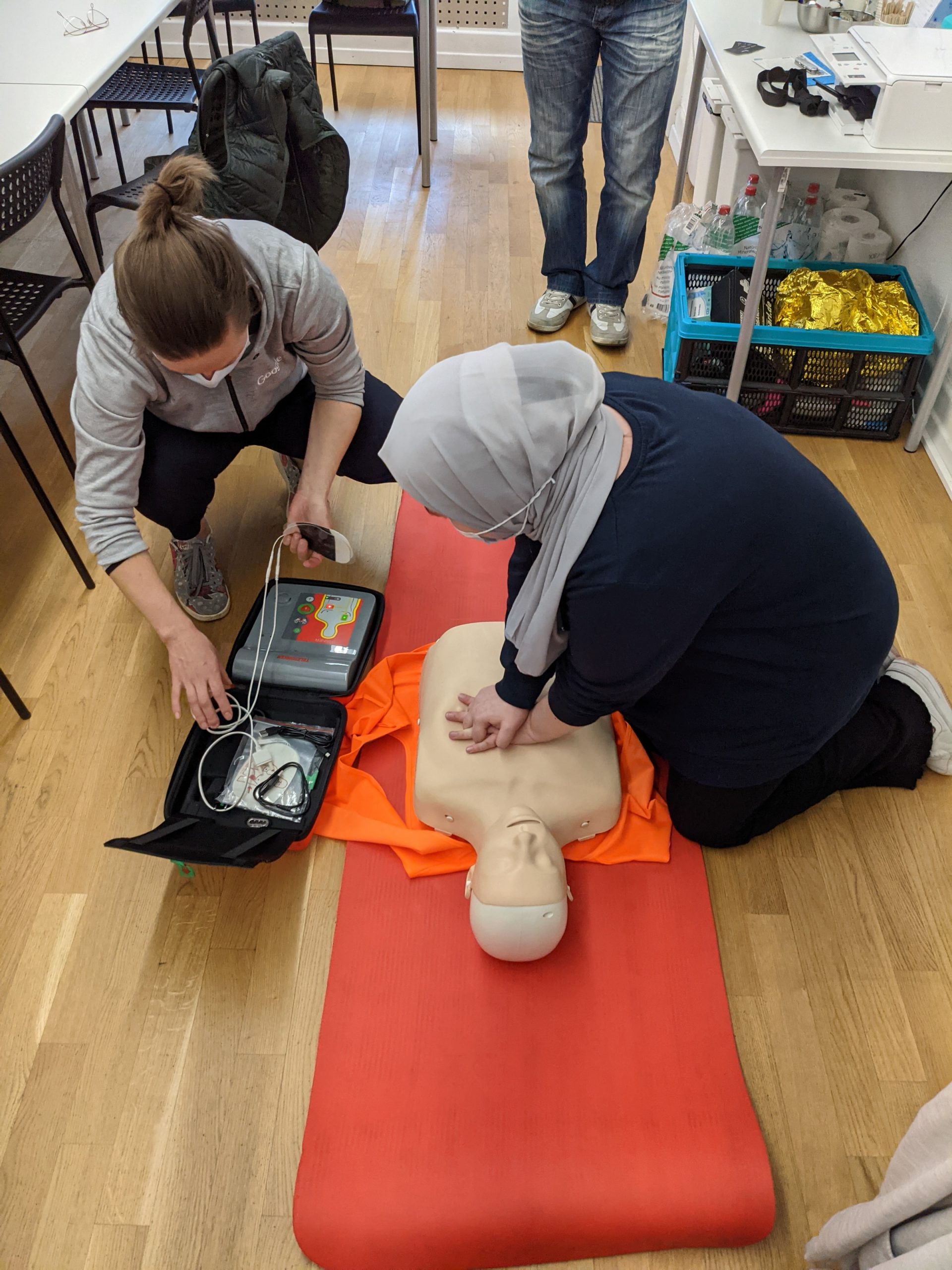 "I was teeing off at 12:42," said Cumming, "and I went to practise for 20 minutes beforehand and everything was fine. I didn't feel anything abnormal. The practice went well. I went to the first tee, hit my tee shot very happily and down the fairway in great shape. Waited for the other three guys to hit their tee shots and then away we went. I do not remember anything from that point until I'm in the ambulance."
"I don't remember falling out of the cart, hitting the ground with my face on the pavement. I don't remember that. I do know that it had to have been very painful, but there was no pain as far as I was concerned because I wasn't there," said Cumming, marvelling that if this had happened just twenty minutes earlier, he wouldn't have been found quickly by bystanders, as he was practicing at the end of the driving range.
Luckily for him though, he said, the level-headed people around him acted with extreme haste.
An ambulance was called immediately. A nurse, Carey Vargas, was finishing up her own game at the nearby 18th hole when she heard the call of a man down. Varga performed artificial respiration while one of Harry's golf partners, Ron Southward, did chest compressions.
"So," Cumming continued, "these people [one of whom is a nurse], they've been keeping me going with these heart compressions and artificial respiration for the couple of minutes it took for the AED to get there and — this is just crazy luck — Patti Staples comes out with Kristen and she is a cardiac nurse. The two of them do the defibrillation with the AED with not one but two trained personnel; Kristen, who's the club's certified health and safety chair, and Patti, a cardiac nurse. What are the chances that's going to happen?"
Cumming made no attempt to hide his astonishment at the sheer hand of luck fate dealt him that day.
"All I can tell you is I owe my life to those four people — those four people, and the ambulance and the paramedics that got me to the hospital in good enough shape — that I survived this whole thing without any serious repercussions."
Cataraqui Golf and Country Club Chief Operating Officer, Daniel Beaureguard, also provided comments on Mr. Cumming's experience.
"It is fortunate that the Club's focus on Health and Safety ensured that the knowledge and equipment were available to provide life-sustaining aid until medical teams arrived on site," he said.
Beaureguard also observed that, "Because in Kingston we have a couple of hospitals nearby, there's a number of these devoted individuals in the field of medicine that are members of the Club. And we're so fortunate that, when things happen, they are around. Which is the scenario that has happened during this situation here, and rapid response, as well."
It is also important to note that the Club already has two well-marked and accessible AED machines — one at the clubhouse and another at the concession about two-thirds of the way through the course — and that one of these was brought to the scene as quickly as possible. As a result of this incident, management at the club has now purchased a third AED to be placed at another location, because every minute counts when someone is having a cardiac crisis.
Beauregard said he spoke to Harry Cummings on Tuesday this week, and,"When I was speaking with him, he wondered if we had thought of purchasing another unit, which we had, and he said, 'Well if you're looking at buying another one, let me know because I'll pay for it,'" he recalled.
Learning on the links
There was much to be learned from this experience, Cumming said.
"I wouldn't have known before this, but I do know now: a heart attack is a plumbing problem. So, if your blood vessels are blocked, and your heart can't pump blood to your brain and the rest of your body ,you have what's called a 'heart attack.' But also, your heart gets electrical signals to beat, and if it fails to get the signal, if the light switch is turned off for whatever reason, that is a 'cardiac arrest,'" he illuminated.
Tragically, Cumming explained, he lost his daughter, Jennifer Cumming, to a similar cardiac incident this past spring.
"On the 20th of May, my 42-year-old daughter had the same thing in bed in the middle of the night. She's the principal of an early learning school in Toronto. And because and she was single and by herself in bed, there was no one there," he expressed. "Same as, if there was no one there for me, I would have died."
Because his heart stopped in the same manner as his daughter's, Cumming explained that he is now being investigated for Long QT Syndrome (LQTS), a heart rhythm condition that can potentially cause chaotic heartbeats. Some people are born with a genetic mutation that causes long QT syndrome (congenital long QT syndrome).
"The genetics team at Kingston Health Sciences Center is in the midst of doing this investigation," he said, "They're talking to the coroner who's doing the pathology in the case of my daughter's death to see if there's some connection."
If there is a connection, Harry's son, siblings and their children will need to be tested to determine if they have inherited this characteristic, as well. Long QT syndrome is treatable with medication and sometimes, as is the case with Cummings, treatment involves surgery or an implantable device.
"So I now have an AED implanted in my chest. And so if my heart didn't get a signal to fire, this device in my chest would give me a mule kick in the chest to restart my heart. If no one is there, this machine is gonna save me and restart my heart," Cumming explained.
"It's a long haul. They may never find a connection to what might have happened to my daughter. It's very, very complex. But it's important to know and I think it's amazing and if it weren't for DNA and the advances in genetics, nobody would know anything about any of this stuff. It has the possibility of saving a lot of people."
Harry Cummings can't say enough good things about the people who saved his life.
"The whole team at KGH was amazing," he voiced. "Those four people, Kristen, Carey, Patti, and Ron, I owe those people my life. If it weren't for them, and how effectively and efficiently they did what they had to do, I wouldn't be here today."