Nutrition Month: Indigenous food sovereignty and land access in Katarokwi
Editorial note: To mark Nutrition Month 2022, Kingstonist will be featuring a column from a Kingston-based Registered Dietitian (RD) each week throughout the month of March. For more information on nutrition and the role of the dietitian, visit the Dietitians of Canada website.
The following article, Indigenous Food Sovereignty and Land Access in Katarokwi: The Role of 'All Our Relations Land Trust,' is written by S. Kaitlyn Patterson, PhD(c), RD, of Kingston. The views and opinions expressed do not necessarily reflect those of Kingstonist.
---
Indigenous food sovereignty and land access in Katarokwi: The role of 'All Our Relations Land Trust'
March is nutrition month and this year the theme is "Ingredients for a Healthier Tomorrow."
As an Algonquin Anishinaabe dietitian, I often wonder how we can improve the health of our food systems, now and in the future.
For many Indigenous peoples in Canada, an important aspect of a healthy food system is food sovereignty. Indigenous food sovereignty arises when Indigenous peoples engage in meaningful relationships with food, respecting and upholding their roles and responsibilities within inter-dependent food systems with all our relations. "All our relations" refers to the idea that all forms of life (e.g. animals, plants, rocks, water) are connected and dependent on one another to survive and flourish within complex ecosystems.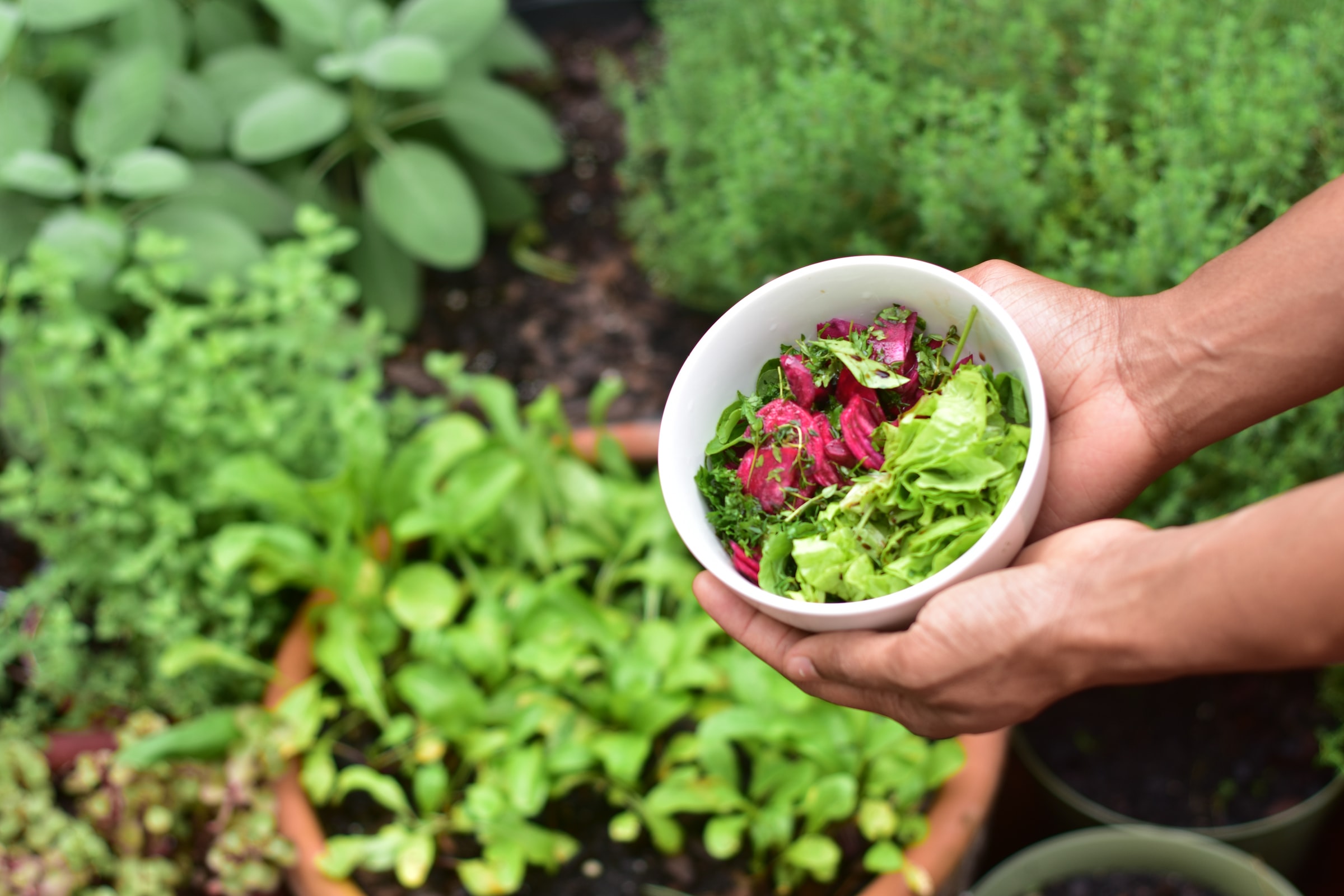 As a result of colonialism in Canada, Indigenous peoples have been separated from their ancestral lands and waters. Being separated from land also means being separated from our traditional food systems. Advocating for Indigenous food sovereignty involves ensuring Indigenous peoples define where and how food is grown, harvested, cooked, eaten, and cared for. It returns autonomy to Indigenous peoples within their relationships with food. As a result, Indigenous peoples are active in protecting, maintaining, and regenerating their food sources, while also respecting lands and waters as living, self-determining beings upon whom humans are dependent.
Advocating for Indigenous food sovereignty in urban settings such as Katarokwi (the greater Kingston area) is complicated. Urban Indigenous communities do not have meaningful access to land, and green spaces are continuously threatened by development projects and urban sprawl. Urban Indigenous communities also lack federal recognition (e.g. through the 'Indian Act') and therefore have limited ways to legally hold and protect land as collectives. In the case where land is quickly becoming less accessible, and with few options available to secure access to land, how can Indigenous peoples in urban settings reconnect with land and strengthen their food systems?
One strategy that the urban Indigenous community within Katarokwi is taking up is an Indigenous-led land trust entitled, All Our Relations Land Trust (AORLT). Land trusts are non-profit, charitable organizations that hold land in perpetuity. Land trusts can purchase land directly, accept donations and land transfers, and set up conservation easements to access land.
AORLT was officially incorporated in February 2022 and is in the process of applying for charitable status to begin accepting donations and establishing access to land. I am joined by two additional inaugural board members, Maureen Buchanan and Sheldon Traviss, to create the land trust. We are all Anishinaabe or Haudenosaunee people in the urban Indigenous community within Katarokwi.
The goals of AORLT are to (a) promote connections with all our relations, (b) practice Indigenous-led conservation to preserve and nurture biodiversity now and for future generations, and (c) provide space for the urban Indigenous community to practice cultural activities. AORLT plans to work alongside existing Indigenous groups, community members, and settler allies in Katarokwi to meet these goals.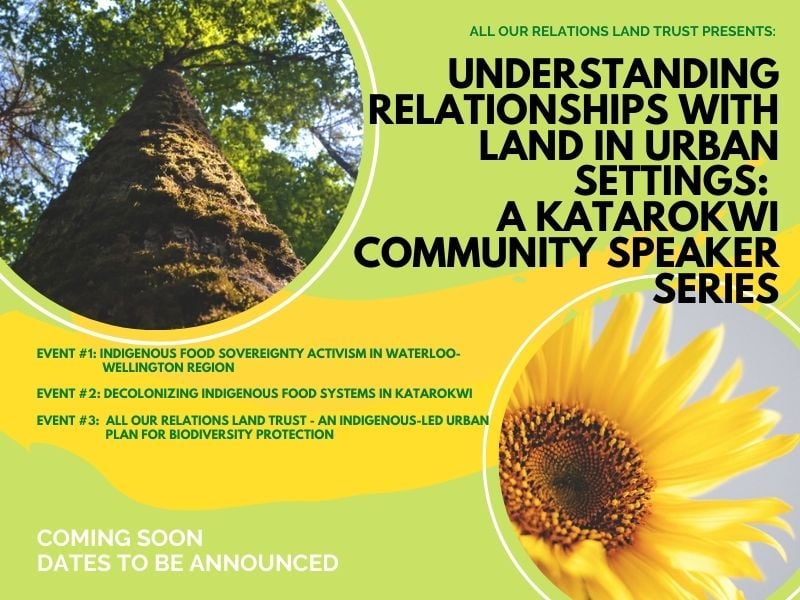 To learn more about connecting with land in urban areas and to raise awareness of AORLT, we are planning a community speaker series that will be free and open to everyone. The series is entitled, Understanding Relationships with Land in Urban Settings: A Katarokwi Community Speaker Series. Events will review how we came to the idea of AORLT, and what other urban Indigenous communities in Ontario are doing to promote Indigenous food sovereignty and land access. One event will be focused on hearing from the Indigenous community: what are your thoughts on an Indigenous-led land trust in Katarokwi? We are aiming to launch the series at the end of April with official dates to be announced in the near future. To watch for updates about the speaker series or AORLT, please visit the Kingston Aboriginal Community Information Network (KACIN).
Indigenous food sovereignty is an important element within healthy food systems now and in the future. Looking ahead, we hope All Our Relations Land Trust will be an impactful ingredient to ensure a healthier tomorrow for all.
S. Kaitlyn Patterson, PhD(c), RD
Kaitlyn is a mixed-ancestry Algonquin Anishinaabe ikwe (woman) from the Loon Clan and Mattawa/North Bay Algonquin First Nation. She grew up in north of Kingston in Rideau Lakes, Ontario. Kaitlyn is also a registered dietitian and a PhD candidate in the School of Kinesiology and Health Studies at Queen's University. She is passionate about Indigenous food sovereignty and land-based learning.