Harbour neighbours weigh in on Portsmouth sleeping cabins project
The seemingly surprise arrival and location of sleeping cabins at Kingston's Portsmouth Olympic Harbour was heavily debated on the evening of Monday, Dec. 20, 2021, with neighbouring residents expressing their views both for and against the project.
When Portsmouth Village and District homeowners, business owners, and residents found out by way of media that they would now be neighbouring 10 short-term, transitional cabins for the homeless, most were shocked to not have been formally notified or consulted before decisions had been made for their community at a Kingston City Council meeting held Tuesday, Oct. 19, 2021.
"For us to have found out on the six o'clock CKWS news, by the mayor, that this community had been selected for this [project] is nothing short of abysmal," said Kingston resident Yvonne Holland said, addressing City of Kingston Councillor Bridget Doherty, who chaired the virtual meeting via Zoom.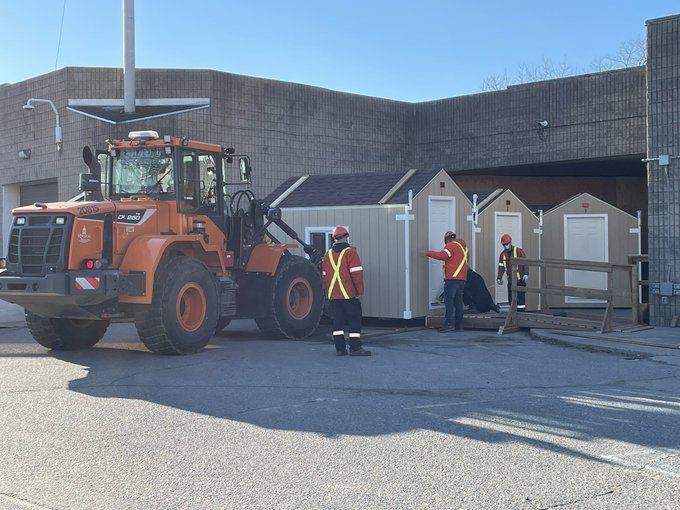 The meeting was well attended by City residents and was moderated by the City of Kingston staff, and members of Our Livable Solutions, who are partnering on the sleeping cabins project at the Harbour. Ruth Noordegraaf, Director of Housing and Social Services for the City of Kingston, and Crystal Wilson, founder of Our Livable Solutions, answered the bulk of the questions during the nearly three-hour meeting. Not all residents involved in the meeting we're identified by name.
"There isn't anybody here who doesn't understand that we've got a homelessness issue," said Holland. She agreed that the project is necessary, and wasn't necessarily arguing that the location was incorrect, but said that the process and lack of communication among the City and the community was "a big problem" that was causing a lot of upset among those both for and against the project.
"A lot of this could have been averted had there been open, transparent, and honest communication," Holland said. City officials apologized and sought out ways to improve communication moving forward.
Information notices will be sent to all neighbouring homes and businesses informing people of the project, the participants, the intent, and include a 24/7 phone number to contact onsite staff at the sleep cabins with any concerns. Wilson also offered her personal cellphone number to provide peace of mind for fearful or apprehensive neighbours.
The location of the project was raised, with concerns citing the safety of residential homes, businesses, and boats in the marina top of mind for residents.
"What you've got is a very strong situation of haves and have-nots… Theft and vandalism have been an issue, unfortunately, down in the harbour for years; so, I'd like to know what sort of allowances you've made for site management," one resident asked City staff. "I just can't afford to have [my] boat vandalized. I can't afford that. I'm not saying this is going to happen, but I can't imagine things are going to improve."***
Wilson explained that the 10 members who will be selected for the sleep cabins transitional housing project will have been screened beforehand and they would not select someone they thought would be dangerous, a threat, or cause mischief. "We want it to be successful," Wilson assured, noting that she personally knows most of the homeless people in Kingston, some of whom stay with her in her own home, and that she has never had any issues with theft or mistrust.
Wilson and Noordegraaf reiterated that the intent is for the 10 people in the sleeping cabins to transition to independent living, by or before, April 30, 2022. Over the winter, the sleep cabins will be monitored 24/7. and several services will be provided to ensure the success of the people living there, City staff conveyed. By April 30, the sleep cabins project will end and the 10 people will have gathered skills, resources, and hopefully independent living arrangements elsewhere.
"We only wanted to take on something that we thought we could manage," said Wilson, admitting that she is aware that there are hundreds of homeless people in Kingston who need shelter, but that this program needed to be small in order to be properly managed, provide quality supports, and work toward individual success.
Three of the sleep cabins were delivered to Kingston's Portsmouth Harbour last week, and another three should be delivered this week. Though the City and OLS couldn't pinpoint an exact date for start-up, the aim is to have the ten cabins filled as soon as possible in January or early February 2022.
The City has installed additional security cameras at the marina and built two accessible showers on to the existing bathrooms. A common kitchen area will also be provided. Each cabin will be equipped with four 20-amp receptacles and will include a heater.
"Ten people, we hope, is a very attainable goal for success. It can really benefit a lot of people," Wilson said.
Many neighbours reached out to see what they can do to lend a hand in ensuring the success of the project and the 10 participants during the meeting.
"As someone who lives in the village, how can we be welcoming?" one resident asked, commenting that a neighbourhood committee might be a worthwhile cause. "I'm really more interested in what I can do to make this a success."
Wilson said there are several way people can help, including offering to teach skills, donating items, or even just lending a listening ear. Wilson said that, admittedly and unfortunately, COVID-19 restrictions complicate the ways neighbours can get involved, but assured that there are still a number of ways in which people can safely support the program.
"So, join us and be a part of it. Help us shape future realities for people," said Wilson. Those looking to volunteer can reach out at: [email protected].
The City and OLS will host weekly zoom meetings open to the public to ask questions, share information, raise concerns, or get involved. If there is no interest or nobody present for the meeting, then it will be cancelled for that week and resume the following week.
More information on Our Livable Solutions can be found on their website, here, or on twitter, facebook, instagram or by emailing [email protected].