Hall Monitor: The cost of COVID
It was a busier than usual week for Kingston City Council, as they sat for four meetings this week. On May 19, 2020, Council held a meeting as the membership of Town Homes Kingston (agenda) first, followed by sitting as the shareholder of the Kingston & Frontenac Housing Corporation (agenda) ahead of council meeting 16-2020 (agenda). Council also held a special meeting, number 17-2020 (agenda) on Wednesday, May 20, 2020 to receive updates on the municipal COVID-19 response.
Key Topics
Through three meetings, Council approved the merger of Town Homes Kingston (THK) and its Kingston Frontenac Housing Corporation (KFHC). In 2018, the city assumed control of Town Homes Kingston, putting it in the position of operating two housing agencies. While each agency is structured differently, their fundamental objectives in align, and early after acquisition of THK was a discussion of combining the two agencies into one. Discussion in both of the agency meetings was brief and focused primarily on process ahead of both unanimous votes. Then, sitting as Council, they approved the merger with a 12-0 vote; Councillor McLaren was absent for the vote on a pecuniary conflict. In approving the merger, THK will be dissolved, pending provincial approval, and its assets will be transferred to KFHC, resulting in 397 new units to the KFHC portfolio and an expected $340,000 in operational savings.
In its additional meeting on Wed. May 20, 2020, Council heard a briefing from Lanie Hurdle, Chief Administrative Officer (CAO) for the city, who provided an update on the municipal COVID-19 response and impacts. Through her report and briefing, Hurdle outlined the $3.3 million monthly losses in revenue the city is currently experiencing and forecasting, including losses in transit fares, parking and solid waste fees, recreation and cultural tickets, and room rentals, among others. Though operational costs are also down, partly from reduced service levels or staffing, the city is still forecasting a $4 million deficit through the end of August.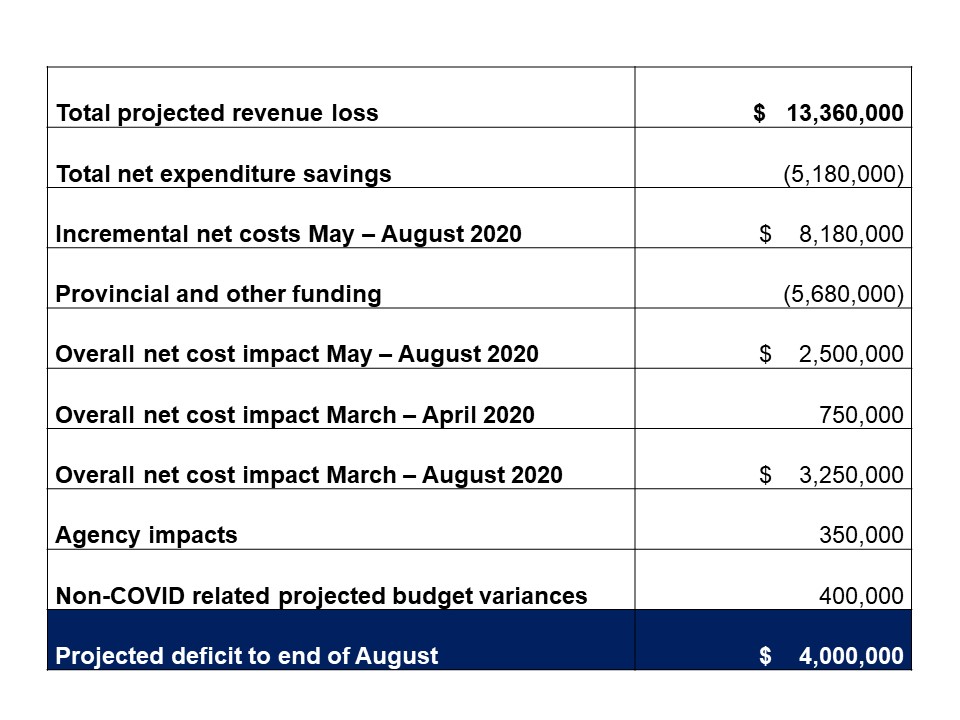 Hurdle's report outlined a variety of options to help reduce the projected shortfall, including cancellation or deferral of projects, adjustments in the timelines of council's strategic priorities, and a reduction of capital reserves budget transfers and to workforce and wage changes. In unanimously supporting the recommendations from the report, Council approved:
Changes to council priorities, such as a delay in tree purchasing, delay in the electric bus fleet feasibility study, not purchasing carbon offsets in 2020, a delay in planning studies such as the North King's Town plan and the Central Growth Strategy, delaying construction of new sidewalks, deferral of construction of four school crossing locations, deferring the Lake Ontario Park camping and the wildflower verges planting pilot projects to next year, and placing plans for a downtown campus of St. Lawrence College and a deep water dock on hold until further assessment can be made on industry impacts. Several other reports tied to council priorities are also delayed three to six months due to current staffing limitations
Changes to municipal capital projects, including a deferral of design work for the Confederation Basin Breakwater (which will delay its construction to 2023), the deferral of Belle Park work being done in 2020 (which will impact its construction), and work on parks on Max Crescent and the Burt Meunier Common West being delayed a year. Regular municipal fleet replacement, including transit, will be delayed a year, causing its 15-year replacement plan to start in 2021, and $3 million of pathway and trail lighting projects will be placed on hold until next year.
Non-unionized staff within the city are having wages frozen by cancelling performance-based increases. The city has also suspended its student and intern programs this summer, reduced its part time and casual staff through shortage of work layoffs, and is deferring hiring positions in departments with already reduced service levels.
The municipal budget deliberations will no longer take place this fall, moving instead to early 2021. This is to provide additional time to better assess the financial situation of the city at year-end, as well as provide additional time and opportunity for recovery options.
Additional Discussion
Council also received its first delegations in their electronic format, hearing from residents ahead of CAO Hurdle's briefing, approved the conversion and addition of metered parking spaces along King Street, Bagot Street and Court Street to provide new parking options around City Park, removed their own inflation-based wage increases for 2020 in alignment with the non-unionized staff wage freeze, and echoed other municipalities in requesting "immediate financial relief" from provincial and federal governments.
Committee meetings and council meetings will continue to be held in their electronic format for some time, with meetings of the Planning Committee and Appeals Committee ahead of the next regularly scheduled Council meeting on Tuesday, Jun. 2, 2020.
---
Born and raised in Kingston, Josie Vallier bleeds limestone. An avid council watcher since 2004, she first began reporting on municipal affairs in 2011, helping to modernize meetings and make them more accessible through social media and live video. When she isn't focused on City Hall, he's san avid gamer, youth theatre supporter, and Disney fan.