Girls Night Out to host virtual event in support of Kingston Interval House
Girls Night Out has been raising money for Kingston Interval House for the past four years. Karen Crichton-Cadeau is the organizer of this bi-annual event, and she is running her spring event virtually this year.
"The event has grown so much over the years," Karen told me. "100 per cent of the proceeds from my events go to Kingston Interval House. Last year we raised $10,650.00 through both the spring and fall events."
Girls Night Out is routinely hosted at St. Lawrence College, and over 70 businesses regularly participate. Pampering services, handmade items, some food and beverage vendors, community services and a limited number of direct selling businesses will be found at Karen's events. Trillium College attends, giving free massages as their community giveback from students, and shares any other services or products that may be of interest to attendees.
Attendees would regularly pay a $5 admission, which includes 3 ballots for the door prize baskets. These baskets are created from donations by the participants and other local businesses. Extra ballots are available for purchase as well. Attendees can also donate canned goods for the shelter's pantry, something most people don't think of when donating to Interval House.
The first 200 attendees would normally receive a swag bag. Karen offers businesses the opportunity to have an item or promotional material in this bag for a $10 donation. The participants also offer items at their stations that attendees can chose to pick up and bring home with them.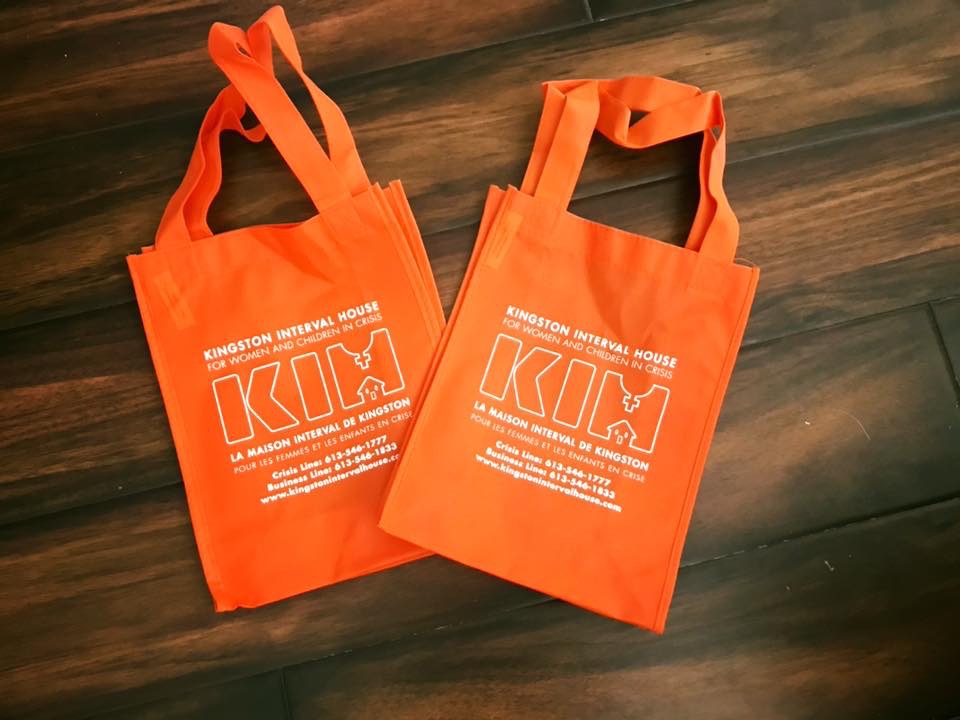 "For this May, it'll be different, of course," Karen explained. "I have donations already from the participants and a few local businesses and I will still be creating the baskets as I normally do. As people make their donations for ballots, they can indicate which basket they want the ballots in and I will enter them in the correct draw. I am advertising the baskets through the event on Facebook and through my pages and personal Facebook. Once I sort through the donations I will be able to post the basket number with the contents and a picture."
"Ballots will sell for three for $5 (same as admission), five for $10, eight for $15, and 10 ballots for $20. I will be asking anyone interested to e-transfer the amount to [email protected]. In the message space, I ask purchasers to indicate which baskets they want their ballots to go in. I am hopeful that many people will still chose to donate what they can. 100 per cent of the funds will go to the Kingston Interval House and I will draw the winners live the night the event was scheduled to take place at 9 p.m. or slightly earlier. The ballots will be for sale Friday, May 1, 2020 at noon until 7 p.m. on Friday, May 8, 2020 to allow enough time to get ballots filled out and in the baskets before the draw," Karen continued.
"Because I'm not too tech savvy, I felt like this was a great way to thank the businesses who were involved and still let the amazing supportive community have a chance to win the big baskets for the same reasonable donation they experience at the event!"
The Girls Night Out fall event is scheduled for Friday, Nov. 13, 2020, and Karen is optimistic that it will run as usual.
Karen shared her feelings on trying to host this event in our current situation: "I will miss the energy this event brings and the fantastic guests of all backgrounds with so many different reasons they've chosen to attend! The most important thing about life right now is to remember we are all in this together and to help out where we can."
Karen's virtual event is being held Friday, May 8, 2020, with the draw taking place around 9:00 p.m. Visit her event on Facebook to learn more, and view the basket contents.
Learn more about Kingston Interval House: http://kingstonintervalhouse.com/
Jessica is a busy working mom who enjoys writing, editing, and photography. She loves raising her family here in Kingston and tries hard to enjoy all Kingston has to offer. You can find more of her writing on her blog A Modern Mom's Life, and see what she gets up to with her family on Facebook, Twitter and Instagram!