Gerretsen: Local church has gone down 'very wrong and concerning path'
After more coverage of the questionable practices at Third Day Worship Centre come to light, MP Mark Gerretsen has decided to take a public stance on the autonomous church and its sole leader, Pastor "Apostle" Francis Armstrong.
On Tuesday, Dec. 15, 2020, the federal representative for Kingston and the Islands took to social media, referencing the new three-part series on Third Day Worship Centre (TDWC) being published by Global News Kingston (Part 1, Part 2, Part 3). That coverage expands on the coverage Kingstonist initially provided in September 2020, documenting Armstrong's preaching that included COVID-19 conspiracy theories, anti-LGBTQ sentiments, and accusations of terrorist activity at the Islamic Centre of Kingston.
Gerretsen continued to speak out against the church the following day, Wednesday, Dec. 16, 2020.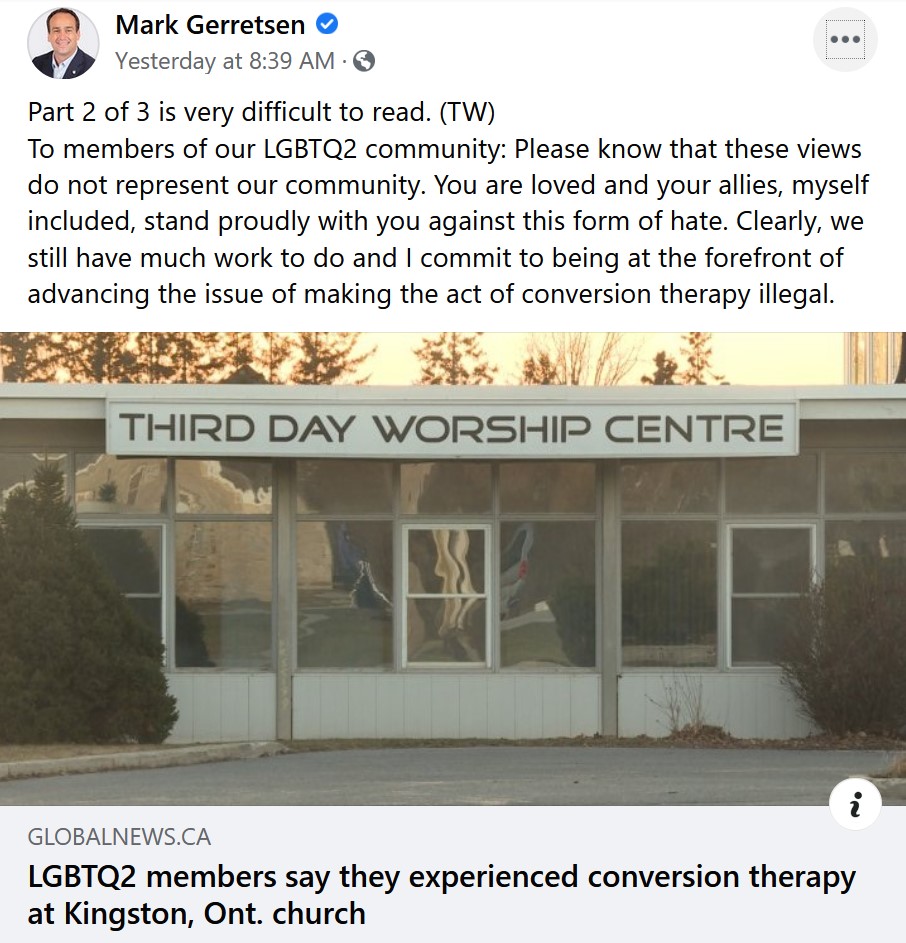 Speaking to Kingstonist as both the local MP and a Kingston resident, Gerretsen explained his reasoning for the public messages.
"I think first and most importantly, I want to make it clear that I believe that faith can be a wonderful thing, and it is very important to a lot of people, and I recognize that. But what we're seeing, based on the stories and the accounts and the reporting of what's been going on in Third Day Worship [Centre] is well beyond faith," Gerretsen said in a phone interview on Wednesday, Dec. 16, 2020.
"I am extremely aware of individuals' faith and how wonderful it can be for people and how important it is, but I'm very concerned that what appears to be coming out of the information that we're receiving is that it goes way beyond faith and believing in certain things for the greater good."
Gerretsen went on to voice his concerns about the questionable material Armstrong has shared in his preaching, beginning with anti-homosexual sentiments.
"I'm concerned with the anti-LGBTQ part of it. I think conversion therapy is a harmful practice that needs to be made illegal as quickly as possible, and I'm very pleased to see that we're already working on this legislation federally," he said, referring to the first-person accounts of conversion therapy taking place at TDWC from Vice and Global.
Next, Gerretsen spoke to a sermon Armstrong delivered, preaching COVID-19 conspiracy theories.
"I'm concerned about an individual in a position of power preaching conspiracy theories about Bill Gates putting microchips into vaccines," he said plainly.
Then, Gerretsen emphatically voiced opposition to Armstrong's accusations that the Kingston Islamic Centre received government aid to build the mosque, and that terrorist activity is known to take occur in such places. Armstong literally referred to the mosque "just down the road from us," making sure it was known he was referring to a specific mosque, which has an address on the same road as TDWC. Gerretsen took particular issue with the fact Armstrong had singled out a religious community within the broader Kingston community.
"I'm also very, very concerned about the attack on our Islamic Centre in Kingston and our Muslim community. Obviously, what was being said was something that is completely ill-informed and shows a massive lack of understanding of our Muslim community and those that congregate at the mosque in Kingston," Gerretsen said, noting that he recognizes Armstrong's accusation that the Islamic Centre received government funding to build the mosque is entirely unfounded.
"I'm sure [Armstrong] knows that. But that's what he's using to rally the troops, so to speak," the MP continued.
"Our Islamic community are some of the most welcoming people in our community," he said, noting that the local Muslim community has gone to great lengths to make him feel welcome when he's visited or spoken with them.
"They reach out and try to be inclusive in our community, and to suggest as that Pastor did that terrorist activities were well known in mosques and just down the street, is something that I just cannot wrap my head around, and I'm so disappointed to know that this kind of activity was going on in our community."
Gerretsen also took particular issue with TDWC having recently brought in a speaker to deliver a sermon at the church's three Sunday services. T.J. Malcangi, a Quebec resident and Evangelical preacher attended TDWC on Sunday, Nov. 29, 2020. (Shortly thereafter, a COVID-19 outbreak was declared at the church, which has since suspended in-person services.)
"I'm extremely concerned about any organization that does not follow Public Health guidelines, and you can 'follow the guidelines,' but if you don't believe in it, you're not going to be nearly as effective. The fact that, you know, they ended up inviting somebody from out of town and they advertised this… I mean, that just flies in the face of the entire response, our community's response to this global pandemic," he said.
"Our community has been so good about it and has done, by and large, a tremendous job, as recognized not just by me, but by other leaders from throughout the country, and it flies in the face of that incredible progress that everybody else in our community made," he continued.
"If you genuinely have this community-type vision that is being preached about doing good for the community, I cannot understand why somebody would actively encourage activities that go against our Public Health Unit's advice."
Questions of governance
Gerretsen pointed to the fact TDWC, where Kingston Mayor Bryan Paterson was an active member until earlier this year, acts autonomously as its own church as further cause for concern. Unlike traditional churches, which operate under governing bodies – such as the Anglican Diocese of Ontario or the Salvation Army, which is a Christian church and an international charitable organization – TDWC doesn't answer to any sort of authority.
"This particular church, the entire governing body appears to be central and focused around one individual, and he makes all of the decisions about what is right and wrong, about what to preach and what not to," Gerretsen said. He pointed to this as the reason he called for the church to be shut down.
"If there was another avenue, such as to go to a higher authority, that would be one outlet, but that doesn't exist, so the only thing that appears to me to be the appropriate course of action is for the church to end. And to end the hateful, discriminatory practices that have been instilled upon [that congregation] by this one particular individual," Gerretsen said, noting that his call for the church to shut down comes from a place of caring about those who attend TDWC, and not as some sort of malicious persecution.
"I'm not saying that it's wrong to have a church that's set up like this, what I'm saying is that the church, this particular church, has gone down a very wrong and concerning path in what we're witnessing has been preached in there," he said.
"When I say I believe the only option is for it to be shut down, I'm not suggesting that this is something that is done by a government agency or anything like that. I'm suggesting that it's time for the people who have been led by this individual to recognize that the teachings are extremely problematic, and are very dangerous at times, and they need to recognize this," Gerretsen concluded.
"Without the people going to the church, there will be no church."
MPP Arthur also weighs in
MPP for Kingston and the Islands, Ian Arthur, also took a public stance on the matter. On Tuesday, Dec. 15, 2020, Arthur posted the following on Facebook:
"As I said when this was first made public in September, the hateful teachings of the Third Day Worship Centre have absolutely no place in this community. To repeat, I condemn actions in our community that exclude or belittle others based on their religion, or their race, or their gender, or if they are a member of the 2SLGBTQIA+ community. We must celebrate and champion diversity. It is what makes our community strong.
"It is equally outrageous that during the COVID-19 pandemic, and in violation of KFL&A Public Health, Third Day Worship Centre held a prayer service inviting people from high-risk areas to attend. And now they are confirmed as a source of outbreak for COVID-19 in our community. Their actions continue to not reflect the values and compassion of this community."
Church urging members to keep social media comments from leaders
According to an email reportedly circulated to the members of Third Day Worship Centre, the church is asking its parishioners to keep the activity and comments being made about TDWC on social media from Pastor Armstrong and his wife, Edith.
The email, sent out on Monday, Dec. 14, 2020, refers to the recent attention as "an unprecedented assault on our church and Apostle through social and mainstream media."
"We are asking you all to resist the temptation to engage in these posts or comments on social media," the email reads.
"We are also asking that you keep Apostle and Pastor Edith out of the loop this season. They would like to avoid knowing the details of what is being shared as they focus on what the Lord is doing while they prepare for the new year. Please do not reach out to them with any details that you see or hear."
The email concludes by reiterating the concept that the recent media attention is an attack on the church.
"We believe wholeheartedly that this battle belongs to the Lord and He has never failed."