Gaels host Gryphons for 'Community Heroes & Football Tackles Hunger'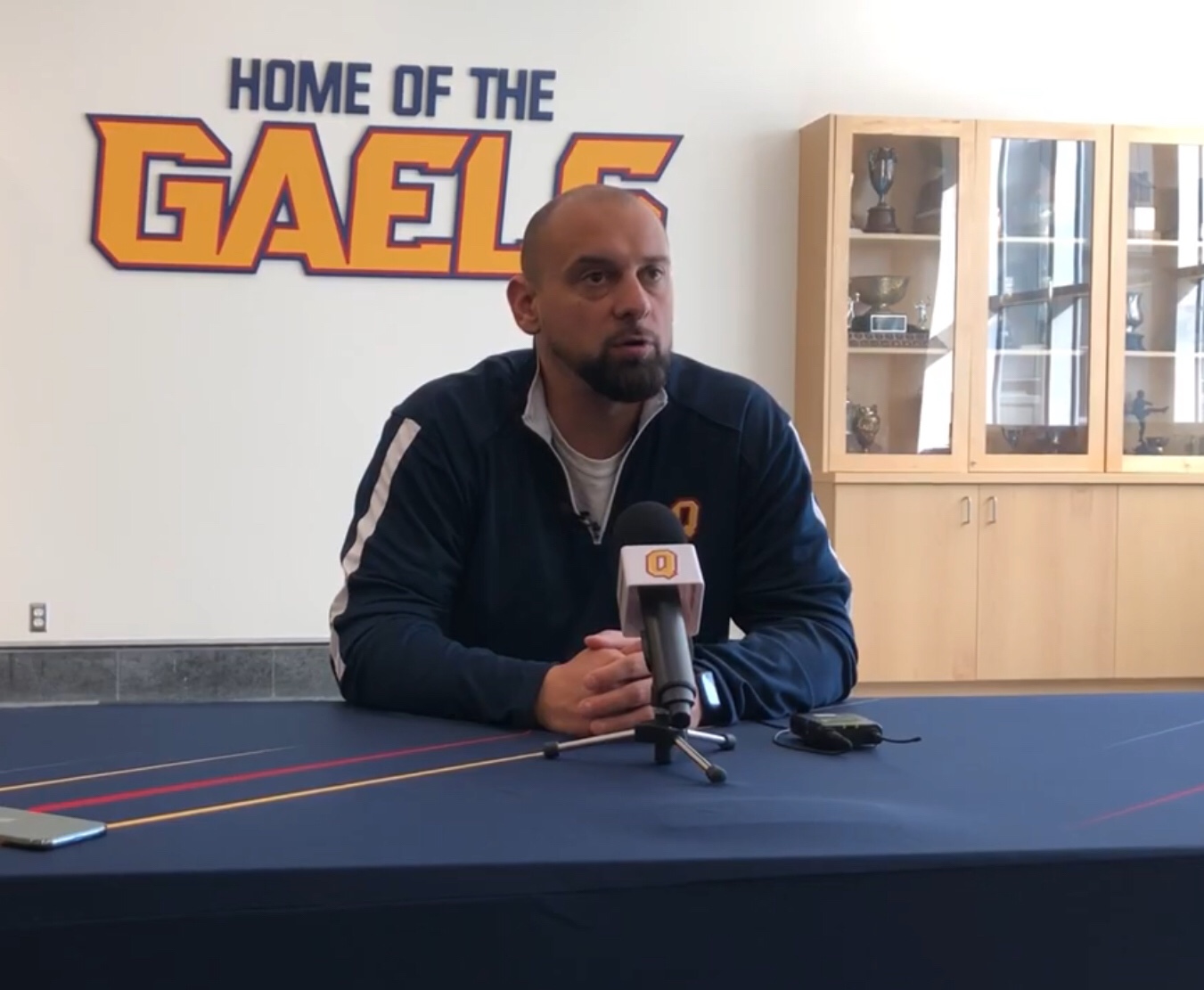 The Queen's Gaels will host the Guelph Gryphons at Richardson Stadium on Thursday for "Community Heroes & Football Tackles Hunger", starting at 6:00 p.m. The game will be live streamed on OUA.tv, and tickets are available at gogaelsgo.com/tickets.
Kingston Police, Kingston Fire and Rescue, Frontenac Paramedics and Kingston's Princess of Wales' Own Regiment will be present and honoured at the game, as tickets have been generously donated by local organizations and Queen's Athletics & Recreation.
Ahead of Thanksgiving, non-perishable food items will be collected for the "Gaels Tackle Hunger Food Drive for the Partners in Mission Food Bank Kingston".
Face painting and kid-themed events such as mini-police cruisers, a kid's fire course, and visits with Sparky the Fire Dog and a fire truck will take place at the game.
On the field, the Guelph Gryphons' remarkable defence and efficient running attack has vaulted them to fourth place in the OUA this season. The Gryphons' only two losses this season come in a close 9-3 contest against the unbeaten Western Mustangs and a 25-10 effort in their season opener against the McMaster Marauders.
Led by an outstanding defensive line that is ranked first in the OUA with sacks, the Gryphons' incredibly stingy defence has allowed a conference low 15.9 points per game.
On offense, the Gryphons primarily utilize the run to move the ball down the field, led by running back Kaine Stevens who's compiled 384 yards, and mobile quarterback Theo Landers, who's compiled 379 yards on the ground this season.
Guelph's special team is also a key contributing factor to their success this season. Guelph kicker Eric Stranz has been perfect this season, converting 11 of 11 field goal attempts and 19 of 19 PATs.
Wide receiver Clark Barnes returned a kickoff for a touchdown in each of the Gryphons first three games.
The Gryphons are led by head coach Ryan Sheahan, a former Gael himself and coach with Queen's which includes a 2009 Vanier Cup.
His younger brother Devan was a receiver for the 2009 Vanier team and is the Gaels former receivers coach, a position he now holds with Guelph, and both are sons of Gaels legendary coach Pat Sheahan.
Mark Surya is a 2009 Vanier Cup champion and the offensive coordinator for the Gryphons.
"Guelph is a really good football team and last year's Yates Cup finalist. They are going to present a big challenge for us athletically, experience wise, and with their strength. They are a really impressive football team," said Gaels head coach Steve Snyder.
While the Gaels will be rested coming off a bye week, so are the Gryphons who also didn't play over the weekend. Three of the Gaels' last four opponents have faced Queen's coming off a bye week, an interesting caveat in the OUA schedule.
Queen's will look for an improved result as the team is currently 1-2 against said opponents.
Queen's Burton will continue to build on his breakout season the Gryphons on Thursday night. Burton has amassed three consecutive 100-yard games. He's currently fifth in the OUA with 84.5 yards per game.
Against the strong running attack and quarterback that Guelph possess, Queen's will need to rely on strong defensive line play from Anthony Federico in search of a victory. Federico currently leads the OUA in sacks with 5.5.
The Gryphons' quarterback has been essential to the team's attack this season. A primarily run-orientated offense, Landers has been extremely mobile, ranking 10th among all players in rushing yards with 354 yards and has scored two rushing touchdowns. He's also been an efficient passer, completing 60% of his throws for seven touchdowns this season.
Guelph's Robinson ranks tied for second in the OUA in sacks with five. Robinson has played a key role in a dynamic Gryphons pass rush that leads the OUA in sacks. The Gryphons have sacked opposing quarterbacks a total of 23 times so far this season.
The Gaels earned a close 33-32 victory over the Guelph Gryphons in the last matchup between the two teams. Nate Hobbs threw for 332 yards and wide receiver Ben Arhen had a impressive day with three catches for 128 receiving yards. The Gaels led 33-7 early in the third quarter but the Gryphons nearly came all the way back and had a chance to win the game late. In the final seconds of the contest, the Gryphons missed a 32-yard field goal attempt to earn the victory.