From pier to posh: What exactly is 1110 King West?
Currently under review by the City of Kingston is a site plan control application by Kingston Waterfront Developments Ltd., which owns and is proposing to develop the site of the former grain elevators on a pier in Cataraqui Bay.
James Bar, acting Manager of Development Approvals for the City explained, "A site plan control application does not have a public right of appeal like a zoning by-law amendment, and it does not have a formal public meeting required under the Planning Act. However, there is a City process to have select site plan control applications brought forward for public review. Known as 'bumping up a site plan,' this application was 'bumped up' through a Council motion and will be brought forward to a public meeting of the Planning Committee."
The City does not regulate when developers are able to market or advertise units they have going through the development approvals process, and interested parties can already reserve a unit for purchase.
According to www.condosdeal.com, the larger of the two planned buildings will be "23 storeys high with the first floor located directly above the two raised floors of parking. The first floor has 5 suites plus a guest suite. Floors 2 through 3 have 9 suites per floor while floors 4 to 21 have 8 suites each per floor. Floor 23 (Penthouse/Sky Deck) has four Penthouse suites. Each suite has at least one private balcony (with the exception of the main floor suites which have private terraces). The building is designed with three elevators to minimize wait times for all. The parking area located at the base of the building provides covered parking and direct elevator access to each floor within the building. The first floor of the building is above the parking (essentially equivalent to a third-floor view.)"
A second shorter condo building of a similar design will also be built, as well as a commercial component on the property with a marina, and possible amenities like shops and snack bars.
If all of this is giving Kingstonians a sense of Déjà vu, they wouldn't be remiss. The site has been proposed for similar development multiple times — for over 40 years. The pier at 1110 King Street West has played a significant part in the history of Cataraqui Bay, which is often referred to as Elevator Bay, and Kingston. In recent years, that part has been complex, contentious, and even criminal.
History of the site
Great Lakes shipping in the 1930s saw several Ontario towns negotiating for lower lakes terminals. Canada Steamship Lines (CSL) president W.H. Coverdale was keen to bring loads of grain to Kingston. Thus, he began the Kingston grain elevator project to accommodate his fleet of 600-foot+ lakers, including the ships Lemoyne, Ashcroft, Gleneagles and Stadacona.
Cataraqui (Elevator) Bay was chosen because it allowed a dredging depth of 25 feet, it met the requirements for a 1,200 foot turning basin with 400 foot approach width, and a breakwater was able to be constructed there, as well as a rail connection. The first of 1,500 piles were driven into the floor of the bay on September 7, 1929. At a cost of $4,000,000, the project was huge for the time: a 600-foot dock on the west side with room for two canallers and railcar loading, a 700-foot dock on the east side with room for one upper laker, and 152 silos.
The elevator was completed on September 15, 1930, and Kingston became CSL's eastern terminus on the lakes. The Kingston elevator moved up to 25 million bushels per year and employed 50 workers.
But by late in the 1950s, the Kingston breakwater led to decreased water flow, weed growth, stagnation, and loss of the popular sandy beach along Front Road. Completion of the St Lawrence Seaway in that same era allowed lakers to bypass Kingston on their way from the Lakehead (Montreal) to the coast.
Eventually, the elevator was relegated to a storage facility of the Canadian Wheat Board and an overwintering spot for some of the Great Lakers. In the late 1980s, water transportation was no longer far cheaper than rail or even road. This spelled the death of Kingston's port era.
The property was sold in December 1985 to a numbered Ontario company. The elevator was demolished and replaced by 38 townhouses (selling for $250,000-295,000 each) and 343 tower condominiums by developer Richard Dudar, now known as Commodore's Cove.
The pier remained.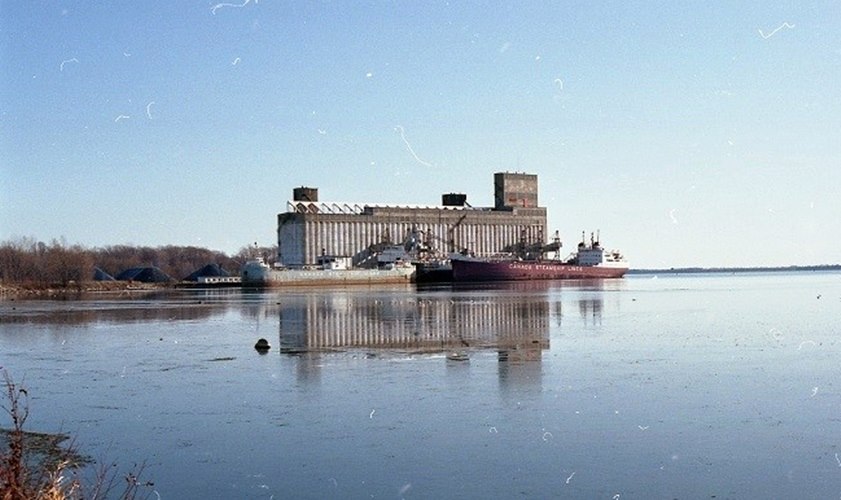 According to an engineering inspection report by Fenco in 1977, the concrete platform measuring about 21 meters by 182 meters is supported by wooden piles on bedrock.
The east and west sides of the pier are bound by wooden sheet piling walls. The wooden sheet piling is capped with a concrete walkway that also forms the wharf. For stability, the east and west side wooden sheet piling walls and walkways are tied together by steel rods at water level. An additional steel sheet piling wall was added to the east side in 1960 to accommodate larger ships.
At Councillor Doherty's 'Spring Councillor Connect' meeting on Thursday, Jun. 3, 2021, Michael Szilagyi, the City's file planner for the site, explained some more of the history to date.
In 1986, in an initial zoning amendment, the townhouses were approved, as well as 410 units to be built within the existing grain elevator building.
The next year, 1987, that was changed over to 343 units in a single high-rise building built on the pier. Said Szilagyi, "I don't know why, exactly, but I presume it just became too complicated and difficult and unreliable to convert the old grain silo into a residential building."
"This effectively established the permissions that we have been dealing with ever since," he expressed.
In the 90s, around the time the townhouses were actually constructed, a different concept came forward again, this time with the townhouse development and the high-rise component on the pier, but in three buildings. In addition, there was a proposed marina and commercial component.
In 2007, the most recent zoning amendment sought to add permission for a residential care facility and a retirement home, which wasn't yet permitted on-site, Szilagyi explained, "and some other performance standards related to that: a reduced parking requirement for those retirement units, as well as some additional commercial uses that would be supportive of the retirement team — pharmacy, hairdresser, clinic, that kind of thing."
But again, the fact that the entirety of the land was included in those four components of development — residential, highrise, marina, and commercial — established the existing zoning for the site.
Legal problems
In 2008, a draft plan to build three towers was submitted to the city by Elevator Bay Developments and company president Sandro Sordi. On April 17, 2008 Admirals Walk Residences Inc. was granted a five-year temporary permit to construct a sales office. That permit expired in 2013. However, the build never happened and by September 2012, the company owed more than $350,000 in unpaid taxes to the City.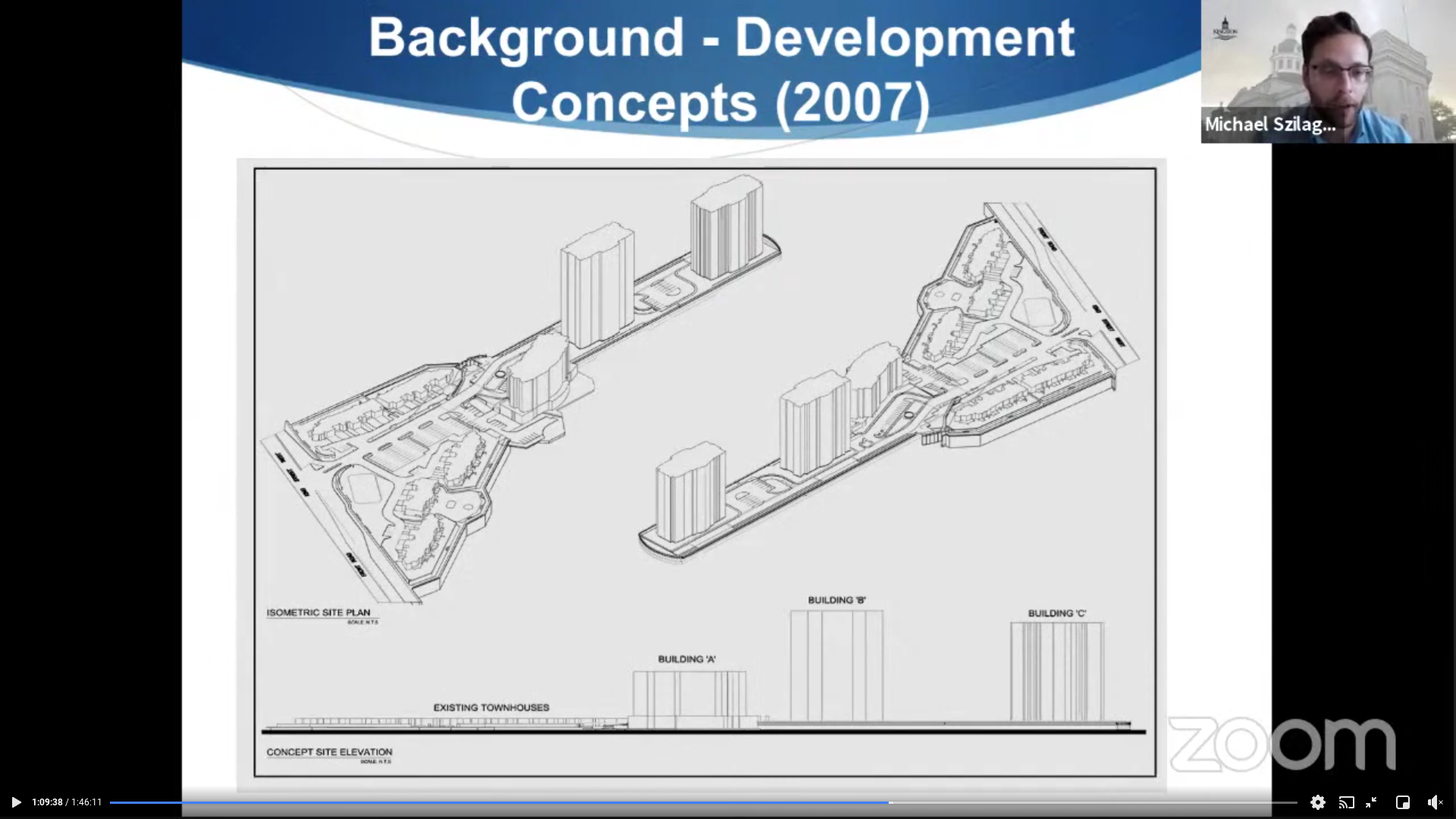 Just as the city was about to step in and sell the land for tax arrears, the developer cut a deal with the city council of the time, who approved a motion giving Sordi "additional time… in order for him to reorder his affairs to pay the cancellation price."
The following year, in June 2013, the city issued an order for the temporary sales office to be removed. That never happened, so the condominium residents sent a petition calling on the City to move in.
The building deteriorated: a large section of its metal roof blew off and landed beside some nearby homes, the fencing limited public access to the pier, and birds and animals took up residence. 
In 2017, Tarion, formerly known as the Ontario New Home Warranty Program, whose primary purpose is to protect consumers of new homes by ensuring that builders abide by the provincial legislation, stepped in and began an investigation into Sordi.
Tarion was alerted that Admiral's Walk Residences Inc. was marketing new condominium units at 1106 and 1110 King Street West in Kingston. Under the Ontario New Home Warranties Plan Act, new home builders and vendors must be registered with Tarion and enroll their homes in the new home warranty program. While Admirals Walk Residences Inc. had previously been registered with Tarion, the company's registration had expired in August 2008 which meant it could not legally enter into purchase agreements after that date.
Tarion investigators executed search warrants and obtained 80 agreements of purchase and sale for new condominium units which had been sold by the vendor.
In addition, the proposed condominium units were not enrolled in the new home warranty program. As a result, the corporation and Sordi were each charged with 80 counts of failing to be registered as a vendor and illegally entering into agreements to sell new condominium units.
On April 9, 2019, the presiding Justice of the Peace, Justice Jack Chiang accepted the guilty pleas of Admiral's Walk Residences Inc. and Sandro Sordi. The Justice imposed a fine on the company of $500 per count plus victim surcharge fees, for a total of $50,000. Sandro Sordi received a suspended sentence.
Technical Review phase
This past spring, new developers Kingston Waterfront Developments Ltd. made their sixth submission to the city. Its status currently is under technical review, and Szilagyi explained, "It's being evaluated by other departments, and external agencies and they will provide comments. I haven't yet taken the time to do a deep dive into this submission; I tend to wait for all, or at least the majority of the comments to come back before I do my evaluation."
According to online advertising, "1110 King West is a once in a lifetime project due to the premier location along Kingston's Waterfront. RE/MAX RISE has worked with the development team for over a year in planning and execution prior to launch."
Currently, units are advertised for between $400,000 to $1.8 Million with a $10,000 deposit.
This article is Part 2 in a two-part series on the proposed development at 1110 King Street West, the community reaction to it, and the history of the site. Part 1 can be read here.