Four fun facts about City Hall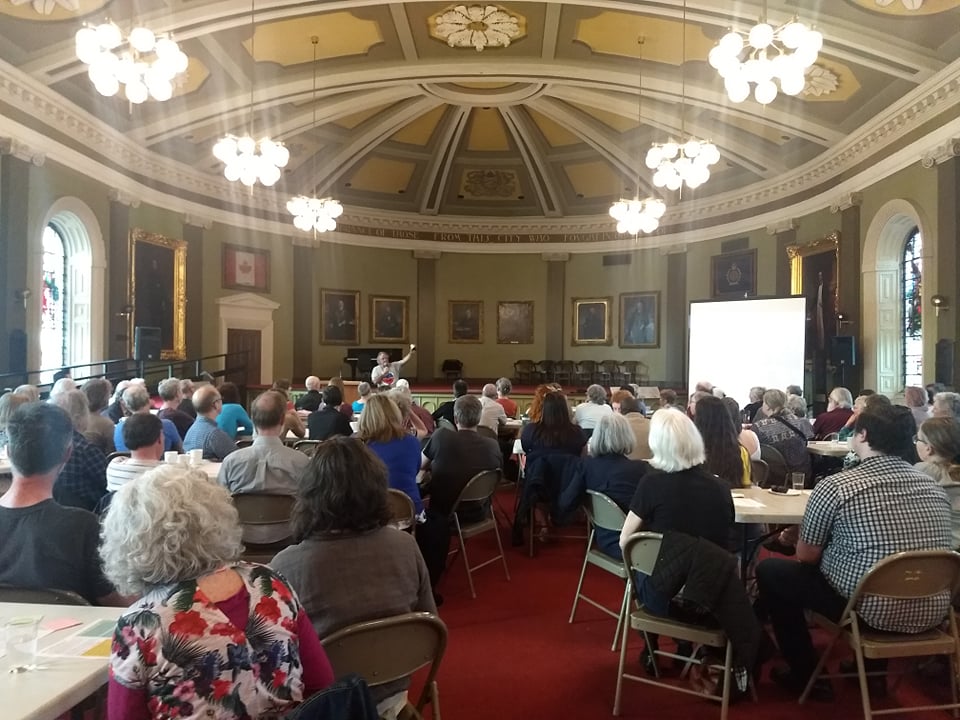 The heat, the glorious heat. After seven cold and wet months, finally a breath of hot, humid air. Though I welcome the humidity and long summer days, they are already winding down and I'm conscious that we need to do more to ensure our most vulnerable residents have the AC they need.
Also winding down is most politics, at least for a moment. While MPs (and MP hopefuls) may knock on doors during the dog days and MPPs may work the BBQ circuit, unlike our provincial and federal cousins, city councillors don't get a long break from our respective seat of government.
Queen's Park is "out for summer", Parliament Hill is "out forever" (that is until the next, new parliament convenes after this fall's election with apologies to Alice Cooper) but City Hall remains open for business: providing local services, plenty of tours to more than 400 daily visitors, and a now semi-regular council schedule. Indeed, most committees, working groups, and council meet once a month during July and August.
And while this heritage building toils under the strain of record-breaking temperatures (much less so than it would if we didn't have a tremendous building automation system championed by the city's facilities team), I thought it would be fun to share some facts I've learned about this world class example of neo-classical architecture. In fact, it is an emblem of stateliness, fit for the first capital and first parliament of Canada.
Except it wasn't.
Fact 1: City Hall was just that – a city hall, not the early parliament buildings.
Kingston was the capital of the United Provinces of Canada from 1841-1844, so many make the mistake that the building was the home to a nascent legislature. It's an easy mistake to make, especially because the building was so grand and expensive for its time and place. Also because it is seemingly set up as a bicameral institution, one wing and corresponding chamber for the Commons, the other for the Senate.
Wrong again (okay, okay, I'll be nice).
In reality, the different wings housed many things. From a women's medical school, to a saloon, a bank, the local market, even the room where our infamous and incredible first prime minister lay in state. Plus, don't forget the ye olde police department and social housing. It was all there.
The then parliament buildings were actually in the original Kingston General Hospital that was built but not immediately outfitted due to insufficient funds.
Fact 2: City Hall's market wing used to be much larger and was destroyed by a fire in 1865.
Indeed, two years before the market square we know and love was the site of the reading of Canadian Confederation (1867) it was home to a bigger northern arm of City Hall. Well, kinda.
Nonetheless, the space was still used for, you guessed it, market stalls and the trading of goods. If you wanted to bring your stuff to sell, you entered the market wing through the domed passageway on the south side of the building.
That's what I mean when I say "kinda". City Hall was essentially divided in two pieces from the vantage point of Lake Ontario. Walking through the structure today, it becomes apparent that the west and east wings were not joined (no allusion to positions of federal power or political marital discord elsewhere intended).
Next time you're in City Hall, come if you can by the front steps and look up as you enter the main door. The mezzanine that runs between the two wings, the infill of an elevator, all starts to make sense.
The historic market wing was also the portion of the edifice that supported the initial clock tower. That went with the fire too. The clock was moved afterward to, what at least modern Kingstonians would think of as, the front clocktower. It also had a conflagration in 1904, though the clock was "intocked" that "time" (the quotation marks providing both a horrible pun and a means to practice your deep British accent).
Of course, fire was common in those days. Common and devastating; the flames a great equalizer burning everything from the waterfront warehouses of notable 19th century Kingstonians – like John Counter, the city's first mayor – to nearby wood housing and ships and anything that got in its way. Amazingly and thankfully, noboby was killed in the Great Fire of Kingston of 1840!
Also, as an aside, sorry if you thought Kirkpatrick was the first mayor of Kingston. It's understandable as his portrait prominently adorns Council Chambers. He's the one with sick mutton chops, left of the Queen, the new city crest, Prince Philip, and former mayor Gary Bennett. Kirkpatrick was actually the first mayor of the **town** of Kingston. Semantics perhaps?
Speaking of Council Chambers…
Fact 3: Kingston's beautiful, historic, traditional chambers in City Hall are not that old, though some of the furniture is.
Hard to believe but the main chamber – containing our beloved horseshoe of debate and deliberative democracy, vaulted ceilings, columns, etc. – used for council meetings, the local planning tribunal (aka the LPAT, which is an acronym worth remembering), and other committees, was only concocted as such in 1973.
The massive light fixture gave it away, didn't it? Looks like it would go well with shaggy red carpet and brown faux-wood panelling from your childhood basement, amirite?
More than that, City Hall was actually completely closed for a year to undertake a massive renovation that included moving council chambers from the lower East side to the upper West side of the Brownian masterpiece. George Brown was the Montreal-based, Irish architect who designed City Hall, the old S&R building, and much more.
Fact 4: There are so many old white men in ornate gold frames at City Hall because Mayors' terms used to be only one year (terms are now four years).
A striking, and convicting, feature of our place of local government is the preponderance of bearded fellows on the walls. Unfortunately, they don't move back and forth like at Hogwarts.
They're there to rightfully remind us of their contribution to our community. They also serve, if only for me, as a reminder of the need to help encourage and make space for more women in politics.
Indeed, Kingston has only had two female mayors. The first, Helen Cooper (1988-1993), the second, Isabel Turner (2000-2003) – the namesake of our excellent public library in my council district. Both gave much to our city, province, and country. After they were head of council, for instance, Ms. Cooper was chair of the Ontario Municipal Board (now LPAT) and Ms. Turner a Queen's Gold Jubilee winner. Also, interestingly, both were first elected in 1980, pre-amalgamation, the former in the City of Kingston and the latter in Kingston Township.
The fact remains: two female mayors to 87 male mayors (if I've counted correctly) since our incorporation nearly 200 years ago. It's clear we have a long way to go.
And that is why I love learning our history, even the history of a building so ubiquitous in civic life, because in learning about where we've come from we can think about where we are and consider where we want to go. It's a cliché I used when I taught high school history, no doubt. Yet it's also a powerful truth that we can see echoed in the hallowed halls of Kingston City Hall.
So, if you found this article moderately interesting, I highly recommend you take a tour of the building starting in the excellent Heritage Resource Centre. The amazing volunteers here, powered by an incredible cultural services staff, can shed far more light on our history. All I know about the space I learned from them and their recommended readings such as Brian Osborne's "Kingston: Building on Our Past for Our Future". Though of course any errors in my recounting of the facts, and all the bad jokes, are mine alone, particularly because I wrote this on my phone!
Robert Kiley is a Kingston City Councillor representing Trillium District. He tweets @robert_kiley.