Fire destroys Napanee Fairgrounds building
Greater Napanee Emergency Services continue to fight a large fire that has now destroyed the Napanee Fairgrounds building on the morning of Monday, Oct. 23, 2023.
The fire department responded shortly before 3 a.m. to find the building heavily involved, with fire through the roof, and heavy embers showering into the surrounding neighborhood. GNES' fire chief called for OPP to assist with evacuating nearby residences, and requested mutual aid from Loyalist Township and Kingston for aerial firefighting devices.
It has largely been defensive attack through the night, with several instances of building collapse.
There have been three aerial devices operating now for several hours, and as of 8 a.m. there is still active smoke and fire within the building.
Emergency Medical Services attended for standby only as a precaution, and brought in their command post trailer, which is being used for rehabilitative operations.
OPP have shut down York Street and Thomas Street West in the area of the fire.
Hydro has been called in to deal with several power lines that had fallen from the building, one that had trapped a fire truck at the scene, but did not affect firefighting operations, and no injuries were reported.
The town of Greater Napanee was requested to boost water pressure due to the large volumes that are being flowed.
No injuries have been reported in regards to this fire.
In total, Loyalist Fire, Kingston Fire, Lennox and Addington Paramedics, and OPP have been dispatched to assist Greater Napanee Emergency Services with the incident. The Office of the Fire Marshal has been called to investigate the cause of the fire.
Carol McKinley, the Lennox Agricultural Society's President and acting Secretary-Treasurer, provided an update to members regarding the fire on Monday morning.
"This is not an email I want to be sending," she began. "The Community Centre has been burnt down. I just wanted members to know that there is a Police Investigation that is happening."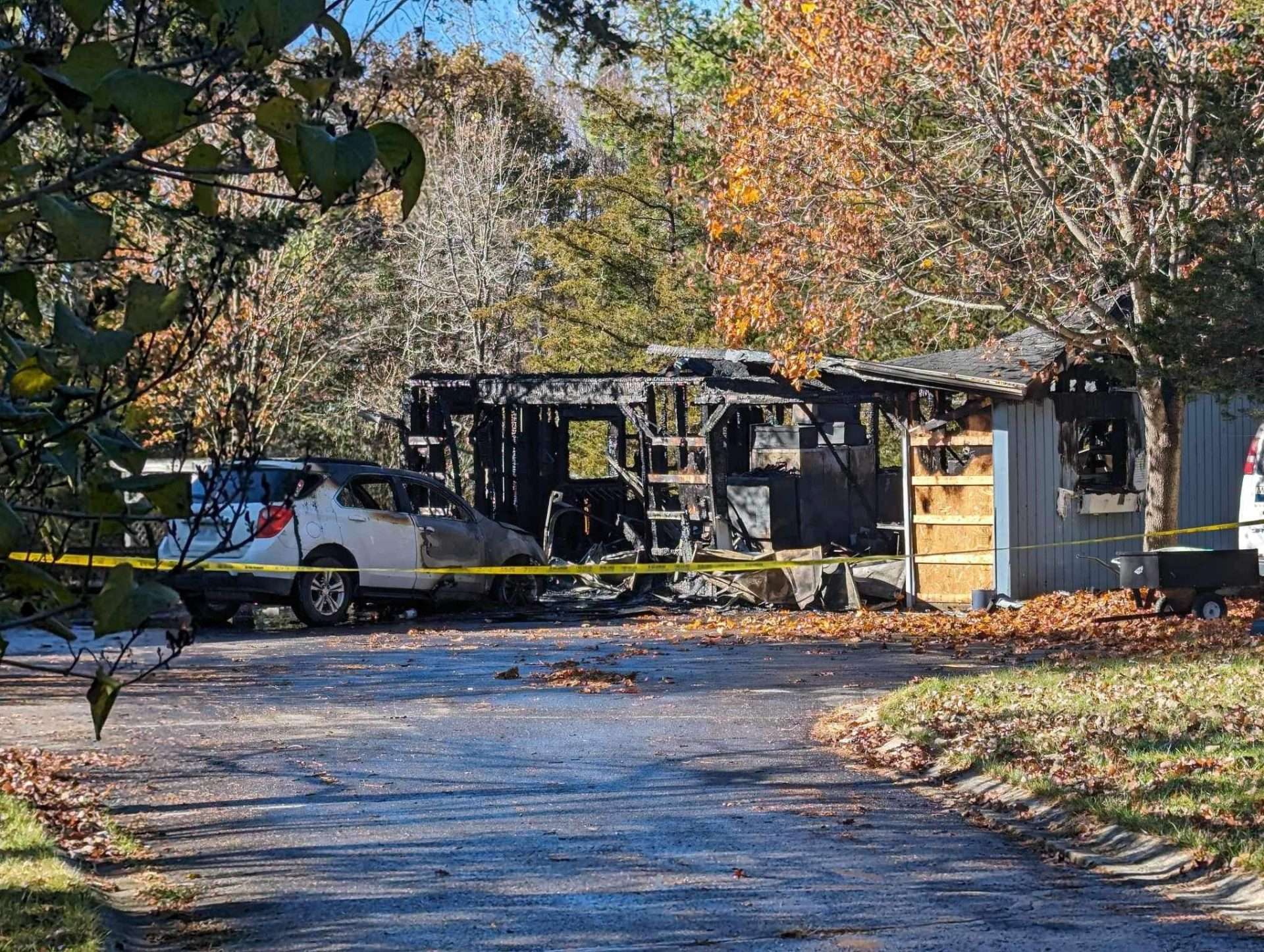 "Coincidentally our garage and vehicle were set on fire as well this evening at our home," McKinley revealed. "I will keep members updated when I have more. Take care and be safe."
An investigation is ongoing by the L&A County OPP in conjunction with the Ontario Office of the Fire Marshal.
Investigators are asking anyone who lives in the area of the agricultural building and who may have home surveillance cameras or Dash camera video to upload a copy of their footage taken between 1:30 and 3:00 a.m. this morning (Monday, Oct. 23, 2023) using the following secure evidence submission portal:
https://bit.ly/napanee_agbuilding_fire
Police are seeking the public's assistance and ask that if you or someone you know has information concerning the fires to contact the Lennox and Addington County OPP at 1-888-310-1122. Should you wish to remain anonymous, you may submit a tip to Crime Stoppers at Crime Stoppers at 1-800-222-8477(TIPS) or online at Crimestoppers.ca.
Editor's note: An earlier version of this article referred to Carol McKinley solely as the secretary-treasurer for the Lennox Agricultural Society. In fact, McKinley is the president of the Society and the current acting secretary-treasurer, as the former secretary-treasurer recently resigned.