Kingston and the Islands Election Predictions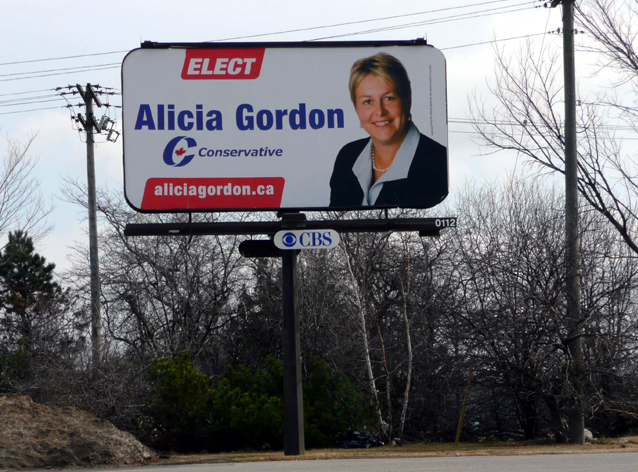 Over the past few weeks, elected representatives and local hopefuls of all stripes have been making the rounds in an effort to connect with voters.  While running errands this past weekend, I noticed a billboard along John Counter Boulevard, which suggested that Kingstonians should vote for the newly crowned, local Conservative representative, Alicia Gordon.  Did someone call an election and forget to tell us about it?  While many political analysts are forecasting an election in our immediate future, all of the key players remain tight lipped as to whether or not the current government will remain as is for mere days or months.  In light of all the recent political drama, and the aforementioned billboards, this week's poll question asks:

If you had to vote today, which party would you support in an election?
New Democrats (55%, 188 Votes)
Liberals (24%, 81 Votes)
Conservatives (12%, 40 Votes)
Greens (7%, 24 Votes)
Can't Decide (3%, 9 Votes)
Total Voters: 342
Loading ...
For the first time since 1988, Kingston and the Islands will be represented by a fresh face after the next election, thanks to the retirement of our longstanding Member of Parliament,
Peter Milliken
.  Like many of our readers, I was sad to learn that the Speaker of House was stepping down, however I am excited to see how the new group of hopefuls will fare.  The big question is whether or not Ted Hsu (pronounced "shoe") will be able to retain Kingston's long-standing Liberal seat.  While the Liberal's registered 39.1% support during the 2008 election, this was a decrease in comparison to the 2006 (45.9%) and 2004 (52.3%) elections. Conversely, it's worth pointing out that former Conservative hopeful, Brian Abrams, captured 32.5% of voter support in 2008, which was a decent gain in comparison to the 2006 election (26.1%).  In that respect, perhaps the second burning question is whether or not Gordon will be able to build on that momentum?
How long do you think we've got until an election is officially called?  What local issues will define the battle for Kingston and the Islands?  Please drop off some comments below and let us know why and how you'll be voting this time around.