Event hopes to help people 'understand the beauty and diversity of Indigenous culture in Canada'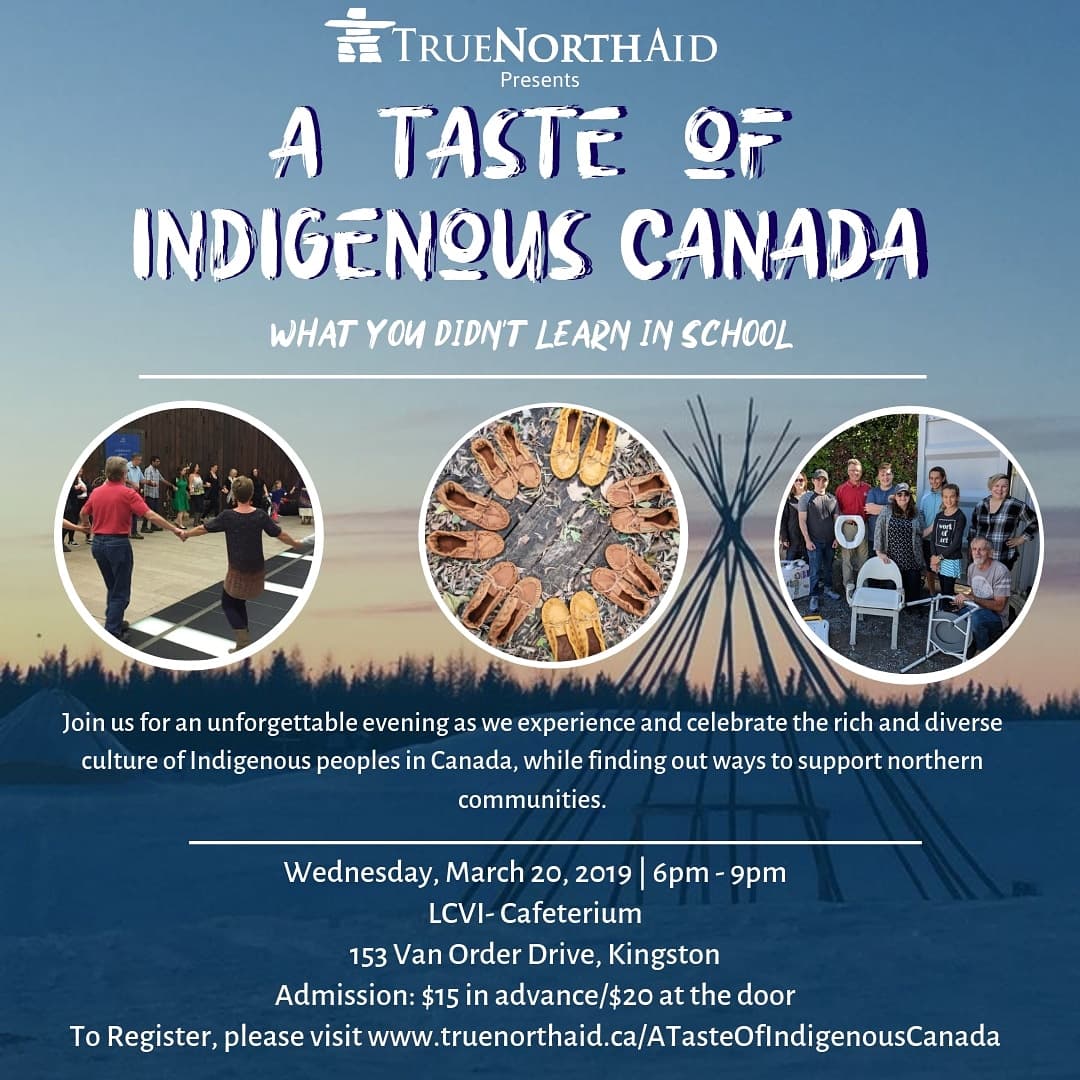 Given its rich history, and the fact that the land this city was built on originally belonged to the Anishnabee and Haudenosaunee, Kingston should be a great place to learn more about Canadian Indigenous culture. And True North Aid is helping facilitate that.
True North Aid, an organization dedicated to serving and supporting northern indigenous communities in Canada, is hosting 'A Taste of Indigenous Canada' here in Kingston on the evening of Wednesday, Mar. 20, 2019. Taking place in the cafetorium at Loyalist Collegiate and Vocational Institute (LCVI), the event aims to allow non-indigenous and Indigenous people alike to come together, and to learn about and experience parts of Indigenous culture. At the same time, attendees can learn more about projects aimed at reconciliation, and about how to help support northern communities in Canada, explained Amanda Stolk, project lead for True North Aid.
Activities during the event will include a ceremony, song and dance, and Indigenous artwork, Stolk explained. Additionally, vendors will be on site selling traditional and modern Indigenous items, like moccasins, dream catchers, beadings, medicine bags, and more. There will also be a panel of Elders speaking at the event representing Mohawk, Cree, Abenaki, Metis, and Haida peoples, as well as other Indigenous people who will be sharing part of their culture through land acknowledgement and a welcoming song.
"Attendees will learn about how they can get involved in reconciliACTION, learn about the history of residential schools and colonialism," Stolk explained.
"As well, there will be food made by 'Turtle Island Indigenous Catering,' so participants will be literally tasting indigenous food."
At the same time, the event will serve as an opportunity for attendees to learn more about projects that True North Aid is working on to support northern communities, such as:
"We will be sharing what it means to be a champion of the north, and for Indigenous communities across Canada through our various projects," said Stolk, who explained openly and frankly why she and her colleagues with True North Aid felt it was important to organize 'A Taste of Indigenous Canada.'
"We think it is important for non-indigenous people to understand the beauty and the diversity of indigenous culture within Canada, and therefore, with True North Aid's Indigenous advisory council, are providing an opportunity for people to learn and perhaps take the first step into being a part of reconciliation in Canada," said Stolk, noting that the two over-arching themes for the event are 'What you didn't learn in school' and 'Reconciliation begins with understanding.'
"The more that we understand the teachings and the culture of Indigenous people, the more that we can understand the issues that many Indigenous communities face, and why their land and their culture is so special and sacred to them."
Tickets are $15 each, with all proceeds going to True North Aid for the projects outlined above and "will allow True North Aid to continue to grow and support more communities in Canada," Stolk expressed.
To register for 'A Taste of Indigenous Canada' and reserve your tickets click here (before 3 p.m. on Wednesday, Mar. 20, 2019). Find out more about the event here, or email Amanda Stolk at [email protected].
To find out more about all of the projects through True North Aid, click here.