Does Kingston Need Light Rail Transit?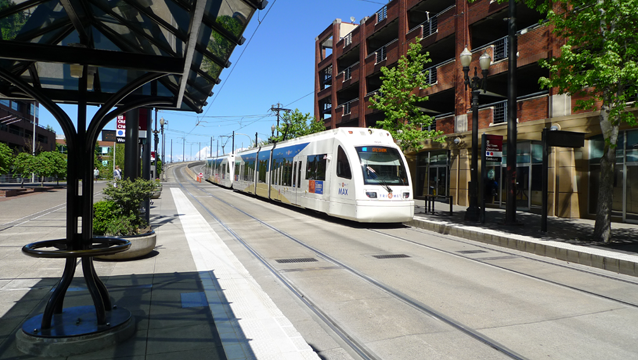 In January 2002, Kingston's Transportation Master Plan reported that:
during the afternoon commuter peak hour, 82 percent of trips were made by car, 11 per cent by walking, 6 percent by transit (3 percent school bus and 3 percent public transit) and just over 1 percent by cycling. Over the next 25 years, Kingston is expected to grow by between 30 to 45 percent, and travel demands will increase concurrently.
Nearly a decade after the 2002 report, traffic jams and rush hour in Kingston may not be close to what commuters in Toronto, Montreal and Vancouver have to endure, but our traffic woes are nevertheless frustrating and time consuming. Our public transportation scheme has seen some improvements since the 2002 master plan, as bus routes have been expanded and optimized, bike lanes have been established along major arteries, and let's not forget about the seasonal rack and roll program on board Kingston Transit buses.  While these developments may be enough to accommodate local commuters in the year 2011, what direction should our Transportation Master Plan steer us in order to ensure that our transit network remains rapid, reliable, affordable, accessible and sustainable?  Should Kingston be having the difficult talk that Ottawa, Hamilton and other smaller Canadian centres are having?  Accordingly, this week's poll asks:
[poll id="42″]
With current commute times and public transit volume in mind, I'm not convinced that a light rail transit system is a necessity for Kingston.  That said, according to the 2009 transportation model update, in 2019 we can expect a 23% increase in public transit ridership, and in 2029 at least a 35% increase over current rates.  Add to that the expectation that by 2019 many major roadways will have exceeded their capacity during rush hour, and we'll be crawling to and from work in no time.  While some might argue that more buses are the answer, there comes a point a time when even articulated models can't keep up with commuter demand.  Looking ahead to how Kingstonians will deal with increased traffic volume, the rising cost of fuel, and promoting future growth, should we proactively consider an LRT as a part of our strategic vision?
Thanks to camknows for today's photo.