Emergency services, City of Kingston 'disappointed in dangerous behaviour' during 'faux coming'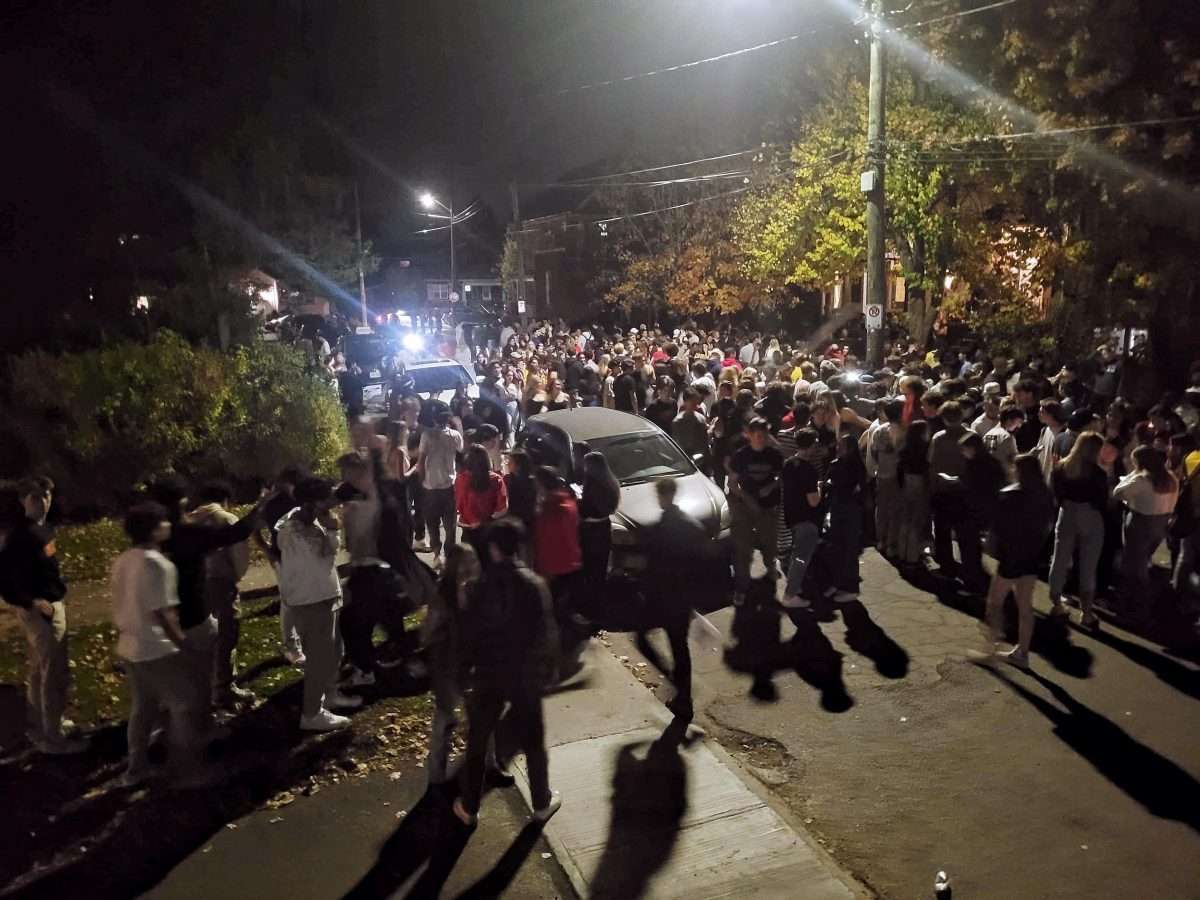 With approximately 7,000 partiers in one afternoon, multiple incidents leading to injury, 36 noise complaints, 88 provincial offence charges, 13 arrests, and 102 Administrative Monetary Penalties (AMPs), it's not difficult to see why the City of Kingston and the first responders within it are "disappointed" in the behaviour demonstrated in the University District over the weekend from Friday, Oct. 21 to Sunday, Oct. 23, 2022.
With an additional $9,754.99 in clean-up costs incurred by the City, 21 calls to Frontenac Paramedic Services Saturday night and into Sunday morning alone, and the "added strain" at local hospitals, this past weekend was a precursor to the coming Homecoming weekend – the so-called "Faux Coming," or "FoCo" celebrations. All those things considered, the City and Kingston Police issued a press release on Tuesday, Oct. 25, 2022, and their messaging was clear: disappointment, frustration, and direct notice that this behaviour will not be tolerated in the coming days. Queen's University's Homecoming 2022 takes place from Friday, Oct. 28 to Sunday, Oct. 30, 2022.
In particular, Kingston's emergency services – including Kingston Police, Kingston Fire and Rescue, and Frontenac Paramedic Services – pointed to the very large unsanctioned gathering that occurred in the University District on Saturday, Oct. 22, 2022. The press release stated these emergency responders are "disappointed with the outcome of the large unsanctioned gathering that took place," and noted that "attempts to dissuade individuals from attending the gathering were not adhered to and crowds of approximately 7,000 partiers were observed throughout the afternoon, primarily in the area of Aberdeen Street between Johnson Street and Earl Street."
Additionally, this all occurred after Kingston Police, the City of Kingston By-law Enforcement Team, and representatives from Queen's University "spoke to students in the University District about the importance of safe, responsible and lawful celebrations" in the week leading up to the weekend in question.
"Individuals in attendance at this unsanctioned gathering were observed engaging in dangerous activities including gathering and drinking on rooftops, crowd surfing on various objects, and climbing trees while intoxicated. Projectiles were also thrown at police, bylaw and partygoers alike," the joint press release reads.
"It is unacceptable that a student-held event, such as this weekend's unsanctioned gathering, led to serious consequences involving numerous arrests, fines being laid, and serious injuries being sustained."
At least two partygoers sustained injuries due to falls on Saturday, Oct. 22, 2022, including one who fell from a rooftop. Multiple injuries, ranging from minor incidents to serious matters were reported, and were sometimes made more serious as the attendees gathered blocked the roadway for first responders attempting to tend to those injured or in need of medical attention.
Shortly after 8 p.m. that day, Frontenac Paramedics, Kingston Police, and Kingston Fire & Rescue were dispatched to the area of Brock Street near Alfred Street after a male in his 20s was hit by a truck hauling a large catering trailer. The pedestrian was rushed to hospital with life-threatening injuries. According to police, that incident remains under investigation at this time.
"We continue to see the impact that social media has had on mass gatherings in our communities and the rivalry that has been created between Universities to hold the biggest unsanctioned Faux Homecoming parties and traditional Homecoming events. Regardless of best efforts by Kingston Police, first responders, community, and policing partners, we echo the disappointment and concern expressed by others in seeing the dangerous and reckless behaviours displayed by some of those in attendance at this past weekend's unsanctioned gathering," said Kingston Police Chief Antje McNeely.
"As we prepare for next weekend's Homecoming, we will continue to proactively educate and engage with our community in advance, with a continued strategy of zero tolerance for any criminal, provincial, and by-law infractions being committed. We thank all our partners and Kingston Police members for their commitment to ensure community safety for everyone during these complex events."
Kingston Police said they and their partners worked throughout Saturday, Oct. 22 and into well into the morning of Sunday, Oct. 23, 2022, "attempting to mitigate disruptive gatherings while also ensuring that emergency services were able to effectively respond to calls that were generated as a result of the unsanctioned event." According to Kingston Police, support was extended from various other police services from across the province, including Toronto Police, Durham Regional Police, Ottawa Police, Brockville Police, Smith Falls Police, Belleville Police, Tyendinaga Police, and the Ontario Provincial Police.
In total, Kingston Police responded to over 65 calls in the University District regarding "excessive noise, nuisance parties, public intoxication, disturbances, mischief, fights, and medical distress." The following are the statistic on charges and arrests that occurred on Saturday, Oct. 22, 2022, alone, according to police.
In terms of Provincial Offences, there were:
72 Open Liquor charges under the Liquor Licence Control Act
13 Public Intoxication charges under the Liquor Licence Control Act
1 Person Under 19 consuming alcohol charge under the Liquor Licence Control Act
2 Highway Traffic Act charges
There were an additional 13 arrests for public intoxication under the Liquor Licence Control Act, as well as 36 noise complaints in the University District and eight nuisance party complaints, police said.
"Despite clear messages to avoid large gatherings, we were disappointed to see the large crowds participating in dangerous street parties over the weekend," said Kyle Compeau, Manager of Enforcement for the City of Kingston.
"With community safety as our number one priority, the enforcement team worked closely with Kingston Police to disperse the large crowds and mitigate risk. We will continue to work closely with our community partners as we head into homecoming weekend."
By-law Enforcement statistics for Saturday, Oct. 22, 2022, alone included a total of 102 AMPs, broken down as follows, according to the City:
1 for yelling or shouting – $100
21 for amplification of sound – $4,200
63 for failure to comply – $31,500
17 for attending, hosting, or sponsoring an aggravated nuisance party – $34,000
Finally, the City and Kingston Police pointed to the stress placed on local hospitals as a result of the events, particularly at the emergency department of Kingston General Hospital (KGH). Through Saturday and into Sunday morning, Frontenac Paramedics responded to 21 calls related to the unsanctioned gatherings.
"There were some serious and avoidable injuries among revellers in the University District this weekend. This while everyone working in emergency medical services continues to face COVID-related capacity challenges," said Chief Gale Chevalier of Frontenac Paramedics.
"Also, a Paramedic from a crew here to assist from a neighbouring service was assaulted by a reveller on Saturday evening. There is never an excuse or reason for violence or aggression against Paramedics. It will not be tolerated."
The City of Kingston and Kingston Police indicated that Police Liaison Team (PLT) officers will be proactively engaging residents in the University District this week with Homecoming weekend fast approaching.
"We encourage students and all community residents to engage in conversations with PLT members to ensure Homecoming is a peaceful, lawful, and safe event for all to attend," the joint press release concluded. "In addition, Queen's staff and students will be engaging residents in the University District and reiterating proactive safety messaging."