Electric vehicle owners can now charge up at Odessa and Napanee ONroutes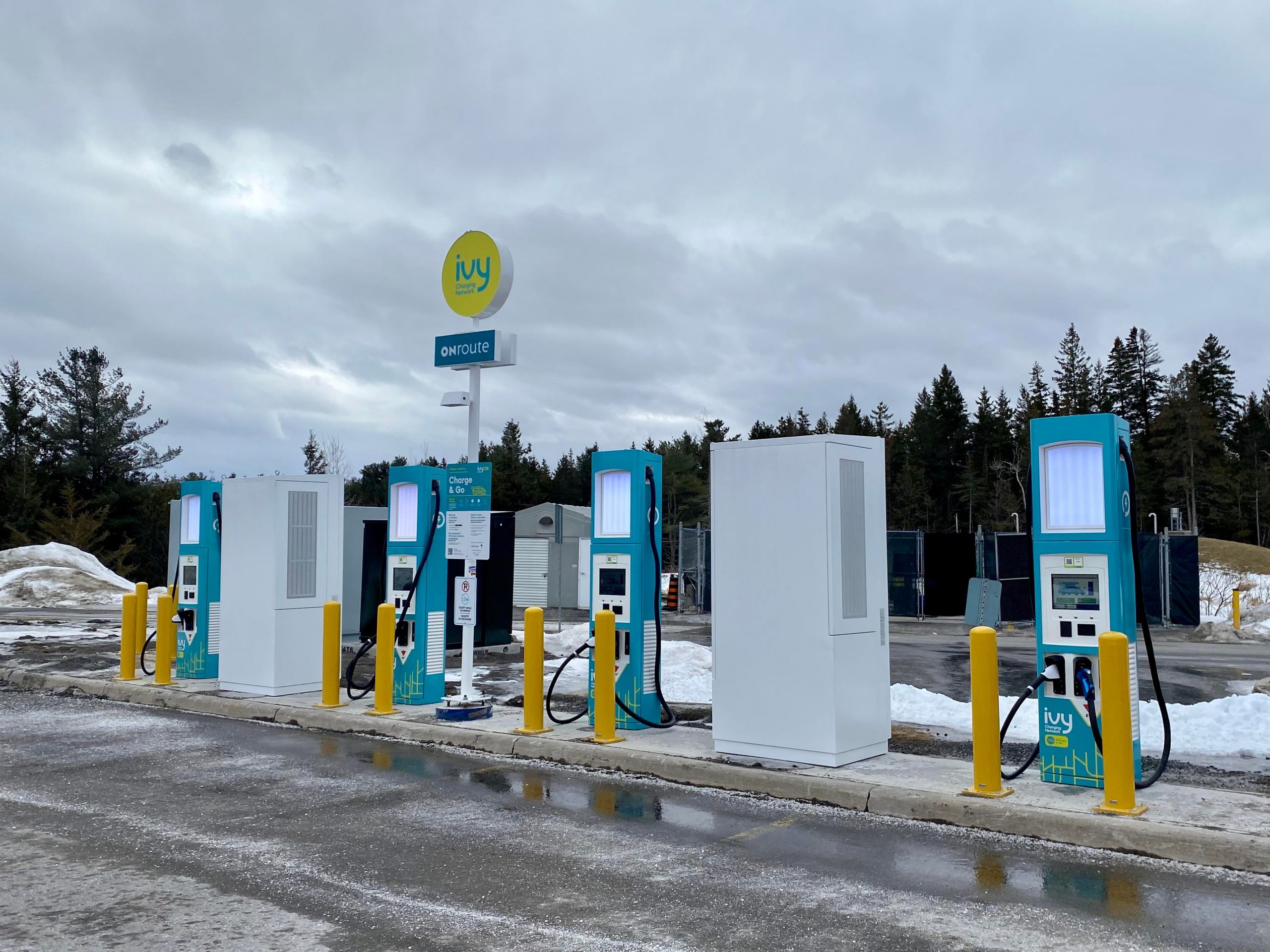 Earlier today, the Ontario government announced that six electric vehicle (EV) charging stations are now active along Ontario's busiest highways. MPP Todd Smith, Minister for Energy, joined Ric Bresee, Mayor of Loyalist Township and Warden of Lennox and Addington County at the Odessa ONroute to make the announcement.
"Beginning today, drivers can pull into an ONroute station along our province's busiest highway to grab a coffee or a meal while charging their car, making it easier to explore Ontario or visit family and friends," said Todd Smith, Minister of Energy. "We expect these new fast charging stations will boost EV ownership, support Ontario's growing electric vehicle manufacturing industry, and also reduce emissions in our province, with at least two charging stations available at each location and busier sites equipped with even more. This means better convenience, greater range, and more opportunities to rediscover Ontario."
The six rapid charging stations, located at Cambridge South, Cambridge North, West Lorne, Dutton, Odessa, and Napanee, are part of a historic EV charger roll-out announced in December by the Ontario government, along with Hydro One and Ontario Power Generation's joint Ivy Charging Network that will see a total of 69 fast chargers built at all 23 ONroute locations, according to a release from the Ontario government.
"Today's launch also builds on our government's driving prosperity plan to create a made in Ontario EV battery hub, and position our province as a leader in North America when it comes to innovation in the auto sector by implementing rapid chargers at every ONroute location," Smith continued. "We're achieving more choice, more convenience, and making EV ownership a more realistic option for families."
According to the Province of Ontario, the deployment of rapid charging infrastructure will see ONroute locations along highways 401 and 400 equipped with at least two EV chargers at each site, with busier sites equipped with more. The EV chargers will be available to all drivers on a pay-per-use basis and will serve all vehicle types.
"We're so happy to see this development happen here in Loyalist [Township]," noted Mayor Bresee. "The Minister indicated it will be great for the convenience of all of these new EV drivers. They will know that they have the range that they need, they can come to this area, they can stay local, be local tourists in this area which is, of course, wonderful for all of us. And through those last two years, there's much need, so much desire to get out and around our community. And by having these EV charging stations located where we need them right on the 401, that is an amazing boost to that whole economic structure."
The government said that these chargers will further encourage the electrification of the transportation sector in Ontario by making EV charging more accessible, and as the EV population grows, more chargers may be added at each site. The electrification of the province's vehicles will continue to reduce greenhouse gas emissions by shifting away from gas-powered vehicles and utilizing Ontario's clean electricity supply, one that is more than 90 per cent emissions-free, according to the release.
"The province facilitated this partnership between Ivey Charging Network, which is OPG (Ontario Power Generation) and Hydro One's company, but then have contracts with ONroute and Canadian Tire as well for these facilities so there's no public money necessarily involved with this investment," explained Smith, noting that the public will pay for the charge at the station.
"And these are the fast charging stations, so you're not going to be here for hours at a time," Smith continued. "You're going to be here for probably about 15 minutes which is long enough to come in and use the restrooms, grab yourself a coffee, and then head back out onto the highway, which is the brilliant part of this. It's super convenient because you're just zipping into the ONroute and then on the way to your travels. Really the economic piece of it is the investment between the ONroute and Canadian Tire, not dissimilar to the type of investment that would take place by putting up that Canadian Tire gas station. So there will be a payback over time, and then the company will be making money after that."
Earlier this month, Minister Smith asked the Ontario Energy Board (OEB) to provide him with options to implement a new ultra-low overnight Time-of-Use electricity price plan that could help Ontario families save money and support electric vehicle adoption by reducing overnight EV charging costs when province-wide electricity demand is lower.
"This is good news for drivers, as they'll now be able to charge up their vehicle at several ONroute locations across the province, including at either Odessa or Napanee," said Daryl Kramp, MPP for Hastings—Lennox and Addington, in a statement. "Increasing choice and convenience for local drivers means that it will be easier for families to charge up for a road trip and make electric vehicle ownership a more realistic choice for families."
According to the release, this initiative builds on the government's Driving Prosperity: The Future of Ontario's Automotive Sector plan to create a domestic EV battery ecosystem in the province and position Ontario as a North American automotive innovation hub, by working to support the continued pivot to electric, low-carbon, connected and autonomous vehicles.