Dr. Moore 'very concerned' about travel as KFL&A region goes Green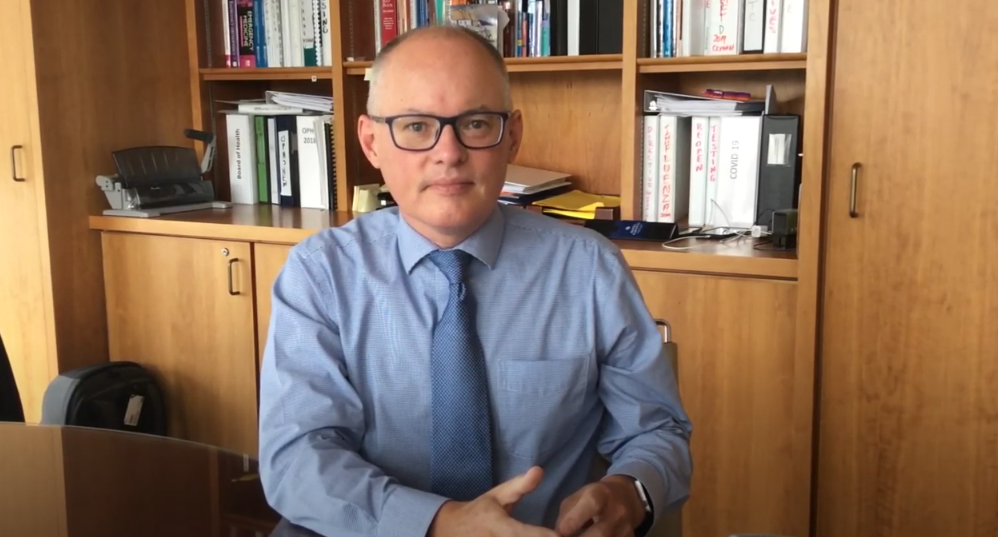 Kingston's Medical Officer of Health Dr. Kieran Moore has confirmed that local business owners have the right to ask individual clients where they're from, and the right to refuse them service.
"That is their right as a business, to control who enters their business," he said during a press call on Tuesday, Feb. 9, 2021. "I'm not condoning that, but I know some businesses have done that in KFL&A."
His comments come hours before Kingston, Frontenac, Lennox & Addington (KFL&A) Public Health Unit moves back into the 'Green-Prevent' level of Public Health restrictions on Wednesday at 12:01 a.m.
With much of Ontario remaining under lockdown restrictions, imposed provincially on Saturday Dec. 26, 2020, this makes Kingston one of just a few municipalities in the province where people can sit indoors at a restaurant, shop in-store at a non-essential businesses or get a professional haircut.
"I'm very concerned about travel within the province, and between provinces and international travel," Dr. Moore said. "That's the only way our community has been getting COVID-19…Travel has always been the means by which this virus has gotten into our community, so I am cautious."
"I'm optimistic," he added, "because our community's had such a great track record. But I'm very, very cautious."
His main concern, he said, are COVID-19 genetic "variants of concern," which have been detected in the UK, South Africa and Brazil, and have spread to the GTA.
"Now in the GTA area, roughly one per cent of all tests, tested positive for COVID, are also testing for these mutant variants of concern," Dr. Moore said.
"They may become a dominant strain over the next several months, it really depends on how aggressively the GTA region can increase their testing rates and control the destiny for these variants."
Anyone coming into the KFL&A area should only be doing so for essential purposes only, he added, such as work or visiting a sick relative.
"I am anxious because it's Valentine's Day, it's Family Day weekend," he said. "I would not look favourably on people visiting us from a tourism vantage point whatsoever, until such time that we have a broader population immunity through immunization."
"Most businesses will make independent decisions, they can screen people if they're coming from out of town on their own," he added.
Enforcing Stay-at-home orders
A stay-at-home order is also still in effect through most of Ontario after Wednesday, except for three Public Health units including KFL&A.
"To my understanding the Stay-at-home order has really been a recommendation of government, and it hasn't been enforced," Dr. Moore explained. "Certainly if variants of concern continued to be a higher risk, and are concentrated in certain areas of the province, I think the government would review enforcement of Stay-at-home orders, limiting travel across regions."
"They haven't gone that far as of yet," he added.
Dr. Moore said he would not rule out implementing local restrictions under his authority as a Medical Officer of Health by issuing a Section 22 Order.
"We will review the regulations as they're released to us, regarding what 'new Green' could be," he said, noting that Public Health is still awaiting instructions of updated regulations from the province.
"They said that they would tighten up the Green status. We would like to see limitations on the number of people aggregating and certain businesses that will open, very very soon, and get clarity on that," he said.
"It is the right of a business to ask where the individual is from, and… to refuse service. That not something that we would or could enforce but that's certainly the right of a business. The travel limitations that we could impose could be for service settings, for bars and restaurants, to only serve those from KFL&A for example."
Before considering such measures, Dr. Moore said he wants to wait and gather "situational awareness" as the new measures come into play.
"We certainly want to talk to our businesses, talk to our municipal governments and be monitoring the situation closely, as we open up. I don't want to be too aggressive for an event that may not occur, but I also don't want to be naive to think that people won't come here," he said.
Kingstonist reached out to the Ontario Human Rights Coalition in June 2020, to confirm whether there was any protection against discrimination for people in Ontario who may be refused service because of their address.
"The Human Rights Tribunal of Ontario, the agency that hears and decides claims of discrimination and harassment brought under the Human Rights Code, has consistently held that 'place of residency' is not a ground of discrimination under the Code," said Rosemary Parker, Manager of Communications at OHRC. "So, on its face, such policies would not appear to violate the Code."