Dr. Moore: The risk is higher now than it's ever been in our community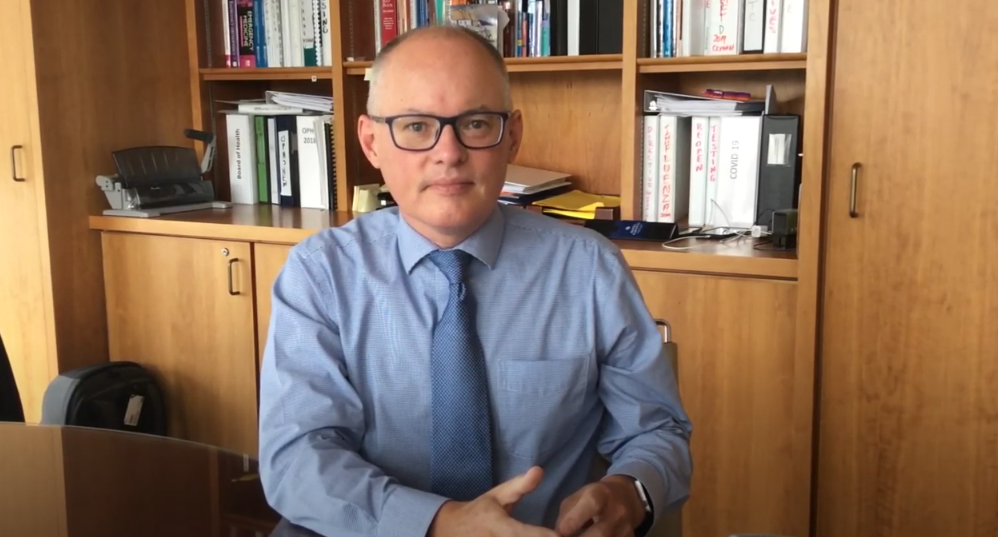 Correction: During an interview, Dr. Moore said repeatedly that there were 39 active cases on Monday, Nov. 16, 2020, however, KFL&A Public Health has since retracted that statement, as three cases were later declared resolved. There were actually 36 active cases at the end of the day on Monday, Nov. 16, 2020.
After a week of steadily increasing cases of COVID-19, an additional 14 cases have been identified since the record-high 10 cases announced on Friday, Nov. 13, 2020.
Because of this, Dr. Kieran Moore, Medical Officer of Health for Kingston, Frontenac, Lennox and Addington (KFL&A) Public Health, held a press conference by phone on Monday, Nov. 16, 2020 in an attempt to help answer all of the questions and concerns being raised in the community.
As of Monday, Nov. 16, 2020, KFL&A Public Health is monitoring 39 active cases of COVID-19, as well as over 300 "high-risk contacts in the community." The vast majority of these cases are in younger people, aged 20 to 40, Moore explained, praising those who have come forward for testing.
"We can't do our good work without people continuing to go to our assessment centres in Napanee and at Beechgrove," he said. "That alone helps us significantly to understand where we're at in the community."
More than anything else, Dr. Moore underlined the need for the community to protect our vulnerable populations, particularly the elderly and those with underlying health issues. For more on that, click here.
In an effort to make all the information discussed as easy to digest and understand as possible, Kingstonist has broken down the conversation into sections.
Cases in local restaurants
Moore explained that, as a result of Public Health's investigation into the 39 cases, multiple fast food outlets have been affected, and there has been some transmission of the virus in the workplace. Of the 300 close contacts being monitored currently, 43 of them are in workplaces, Moore said. Over half of the 39 active cases are reported to be from workplaces, either because workers socialize together, live together, or some transmission in the workplace.
Many of the restaurants involved have declared so publicly, and, from Public Health's perspective, the risk to the public has been very low in these settings. Moore said that, in most cases where a food service worker has tested positive, both a Public Health Nurse and Inspector have visited the restaurant, and offered their advice on how best to move forward.
"Our opinion is that the public was never at risk, it was behind the counter where people were preparing the food, where there was close personal contact, that possible transmission occurred," Moore said.
"I will say that most workers are wearing personal protective equipment, and certainly where we've gone and seen and interviewed and investigated, [where people] are serving the public, there is absolutely minimal contact to the public… We don't think there's any transmission risk to the public because masking has been done, hand hygiene has been done, the client touches a cleaned [pinpad], which is the only risk of transmission."
Moore also explained that, while the requirements of restaurants where workers have tested positive are the same – all employees that worked the shift with the infected worker must isolate for 14 days – there will be differences in how long restaurants remain closed when this kind of situation arises. This is because of two things: 1) If the restaurant is part of a national chain, there are most likely protocols in place for deep cleaning, and; 2) The length of time a restaurant remains closed comes down to how many people are on staff.
For an example of the latter, if a full shift of workers from a fast food chain restaurant have to isolate for 14 days, that restaurant can pull workers from other shifts and other restaurants, and therefore open in a few days. If a full shift of workers at a small, independent restaurant have to isolate for 14 days, there are often not enough workers to replace them, so the restaurant will remain closed for the full two weeks.
And, while there seems to have been a sudden uptick in cases associated with restaurants, the connection between these cases is about the workers. Some workers work at multiple restaurants, restaurant workers often socialize with one another, and some restaurant workers both live and work together, Moore explained.
Community status: Why hasn't the KFL&A region moved from green to yellow?
While the community status (definitions available here) remains at green for our region this week, Dr. Moore said he expects the Province of Ontario will move the KFL&A region into the yellow community status on Friday. Who makes the decision of the community status has changed recently. On Tuesday, Nov. 3, 2020, the Province released its response Framework of Keeping Ontario Safe and Open. Since then, the provincial government has been in charge of raising or lowering our community status, or risk level. Prior to that, that decision was made by Dr. Moore and his colleagues at Public Health.
"With our recent illness activity, I do anticipate that the government would make a decision by the end of this week to move us into Yellow, which is called 'protect' or strengthened measure," Moore said, noting that a change from green to yellow does change some of the Public Health measures that are in play. Under yellow, the hours of operation for restaurants and bars will be limited, as will the number of people that can be involved in recreational programs.
"I think businesses could anticipate, that we may have to move into that yellow level by the end of this week as a result of our increased numbers," Moore advised. He added that businesses should consider this week how many of their employees are able to work from home, as that may be the best course of action.
"These are the highest numbers that we've experienced as a community since the beginning of this."