Dr. Moore: KFL&A region may still avoid Orange Community Status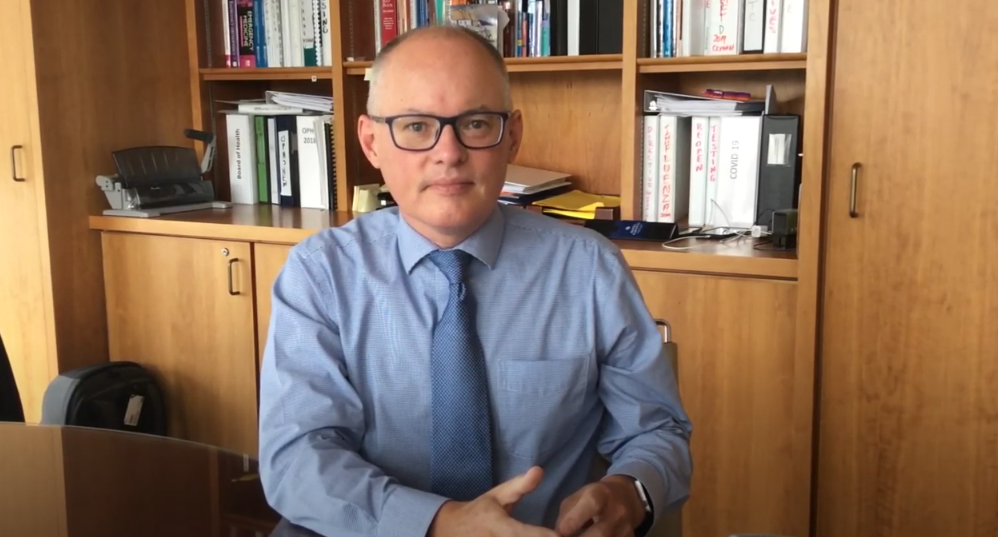 Kingston's Medical Officer of Health Dr. Kieran Moore says that the Kingston Frontenac, Lennox & Addington (KFL&A) Public Health region is approaching, but still able to avoid, the Orange level of provincially mandated public health restrictions.
"Our rate of illness is around 20 per 100,000 per week," he said, describing the key statistical benchmarks the province considers when moving a region from one protection level to another. "The cut off to move into Orange is 25 per 100,000."
"The percentage of positive tests locally is approaching one per cent," he said. "I think it's not until 1.5 per cent that Orange is considered."
The provincial government moved the KFL&A region into the 'Yellow: Protect' stage on Monday, Nov. 23 2020. This introduced restrictions on venue capacities, indoor and outdoor group sizes, as well as the hours for liquor service. It's the second of five levels ranging from Green, Yellow, Orange, and Red to Grey, or Lockdown. Orange would see a further reduction on venue capacity limits and alcohol service, as well as stricter contact tracing and seating requirements, and other changes.
"People need to understand that the risk is really much higher in our community, and we do not want to have to go into Orange… if we can avoid it."
'Widespread transmission in the community'
Dr. Moore made his comments during a Skpe press call on Monday, Dec. 7, 2020. Public Health coordinated the conference and issued a statement Monday afternoon after a record-setting weekend for COVID-19 cases, across the region and the province.
KFL&A Public Health is imploring people in the area to strengthen their efforts against the virus. There are currently 54 confirmed active cases of COVID-19 in the area, the highest since the start of the pandemic, with over 400 high-risk contacts identified and several outbreaks under investigation.
While all cases can ultimately be traced back to someone travelling out of the region, Dr. Moore said the community is now harbouring its "seventh generation" of the virus, and officially experiencing community spread.
"Four or five weeks ago, it started with travel, and we tried to control it with case and contact management. But we're now seeing widespread transmission in the community," he said.
"Some individuals have gone to work with symptoms — muscle aches, joint aches, fatigue, low-grade fever. In our opinion they should not have gone to work. They should have stayed home and gotten tested," he added.
Public Health said their investigations have also revealed transmission during close, unprotected contact between individuals in work and social settings. That includes large gatherings, they said, where physical distancing is limited, and face coverings are not being worn.
Public Health wants people in the area to monitor symptoms on a daily basis, and elderly and high-risk individuals to avoid "crowded places, closed spaces and close faces" entirely.
"Get outside, go for walks, but be very careful," Dr. Moore said. "It's a dangerous recipe heading into the holiday."
Dr. Moore said he wants all residents of the area to take the following actions immediately:
Monitor for symptoms daily and get tested if you have any symptoms of COVID-19,
Stay home if you have any symptoms – do not go to work or visit others,
If someone in your household is symptomatic, they need to get tested and everyone else in the household must isolate until a negative test result is back,
Avoid crowds and closed spaces,
Limit close contact to your household (the people you live with),
Do not travel outside of the KFL&A area,
Wear a face covering and stay 2 metres apart from anyone who does not live in your household,
Wash your hands or use hand sanitizer often,
Do not touch your eyes, nose, or mouth, and
Cover your coughs and sneezes.
"We have a chance these next two weeks to turn things around," Dr. Moore said. "This is really a request to the community to try to embrace prevention once more to try and turn this around and reduce the risk."
The provincial government's COVID-19 Self-Assessment tool can be found here.