Dr Moore addresses community as active COVID-19 cases rise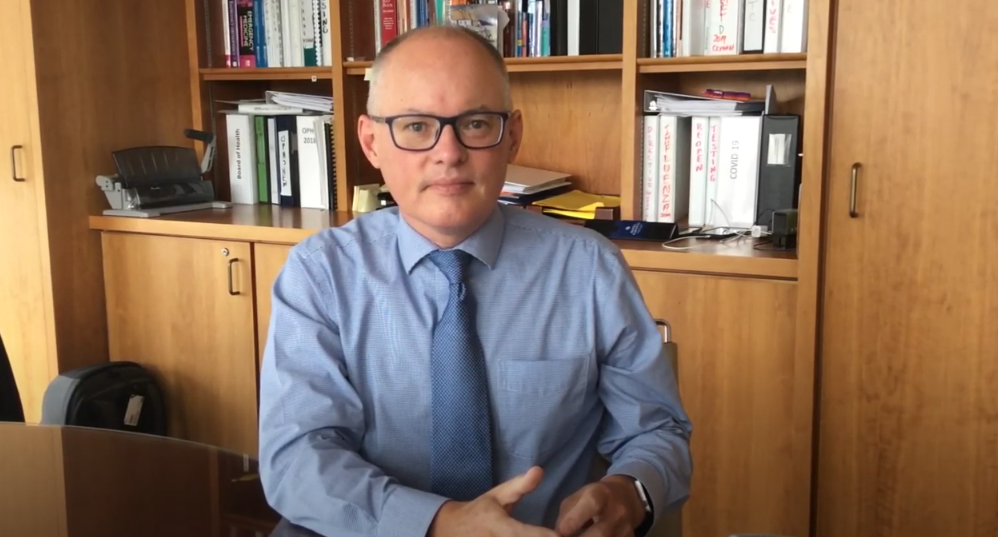 Kingston's Medical Officer of Health Dr. Kieran Moore is asking the public to be aware as the number of COVID-19 cases trends upwards in the community.
Kingston Frontenac Lennox & Addington (KFL&A) Public Health reported four new cases of COVID-19 today, including a second case in a Queen's University residence. This brings the active number of cases in the region to nine, with five of those being in the Queen's University community.
Dr. Moore said that he has been impressed by the conduct and adherence to protocols of the implicated students.
"A few of them had the COVID Alert app and had used it. As soon as their app turned positive they traced their contacts and isolated themselves so they had taken all the appropriate precautions and from our vantage point our work is diminished," he said. "They followed the rules, they used the apps, they monitored the symptoms."
While Dr. Moore had suggested to Kingston City Council on Tuesday Sep. 15, 2020 that the University could use the student Code of Conduct to address misbehaviour, he has seen no evidence in the current investigations that punitive measures are required.
"From my review there has been no need for any conduct enforcement and I praise them for having used the app and having responded appropriately."
Cases predominantly linked to travel
There is currently no evidence of community spread of COVID-19, Dr. Moore said, with all the current active cases linked either to travel outside of the KFL&A region, or to guests visiting from other "hot spots" like Toronto or Ottawa.
"Our investigations to date show that people have gotten their infections, for the most part, elsewhere. If you leave the region, your risk goes up," he said.
Dr. Moore noted that there don't appear to be any COVID-19 cases related to mass gathering events in the student area that took place over Labour Day weekend, though it is still a possibility some will develop.
"We're at the 25th [of September] now…I'm happy that we haven't seen any significant rise from those events, like Western did," he said.
The number of social events reported by police to Public Health are also down significantly, he said, with no mass gatherings this past weekend.
Dr. Moore said he is concerned about the number of contacts associated with each new case of COVID-19.
"Initially we were tracing four of five contacts per case, but now we are tracing nine, so that shows you that those social circles are increasing," he said.
KFL&A Public Health is currently following 81 close contacts associated with the nine active cases. Contact tracing includes daily calls to monitor for symptoms, and ensure that people are remaining in self-isolation. Overall, he said compliance is very high.
Public Health did issue a reminder today about the enforcement measures in place for non-compliance with self-isolation requirements. Public Health also switched the community safety status for COVID-19 from green to yellow in response to the rising COVID-19 activity.
"Our lab system is still meeting testing needs, the hospital has no cases [admitted]. Public Health's contact tracing is sufficient," he said. However, he compelled the public to remain vigilant and adhere to public health protocols.
No COVID-19 infections in schools
Dr. Moore also said he is happy to report that there are currently no active cases among students or staff in any of Kingston's elementary or secondary schools, or daycares.
He addressed the province's "runny nose" policy, which requires children exhibiting even mild COVID-19 symptoms such as a runny nose to be sent home from school. They are not allowed to return until they receive a negative COVID-19 test result, an alternate written diagnosis from a family doctor, or stay home for 14 days. In all instances, their symptoms must be resolved.
Dr. Moore acknowledged that this is creating long lines at testing facilities and thanked family members and students for waiting many hours to get tested.
"We're learning from other jurisdictions," he said. In Ottawa, Dr. Moore said the Public Health unit had reported that among children infected with COVID-19, 17 per cent of them presented only one symptom: a runny nose.