Downtown Kingston BIA announces 2018 awards, new Board Members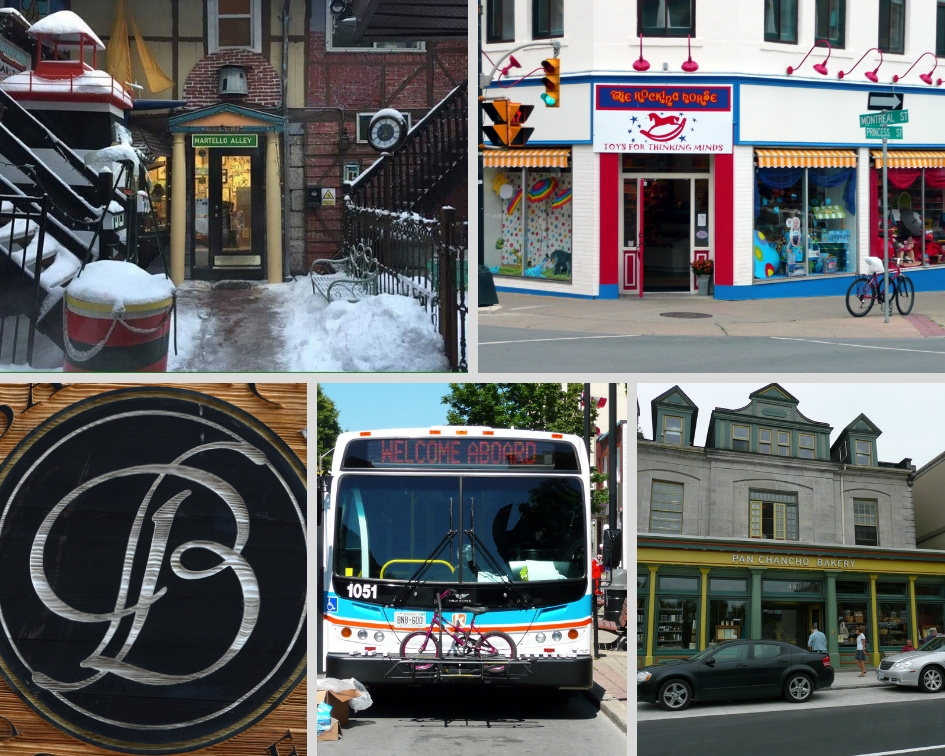 The Downtown Kingston Business Improvement Area (BIA) honoured five local businesses in four categories, all awarded for demonstrating exceptional business traits in Kingston's downtown core.
The awards were presented at the Downtown Kingston BIA annual general meeting, held at the Holiday Inn Kingston Waterfront on the evening of Wednesday, Nov. 21, 2018. The awards, which are presented annually, are handed in four categories: Environmental Sustainability, Exceptional Sidewalk Presence, Outstanding Marketing and Communication, and Community Engagement.
The Environmental Sustainability award goes to a business that "demonstrates a steadfast commitment to reducing their environmental impact and energy consumption," according to the BIA. "Winners are committed to environmental sustainability, going above and beyond to improve their business practices with the local and global community in mind. Kingston Transit received the 2018 Environmental Sustainability award.
The Exceptional Sidewalk Presence award goes to "a business that goes above and beyond to make their storefront and environs (window displays, sidewalk etc.) aesthetically appealing as well as clean and safe. This includes the storefront, outdoor space, display window and the visible interior space." Balzac's Coffee Roasters and Martello Alley both received the Exception Sidewalk Presence Award for 2018.
The Outstanding Marketing and Communications award goes to "a business that has a successful marketing/communications strategy and is actively engaged in social media. This may involve a commitment to engaging customers via social media and using various platforms such as Facebook, Twitter and Instagram to promote themselves and the downtown community." The 2018 winner of the Outstanding Marketing and Communications award is The Rocking Horse.
And the Community Engagement award goes to "a business that is involved with community outreach, works with community groups and/or charities and is actively engaged in downtown programs and events that help draw more people to the downtown area. Award winners' business practices focus on community over competition for the betterment of the downtown community." That award went to Pan Chancho/Chez Piggy.
Congratulations to all of these awesome downtown Kingston mainstays!
Also during the Downtown Kingston BIA annual general meeting, BIA members elected the new Board of Management for the BIA. The BIA elects 15 members of the board who serve concurrently with the four year term of Kingston City Council (2018 to 2022). The 15 board members will be joined by two members of Kingston City Council for their first board meeting in the new year.
Members of the 2018 to 2022 Downtown Kingston BIA Board of Management are:
Erin Allen (Mio Gelato)
Bev Allinson (Confederation Place Hotel)
Sean Billing (Frontenac Club)
Lynn Carlotto (Leon's Centre)
Maria Cronk (Fancy That/The Roundstone)
Melissa Eapen (Improbable Escapes)
Jessica Huddle (NORTHSIDE espresso + kitchen)
Thomas Hunter (Tommy's/Inkwell Tattoos & Piercings)
Richard McNevin (Soloway Wright LLP)
Michelle McShane (Trailhead)
Tim Pater (Black Dog Hospitality Group)
Christine Ray-Bratt (Chris James)
Ed Smith (Windmills Casual Fine Dining)
Julie Tompkins (Empire Life)
Nick Waterfield (Chez Piggy/Pan Chancho)