Dangerous trap set in Kingston neighbourhood catches, injures raccoon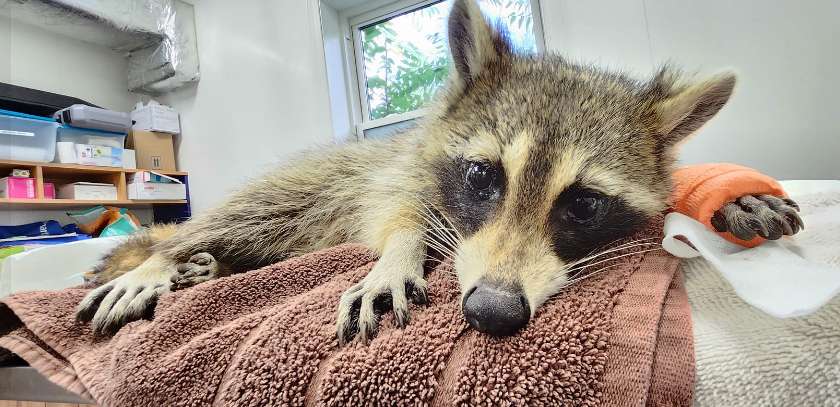 Content warning: graphic photos of an injured animal.
A raccoon that was caught in a trap in a Kingston neighbourhood is "doing well" but" terrified in her enclosure" at Sandy Pines Wildlife Centre (SPWC), after it was brought in by a volunteer over the weekend with a leg-hold trap still attached to its right forepaw.
Leah Birmingham, Assistant Director and Licensed Wildlife Custodian at SPWC, provided the update on the raccoon's condition and explained that they try not to disturb the animal in its enclosure except to administer pain medications. The raccoon is scared, Birmingham said, "but I suspect she'll recover, and we'll see how those toes fare."
It was not unusual for an injured raccoon to arrive at SPWC; however, it was the cause of the injury that was worrisome.
According to a Facebook post from SPWC, and confirmed by Birmingham, the raccoon was caught in a leg-hold trap on Connaught Street in Kingston. The post warns, "For those living in Kingston around Connaught St. Be cautious when walking your dog, and keep your cat in the house. Your neighbour has set a leg-hold trap. It captured this mama raccoon. She was fortunate to have mostly swelling, a skin laceration and potential nerve/tendon damage."
SPWC described "a caring neighbour" who realized the raccoon was trapped and got help to contain the animal. Then another person "very kindly" drove the raccoon to Napanee for care, where it was sedated and the trap was removed, leaving it with swelling and a laceration.
"We could see by the x-rays that she doesn't have any broken bones, which is a miracle," SPWC reported. " We are hoping she heals quickly and can be released in the area to reunite with her family."
SPWC noted, "We despise leg-hold traps as we see so much damage to animals that get caught in them. There is no way for a trap to discern whether or not it has its intended victim. Therefore, a lot of trauma can be done to anyone who gets caught in them."
The post goes on to call this sort of trap a "reckless capture device to have set up in a city," and notes that pets or even children could come across such a trap and be severely injured.
Contacted for information early Monday, Aug. 28, 2023, the City of Kingston responded, "The City's Animal Control By-Law does not give us any jurisdiction over matters of animal cruelty or trapping. Our provincial partners, however, have a mandate — animal cruelty matters are dealt with by Animal Welfare Officers from the Provincial Animal Welfare Service (PAWS) under the auspices of the Provincial Animal Welfare Services Act, and trapping is dealt with by Conservation Officers under the Fish & Wildlife Conservation Act."
While this information is true, it is worth noting that other nearby municipalities contain specific information about hunting and trapping within town limits in their bylaws. The Town of Greater Napanee Animal Control By-Law 4.11, for example, states, "No Person shall set out any trap that causes or may cause injury, pain or suffering to an Animal including, without limiting the generality thereof, conibear traps, killer traps, leg-hold traps and snares." And it forbids relocating live trapped animals more than a kilometre from where they are trapped.
Anyone can purchase a trap, but it can only be legally used under very specific regulations within the Fish and Wildlife Conservation Act of 1997. It is illegal to set a leg-hold trap for fur-bearing animals in Ontario unless you have a taken the Fur Harvest, Fur Management and Conservation Course and passed a written and practical field examination. The minimum grade required to pass is 80 per cent for each examination, in order to obtain an Ontario Trapper's License.
According to the City of Kingston's website, wildlife problems on private property are the responsibility of the landowner. The City site points out that landowners can call pest control or animal control companies to remove wildlife from their properties. The City does not regulate wild animals.
According to SPWC, live trapping may seem like a humane, easy fix, but it is only a temporary solution and possibly a death sentence for the animal. Homeowners should find out what attracted the animal to their property and remove or repair that attraction. Otherwise, another animal will take up residence once the original one has been removed, which can turn into a frustrating cycle.
Wildlife-proofing your home and property is the only long-term, preventative, and humane solution SPWC supports because live trapping and relocating causes stress for the trapped animal, and possible injury to the animal if it tries to escape. If the animal is forgotten in the trap, it is exposed to the elements and can suffer from frostbite, heat stroke, or possibly starvation. Domestic animals and other wildlife may harass the trapped animal, causing further stress or injury.
SPWC points out that relocated animals are lost; they have to find food, water, and shelter in an unfamiliar environment. There may be territorial disputes between the relocated animal and resident animals that can lead to injury and death. If parent animals are relocated, they are separated from their young, and the dependent babies left behind will not be able to fend for themselves. This is why all animals admitted to Sandy Pines are released back in the exact same place they were originally found.
It is also illegal to trap and relocate animals from the site where they were captured, according to the Ministry of Natural Resources' Fish and Wildlife Conservation Act. Improper use of a live trap that results in animal suffering could lead to animal cruelty charges.
Around noon, Kingscourt-Rideau District Councillor Brandon Tozzo posted to social media, referring to the social media post made by SPWC. Reached for a comment, he reiterated the City's statement that it has no jurisdiction over animal cruelty or trapping and that the provincial partners have a mandate to deal with such matters. Tozzo went on, "The City is making calls today to our partners and asking them to make contact with Sandy Pines to obtain details."
This is a developing story, and Kingstonist will provide more information as it becomes available.