Cycles of space raise concern for Kingston's Yellow Bike Action
As the mercury slowly climbs and the promise of warmer days boosts serotonin levels, cyclists of the Limestone City are gearing up for another two-wheeled season of transport — though for some, the cost of cycling poses a barrier.
Yellow Bike Action (YBA) is a not-for-profit organization that has been working to mitigate the financial barrier for cyclists in Kingston for over 23 years. In 1999, YBA began as a bike sharing program in Friendship Park. They have been selling donated bikes, as well as repairing and refurbishing bicycles, and educating the community at affordable prices ever since, despite a continual struggle with space.
YBA was forced to leave Friendship Park in 2012 due to park updates, which included the removal of their workspace. In 2013, the organization became incorporated as they moved their operation to the nearby Memorial Center.
The bike re-selling and repairing service has been operating out of the Memorial Center ever since with the convenience of a low rent agreement. As much as YBA appreciates the space the Memorial Center provides — including an indoor workspace in the summer and year round storage — the YBA Board of Directors feels some improvements could be made to their situation.
In the spring of 2020, with many people at home and isolating during the early stages of the COVID-19 Pandemic, cycling was seeing a significant surge. Yellow Bike was happy to help the community out during this busy time, however, with the Memorial Center being closed to the public, YBA was forced out of their indoor space.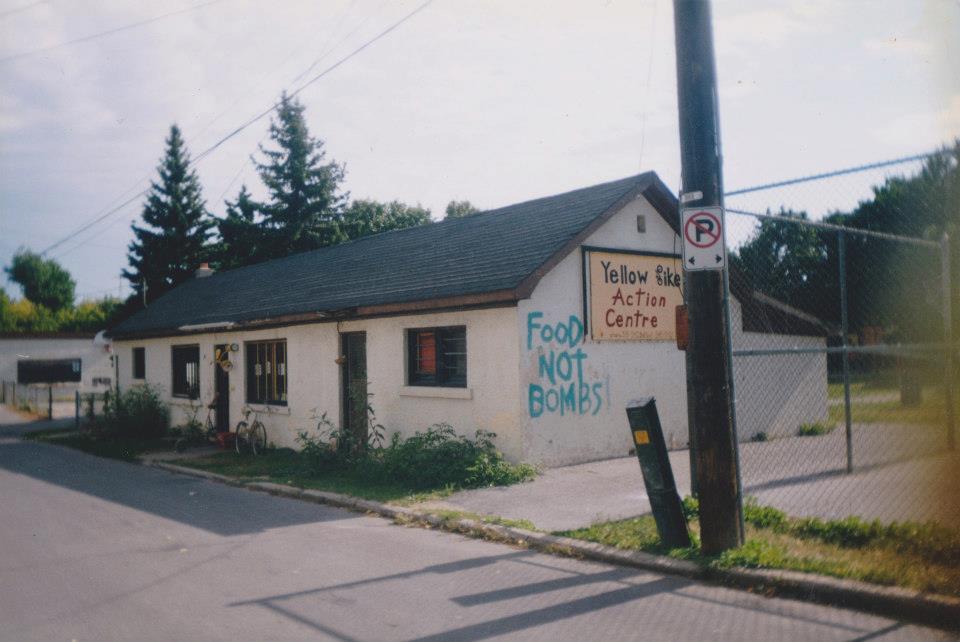 Community pulls together in support of Yellow Bike's efforts
The Memorial Centre was being used as a COVID testing centre through the spring and summer of 2020, which, according to YBA senior mechanic Michael Pomery, meant "no regular access for us. We had to depend on staff to get in for supplies [as] no inside work was allowed. It wasn't until November 2020 when we got keys and access again."
Pomery said after the assessment centre moved to the Beechgrove Complex, YBA was able to re-open properly:
"We had to kind of revamp the barn to become a working space because [there were] bikes hanging from the ceiling and parts everywhere on shelves. And all of a sudden that had to be converted into an actual working space," explained YBA director and mechanic, Soph Kudriavtsev. in a phone interview on Friday, Mar. 25, 2022.
During the first year of the pandemic, Yellow Bike Action received an extraordinary outpouring of support from the community. Kudriavtsev said they "were fortunate enough at that time to have a community member through Mutual Aid Katarokwi-Kingston (MAKK) come forward and help us build workbenches. They made us a temporary sink for handwashing and sanitizing because there's no running water often facilities in the barn."
In addition to the help YBA received from MAKK, Kudriavtsev expressed their gratitude for donations of rain barrels that served as a water supply to the barn, and donations of hundreds of bikes, especially child/youth bikes, and for the many volunteers.
Recently, Trailhead Kingston provided YBA an eco-grant to winterize the barn space in order to extend their season and continue repairs and refurbishments year round.
As pandemic restrictions ease and normalcy returns, so do annual disruptions.
This fall, YBA expects that they will be presented with the same obstacle they must face every year at the Memorial Center: the Kingston and Area Agricultural Society Fall Fair, also known as 'the Fall Fair' or 'Kingston Fair.' Each year, the YBA team is moved out of the barn for the duration of the fair, as livestock temporarily occupy the barns. "Fortunately, with COVID, we haven't had to deal this for two seasons now. But this year, we expect it'll be different," suspects Kudriavtsev. Pomery explained that its a huge team effort to load up a rented U-Haul with all of the bikes and gear.
"The next time we do it, we're going to have to also disassemble all of our workbenches and get them loaded up and packed away. Basically, make it like we were never there," Kudriavtsev added.
According to those with the Kingston Fall Fair, the Fair will return for 2022 from September 15 to 18, after a two-year hiatus due to the pandemic.
The temporary space suspension is always challenging for YBA, according to Kudriavtsev. "The fall season is like our second boom because that's when all the students come back and they all want bikes so that they can get to class. We have been grateful in the sense that [we haven't had to move] for the last two years, but I think this year that will probably change."
YBA has discussed changing locations and have offered a number of pop-up events across the city geared towards youth and bike repair education. Pomery. says while these pop-ups have been well received, they're not ideal for a long-term solution.
Yellow Bike seeks community advocacy to City for a permanent, functional space
The issue of a permanent space comes down to money, says Kudriavtsev.
"Right now, because of our situation with Memorial Center, we're able to keep our prices very, very low because we don't really have much overhead. We spend money for new parts [and on] insurance fees. But otherwise, we're able to sell adult bicycles, on average, for between $50 and $150. [Our clients are] coming to us for a reason: [They can't] spend big bucks at a new bike shop to get the newest bike. They just want something that's functional, so that they can get where they need to go on."
Kudriavtsev believes if YBA was to move downtown for example, it would probably mean having to increase the price of their bikes to compensate.
When asked what a dream scenario would be for YBA as a permanent space, Kudriavtsev suggested the idea of a city or community subsidized central space near downtown and an additional branch in the north end where the need for bikes is highest. For now, they say such a space remains a dream, but suggested Kingstonians can help them out by contacting their city councilors to start the push for a more permanent space for YBA.
"Ground up community building is really something special that I think Yellow Bike has," said Kudriavtsev. "I think folks could help us advocate for our needs by reaching out … and saying, 'Hey, there's this great organization that I've heard about or have worked with or experienced their services and they are lacking space. What can we do to try and expand the space that they have and help them continue to do good work?' I think, for the City, they want to hear that there's a demand from the community for change to happen."
Kudriavtsev also added that YBA is always open to volunteers, regardless of experience, especially as the outdoor season ramps up. "We're trying to set up volunteer Wednesdays right now. If folks want to send us an email or message us on Facebook, we can coordinate that. We love when people who have the skills who can just jump right into work, but we also love to have people who are maybe new cycle mechanics and want to get their hands dirty for the first time," they said. "It's always lovely to see newcomers grow their skills."