Crown summarizes its case in Michael Wentworth murder trial
On Tuesday, Nov. 22, 2022, Crown Attorney Fraser Kelly appeared before the Honourable Justice Laurie Lacelle to summarize his case against Michael Wentworth, who is charged with the murder of Richard Kimball, the murder of Stephen St. Denis, the manslaughter of Henrietta Knight, arson in the form of a car bombing, and robbery of a Toronto-Dominion (TD) bank. All the offences are alleged to have occurred between June 1995 and October 2001.
Wentworth was led into the box in shackles and wearing a plain white t-shirt. He sat calmly, wearing reading glasses and taking notes, while Kelly dissected the case.
Kelly told Justice Lacelle that he had supplied her with an extensive written summary of his case: "It may save you some note-taking, as actually very little of what I am going to say isn't written in it."
Kelly spent most of the day laying out each of the five charges against Wentworth, summarizing the evidence against him, speculating what the defence counsel's arguments might be, and then pre-emptively attempting to disprove those arguments.
It should be noted that much of the Crown's evidence comes from an undercover police sting known as the "Mr. Big" technique. The Crown must apply for the evidence gained through such an operation to be admissible in court.
In a pre-trial application earlier this year, Justice Lacelle ruled that utterances made by Wentworth during the undercover operation were admissible in the case against him. That decision was released on Friday, Jul. 22, 2022. "Mr. Big" is a Canadian police tactic which, as Justice Lacelle described, involves having undercover officers who are pretending to be criminals obtain cold case evidence by infiltrating an accused's circle of confidants to gain their trust and friendship until they confess.
What follows are notes taken as the Crown guided the court through each of the charges against Wentworth.
It is alleged that, in a burglary attemot on June 2, 1995, Wentworth invaded the Kingston home of Henrietta Knight, age 92, taped her to a chair, beat her on the head, threatened to set her home on fire, and spent hours ransacking the residence. After the brutal attack, Knight's health declined rapidly; eventually she was diagnosed with a chronic brain bleed, which experts for the Crown testified was likely caused by the beating. While before the incident she had been an independent senior living alone, she soon required more and more extensive assistance in care settings. She died at St. Mary's of the Lake hospital in November of 1995, just five months after the home invasion.
Evidence shows that Knight was, in fact, beaten and taped into a chair on that day. Her bruising was consistent with a beating of enough force to cause the brain bleed, and her DNA was found on tape attached to the chair. Bruising and abrasions consistent with her claim that she was taped forcibly were found on her wrists and chest. Her medical records are before the court. Her post-mortem concluded her cause of death to be "complications of subdural hemorrhage from blunt force injuries to the head."
The Crown states that Wentworth admitted, in a confession to an undercover police agent, to the crime of assaulting Henrietta Knight with the intent to steal, and he described the same circumstances surrounding the assault, including beating the victim, taping her to a chair, and ransacking her home for several hours. Wentworth admitted to feeling guilty for causing the death of Ms. Knight. The Crown is submitting that the court find those utterances compelling evidence, and that Wentworth's feelings of regret suggested he was not making up the crime to show off.
In July 1995, the Crown submitted, the accused was a part of a "brazen daylight" armed robbery of the TD bank formerly located in a mall at 494 Days Road in Kingston. Two armed assailants, driving a van reinforced with a battering ram "made of 4x4s," rammed the vehicle into the bank, where an employee was transferring night deposits into a safe.
In his confession to an undercover agent, Wentworth described the night deposit bags being on a cart, with all of the small zippered, locked deposit bags packed inside two larger bags. These details match those described by the bank employee. Wentworth also mentioned that the van he used had been modified with "4x4s," noted Crown counsel Kelly: "Not metal, not wood, but those exact words: '4x4s.'"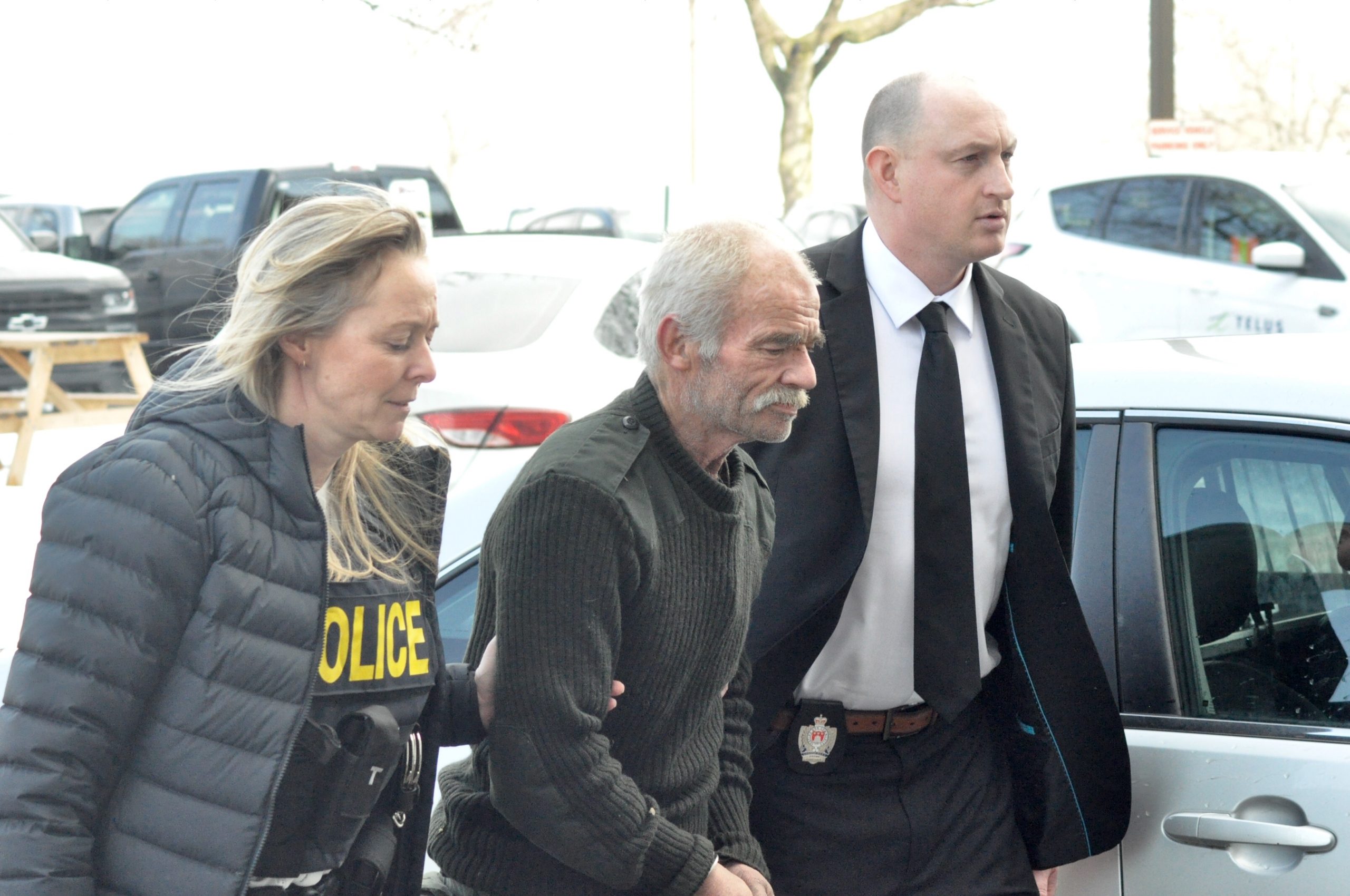 The Crown also accused Wentworth of the murder of his known associate, Richard Kimball, in November 1996. Again, Wentworth confessed openly to police agents that he had committed the crime, and that he and an accomplice had dismembered the body and hidden the remains in a rural area in Quebec.
According to Wentworth's taped confessions, he thought Kimball "was a rat" who had given him up when the two escaped together from Hamilton-Wentworth Detention Centre in 1988. While Kimball was in jail for an unrelated jewelry store robbery, he apparently wrote to Wentworth, saying, "I know your secrets." Wentworth had been paying Kimball $200 to $300 a day to keep quiet. Wentworth was heard saying he had killed Kimball because he was worried Kimball would "rat about the [aforementioned] bank job."
Kimball's body has never been found, but Crown counsel pointed out that he has not been seen or heard from by family, paid taxes, been arrested, or sought medical treatment since his disappearance. "He was not a complicated guy… It is far-fetched to think he might still be alive."
The charge of arson in the form of a car bombing related to a July 2000 incident where Wentworth allegedly built a car bomb and blew up a passenger vehicle. Yet again, Wentworth described the incident to an undercover agent in great detail. At the time, Wentworth said, he was a partner in a large drug operation with three other partners. One of the men involved, David Allan, wanted out of the business and had planned to return to his home in Toronto and join another criminal venture with Stephen St. Denis. Allan testified that, on the day of the bombing, he had used his wife's vehicle to take his children to the zoo. Shortly after the family returned from the zoo, that vehicle exploded.
Wentworth described following the family to the zoo and, for their return trip, attaching a pipe bomb in a purple duffle bag to the underside of the vehicle. He also bragged about his ability to make pipe bombs and described using both shotgun shell contents and "powder."
A woman walking her dog testified that the dog had stopped and sniffed around the vehicle; he seemed to be sniffing "some sort of cloth" underneath the car. After she moved on, she and her husband heard the explosion while just a few blocks away. Remnants of a purple material consistent with a duffle bag were found at the scene, as were parts of a pipe bomb fueled by Pyrodex powder (a commercially available propellant designed for use in muzzle-loading and black powder antique cartridge firearms).
Finally, in relation to the charge for the October 2001 murder of Stephen St. Denis, another associate of Wentworth's, the Crown summarized that Wentworth told undercover officers he thought St. Denis was going to give police his name in one of the aforementioned crimes, so he drugged St. Denis and left him asleep on the couch at his house. Then he went to St. Denis's kitchen to make the scene look like someone had been cooking french fries, and left the stove on to catch fire. He got frustrated because it was "taking too long" for the intended grease fire to catch, so he "lit it up" himself and left St. Denis to die in the fire.
Wentworth described in great detail St. Denis's home, the room where the body was found, the way he had positioned St. Denis on the couch before lighting the fire, and the fact that St. Denis had dogs who survived the fire. Forensic evidence showed that St. Denis had been alive and breathing in smoke before ultimately dying in the fire.
At the close of his summation, Crown counsel Kelly told Justice Lacelle, "I will defend the justice system and the right of the accused to come into a trial with a cloak of innocence till the evidence, not the Crown, convinces a court he is guilty. In this case, it is time for that cloak to come off, because the evidence leaves no doubt that this man is guilty."
Wentworth is represented by John Kaldas of Toronto, who will begin his case summation Wednesday, Nov. 23, 2022. Kingstonist coverage of the defence's arguments can be read here.