COVID-19 outbreak declared at Frontenac Secondary School
Kingston, Frontenac, Lennox and Addington (KFL&A) Public Health has declared a COVID-19 outbreak at Frontenac Secondary School (FSS), located in Kingston's west end.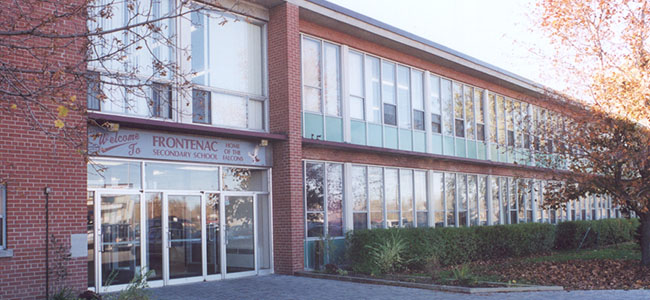 According to Public Health data, 11 of the 13 COVID-19 cases involved in the outbreak are currently active. While KFL&A Public Health does not specify whether those cases are among students, staff, or both, the online active COVID-19 case listings provided by the Limestone District School Board (LDSB) indicate that at least one case is that of a staff member. The outbreak was officially declared on Wednesday, Dec. 22, 2021.
There are some discrepancies, however, between the case data provided by KFL&A Public Health, and the active case data listed by the LDSB – in fact, there are only a total of 10 cases associated with FSS on the LDSB active case information listings, one case less than the number of active cases currently listed at the school by Public Health. It is not known why the Board is listing fewer active cases at FSS than Public Health is reporting.
According to the LDSB, however, the first case of COVID-19 was detected at the high school on Monday, Dec. 13, 2021, which was a case involving a student. Three days later, two more cases were detected on Thursday, Dec. 16, 2021, both among students within the same cohort as the initial case. The following day, two more student cases were detected, resulting in two more student cohorts being moved into isolation (unless they were not attending school at the time of the detection).
On Saturday, Dec. 18, 2021, three further cases were detected, again among students, and again resulting in a further two student cohorts being impacted. On Monday, Dec. 20, 2021, one more student case was detected, and another cohort affected, and on Wednesday, Dec. 22, 2021, one case was detected among staff, resulting in two more student cohorts impacted.
According to information provided by the LDSB on their online active COVID-19 listings, FSS remains open, however, visitation to the school is limited at this time. However, all Limestone schools had already dismissed students for the winter holidays when this outbreak was declared.
Currently, there are 157 active cases of COVID-19 within the LDSB, with 43 schools and/or programs listed has having active cases.
Within KFL&A, there are currently 52 active outbreaks, consisting of 251 active COVID-19 cases – 102 of those cases, or nearly 41 per cent are within schools in the region, which includes schools outside of the LDSB, as well.
---