Council votes to review committee mandates, explore potential francophone committee
During a meeting on Tuesday, Jun. 6, 2023, Kingston City Council voted to direct staff to undertake a review of the City's committees. The meeting also included a lengthy discussion on how the City can better represent the local francophone community.
According to a staff report that was distributed ahead of Tuesday's meeting, the City of Kingston currently has six standing committees, each of which includes six members of council. The standing committees consider policy matters related to topics such as administration, arts and recreation, the environment, and planning. 
In addition to the standing committees, the City has also established a number of advisory committees, which "provide technical advice and information from a variety of perspectives, backgrounds and experiences and provide a forum for the public to comment on emerging issues," noted the report. There are currently 11 advisory committees in the City, which include a total of 71 public members.
According to staff, a comprehensive review of the City's various committees has not taken place since 2015, with the report recommending Council direct staff to review the terms of reference and mandates of all standing and advisory committees, with a report due back to Council by Q4 2023.
"The review will be guided by the principles that: any proposed changes ensure that the governance structure and related processes remain transparent and accountable to the community at large; changes contribute to an efficient and effective decision-making process; and the governance structure and related processes are focused and aligned with identified City priorities," the report read. 
Before debating the staff report, councillors had the opportunity to hear from one delegation, as Maxine Grégoire, a member of Kingston's francophone community, addressed the need for a dedicated francophone advisory committee in the City.
"The idea first came during a meeting with the Réseau de soutien à l'immigration francophone de l'Est de l'Ontario (RSIFEO). Their mission is to help attract and welcome new francophone immigrants, as well as help them with social and economic integration. Our meeting spoke about the importance and lack of French services in health care, and how it hinders the francophone community," he said. 
"We asked ourselves, 'What could we do as a community to encourage change?' It is our hope that a [francophone committee] can serve as a platform for open dialogue and collaboration with the City of Kingston, allowing the francophone community to voice concerns, share their ideas, and actively participate in the decision-making processes that impact their lives."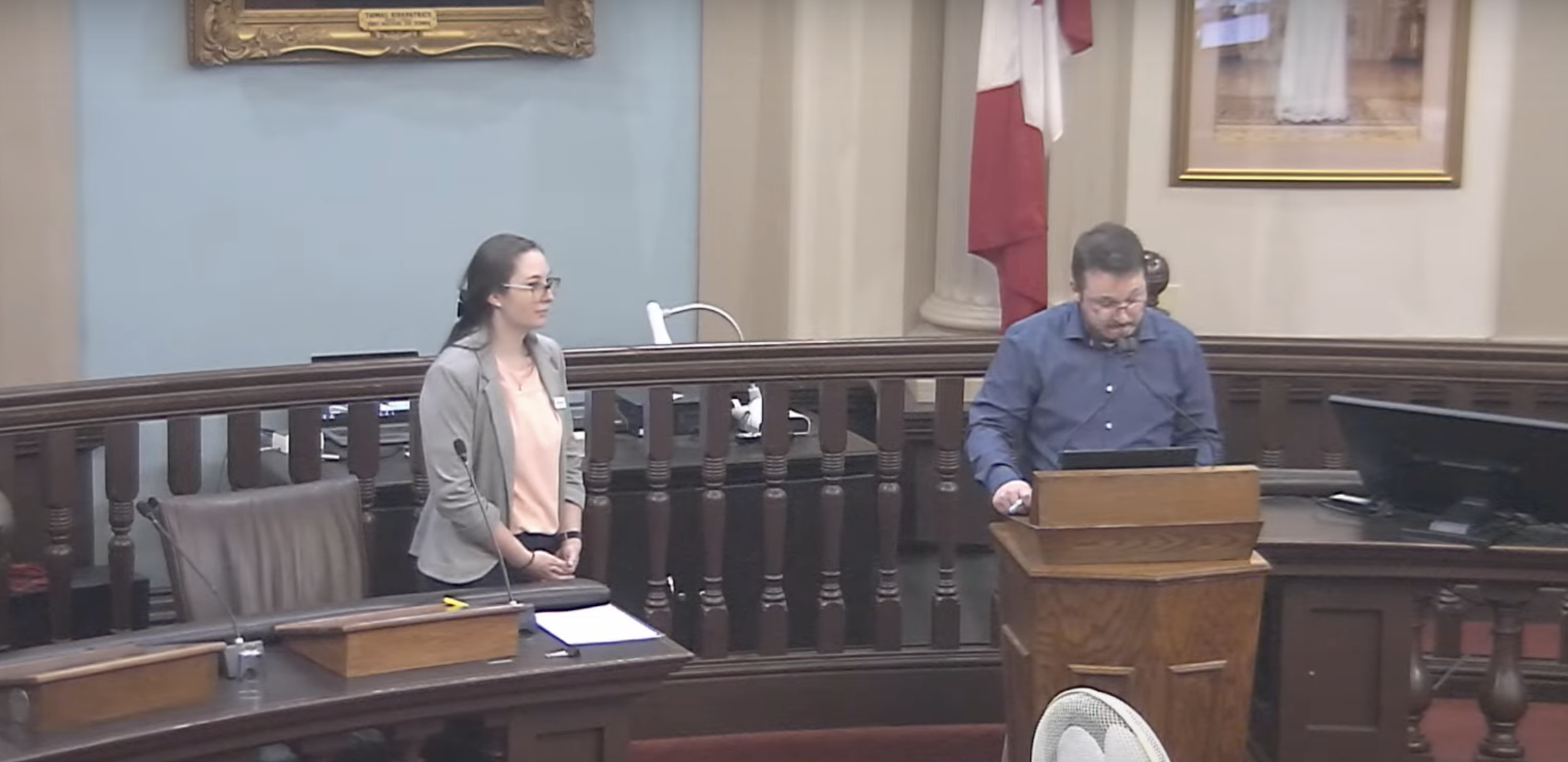 Grégoire was joined at the podium by Laurianne Montpetit, Executive Director of ACFOMI, who addressed ongoing efforts to promote and support the city's francophone community.
"In Kingston, we've been lucky to have a municipal administration that has been willing to include and promote francophone presence in the community; I've been told this was not always the case… There are francophone attraction and retention efforts that are promoted by the City, francophones are invited to contribute to many working groups," she said.
Despite significant efforts by the City to support the local francophone population, Montpetit underscored the need for a dedicated committee: "You might [ask] 'Why do we need a francophone committee if the City is already including francophones in their consultations?' A francophone committee would help the City by facilitating access to francophone voices when they need [them] and, overall, making the city more welcoming towards French speakers and also more inclusive." 
In light of the comments from Grégoire and Montpetit, an amendment to the motion to review committee mandates was introduced, which included further direction for staff to "investigate opportunities to improve engagement with the francophone community, including the feasibility of creating a committee with a mandate focused on issues affecting the francophone community in Kingston." The amendment was moved by Kingscourt-Rideau District Councillor Brandon Tozzo.
"We have a robust and vibrant francophone community in the City of Kingston. I was approached by my constituent, who spoke earlier, about the need of having a voice on City Council, and I would like to thank staff… I think it's worth reporting back to see what the City can do to lend a voice to our francophone population," Tozzo said of the proposed amendment.
Williamsville District Councillor Vincent Cinanni, a French speaker himself, urged councillors to support the amendment, which he suggested could lead to an increase in francophone tourism in the city.
"I'd like everybody to support this, because there is a big French community, [and] there are a lot of events people don't know about. We even have a really big francophone tourism [presence], I even hear it walking down the streets. So, I think this is an important step to build a broader community, including francophone [representation] and attracting more francophone tourism on top of that," Cinanni said. 
While the majority of councillors were in favour of the proposed amendment, Loyalist-Cataraqui District Councillor Paul Chaves questioned whether a dedicated francophone committee may lead other minority language populations to request similar representation.
"I will be supporting this motion, however, I do have some concerns considering we have other large ethnic groups within Kingston, so [I'm concerned] that this is opening the door for those to be having their own separate groups… as well," remarked the councillor. 
Given that the wording of the amendment provides staff with various options to consider, Mayor Bryan Paterson spoke in favour of the motion to amend.
"I'm comfortable with this," he said. "I think it's best to just give staff the broadest possible direction to be able to explore the mechanics of how this could be happening. I think we can… support the goal of this but leave it to staff to try to recommend what the best approach is."
After approving Tozzo's proposed amendment, the motion to direct staff to review committee mandates carried as amended. Staff will have until the end of 2023 to prepare a report to Council, including a review of the feasibility of a dedicated francophone committee.