Convicted serial killer on trial in Napanee for Millhaven assault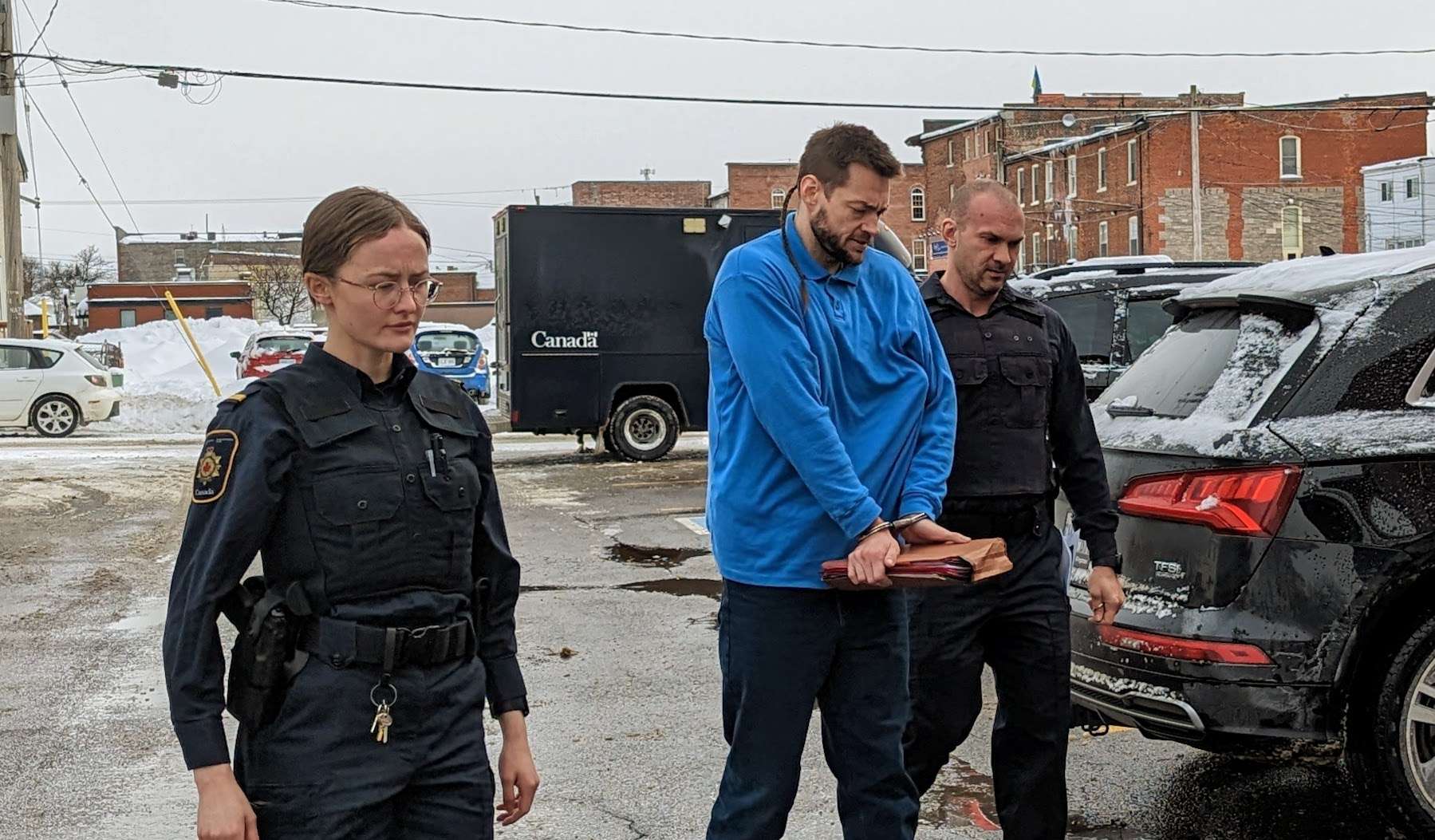 An infamous serial killer acting as his own attorney: it sounds like something out of a movie or a Ted Bundy docudrama, but certainly not what one expects to observe on a normal day in Napanee.
And yet, convicted multiple murderer Dellen Millard served as his own defense attorney while on trial at the Napanee Courthouse recently. Charged with assault causing bodily harm, Millard appeared on Friday, Jan. 30, 2023, before Justice Geoffrey Griffin for a continuation of a trial which began in October 2022.
Most Canadians will recall Millard as the multimillion-dollar aviation dynasty heir turned serial killer who murdered Tim Bosma, a Hamilton family man, in 2013. Bosma took Millard and a friend, Mark Smich, for a test drive in the pickup truck Bosma was selling on Kijiji; he was never seen alive again. The investigation into Bosma's murder revealed that in 2012 Millard had also killed his missing former girlfriend, Laura Babcock, and his own father, Wayne Millard, whose death police first mistook for suicide.
Millard's latest charge stems from a stabbing incident that took place at Millhaven Institution on Sunday, July 11, 2021. Mike Shrider of the Correctional Service of Canada (CSC) confirmed that an inmate was assaulted at Millhaven Institution in July 2021. Due to the Privacy Act, they were unable to provide details such as the specific location where the assault occurred or the names of those involved in this particular case. However, they did confirm that there were three offenders involved in this incident (two aggressors and one victim). The assaulted inmate was taken to a community hospital for assessment and treatment following this incident. No inmate died as a result of this assault. Staff responded quickly to this incident and no staff or other inmates were injured, according to CSC.
Millard wore arrestingly bright blue sneakers and a matching bright blue polo shirt with navy pants as he was escorted into the Napanee Courthouse in leg irons and handcuffs by two CSC officers. He is an imposingly tall individual, and his time in custody has aged the boyish features that once accompanied the headlines about him. He now wears his hair neatly cropped except for one long thin braid at the back of the right side of his head that reaches his shoulder blade.
Asked on his way into the courthouse if he had any comments for the Kingstonist, Millard replied, "No."
The courtroom was mostly empty except for Ontario Provincial Police (OPP) officers and CSC officers. One notable and frankly shocking attendee was Millard's mother, Madeline Burns. Burns was divorced from Dellen Millard's father, Wayne Millard, in 1996, yet they must have remained on good terms, as Wayne Millard later named her vice-president of his airplane maintenance and servicing company, Millardair. Burns did not appear at any of her son's trials for first-degree murder and managed to avoid the media throughout that time.
Once in front of Justice Griffin, Millard was expected to call witnesses for testimony, but one witness, stabbing victim Sean Trites, also a Millhaven inmate, was noticeably absent from court. Trites had refused to leave his cell at Millhaven to be transported to Napanee.
Millard asked if a letter written by Trites could be entered into evidence in lieu of his appearance, but the judge denied that request. Instead, Justice Griffin asked his secretary to find out what was going on at Millhaven and asked Millard to begin his case in the meantime.
Millard then called Terrell Sullivan, who appeared via video conference from Southwest Centre for Forensic Mental Health Care in St. Thomas, Ont. Millard was genial, wishing Sullivan good morning and commenting that he was "looking well." Sullivan had been an inmate on the same range of Millhaven at the time of the stabbing.
The soft-spoken witness recalled the "incident" in question, "where someone was stabbed… Sean Trites." Despite being locked in his cell at the time, Sullivan said he "could hear most of the commotion" and could "see a bit" with a reflector, a mirror used to look down the range of cells while one is locked inside.
Sullivan recalled that he was looking through his food slot and that it was "mealtime, either lunch or dinner," and that other inmates were out of their cells because it was their job to serve the food.
"Okay, and we'll get to what you saw… but what I'm really interested in is what you heard on that day, because we have a video of what happened, but we don't have sound," stated Millard. "Can you help us with what you heard?"
Sullivan recalled an argument between "Sean [Trites] and another inmate [ named Sumner]… I don't know his real name," stating that Millard was not involved in the argument and that "it was over a girlfriend and someone calling [someone else's] girlfriend" on the phone.
"So, you heard an argument. Did you hear anything else?" questioned Millard.
Sullivan answered, "I heard you saying 'Just go to your cell, just don't do this, stop.'"
Millard remarked, "Well, that's a lot of words." Then he addressed the judge questioningly, "Your honour, the Crown said that they were not opposed to me asking leading questions?"
Justice Griffin indicated Millard should go on.
"Do you remember me yelling 'lock up,' specifically the phrase 'lock up'? Was that something you heard or did not hear?" Millard asked Sullivan, who replied, "Yes, that is what I heard."
In continued testimony, Sullivan said that with his reflector he was able to see a scuffle and see Millard. "I seen you. I seen you throw Sean away from [the other inmate]…trying to, like, break up the fight."
In his cross-examination, Crown Attorney Tim Kavanagh asked Sullivan where the argument between the inmates had started. Sullivan indicated that it had started in the kitchen but that he could not see that because he was in his cell.
Under further cross-examination, Sullivan indicated that the whole argument and fight had taken "like 10 or 20 minutes" and that he had watched the whole thing, but that his vision had been obstructed by the use of the reflector and some microwaves that were in his way.
"So if I understand you," questioned Kavanagh, "you could just see the end of this altercation… when Millard breaks up the fight. If I understand you, you did not see the rest of the altercation?"
"No," answered Sullivan.
"So, you have no idea what happened," stated Kavanagh.
After some continued questioning, Sullivan's testimony ended.
The court secretary then said she had heard from Millhaven that Sean Trites was still refusing to come out of his cell to testify because "these are not his charges."
After a brief recess, the Judge returned to court and addressed the defence bench. "Mr. Millard, it would appear that Mr. Trites is going to need the assistance of the Institutional Emergency Response team to be pulled out of his cell. I'd like to see that not happen, for a number of reasons." He indicated that cell extraction was dangerous for both the inmate and the officers, and that, instead, over the break he had spoken to a correctional manager who would try to convince Trites to testify over videoconference.
"I wouldn't do the cell extraction today, by the way," Justice Griffin told the assembly, saying that in his experience, inmates, when given time for reflection, will often have a change of heart about testifying. He indicated that the court should move on to another witness in the meantime.
Next called was inmate Martin Forget (via video conference), who said he was not exactly aware of why he was appearing in court. After an explanation of the situation by Justice Griffin, Millard began his questioning.
Forget said that, on the day of the incident, he was a food server on the same unit as Millard and that only food servers and the "Range Rep," in this case Mr. Sumner, were allowed out of their cells, while the rest of the inmates on that range of cells were locked up awaiting food service.
Forget testified that he heard a commotion on the range and then "I peeked my head out of my cell door," where he observed a disagreement between Sumner and Trites, whom he called "Slick."
Forget said he heard "some kind of disagreement… I could hear the tone of voice [between Sumner and Trites] raising in angst, if you will."
Forget said that he decided to stay in his cell and "mind my own business," but that, after "a few minutes," three men passed by his cell: Millard, Sumner and Trites. He remembered that Millard said, "Just apologize and go in your cell."
After some more time passed that day, Forget tried to ignore the commotion, but then heard some "wrestling around," he testified. He remembered Millard stating, "Oh my god, this is wrong. What are you doing? Just go in your cell."
After that, Forget said, "I popped my head out. I seen the two for a moment, then Sean went into his cell, and then he pops back out," at which point, he said, he saw Millard pushing the other two men apart.
"What I remember most is that you were trying to separate them and trying to defuse the situation," said Forget.
At this point, Millard again corrected his witness about what Millard had been saying during the altercation: that he had told the men to "Lock up."
Forget said his memory was "fuzzy," but that, in his "educated correction," those were likely the words used by Millard.
In his cross-examination, the Crown made much of Forget's "educated correction," calling the truthfulness of his assertions into question. Forget appeared to change his story then, saying he was "certain" he had heard Millard say "lock up."
"Oh, so now you have certainty?" Kavanagh questioned. He then pelted Forget with questions about details of the fight, as the man's story changed from him not having watched the altercation at all, to him having observed "much of the fight" and hearing the words "lock up."
"Would you be surprised to learn," Kavanagh asked, "that Mr. Millard was blocking your view" of the altercation between Trites and Sumner?… You really don't have much of a recollection of this event, do you?"
Forget seemed to become more and more agitated under this line of questioning, saying he "didn't see much," as the Crown took him through the events.
The Crown reminded Forget that he had earlier testified to seeing Millard push Sumner and Trites apart. "Did you see Mr. Millard pushing them apart?"
"Not that I remember, no," answered Forget.
The Crown asked if this was true, why Forget had lied before. Forget indicated that he was working on his memory of the event and that he knew Millard to be an "outstanding" and "non-violent" person who "doesn't get in the middle of other people's problems" and has a "tendency to break up fights."
Kavanagh challenged this view, commenting that Mr. Millard seemed to be in the middle of "a lot of fights."
Forget described Millard as a good friend who helped him through some tough times, to which Kavanagh asked, "So this isn't a solid then?" implying that perhaps Forget was doing a favour for his "friend" Millard.
Kavanagh established through further questioning that, in 2021 or 2022, Forget had agreed to help Millard by "offering his services" as a witness if this ever came to trial. Kavanagh also brought up Forget's murder and fraud convictions as evidence of his moral character, which visibly upset the witness, who called Kavanagh "very rude."
Through all of this, the assembly watching the proceedings was very quiet except for one small outburst by Millard's mother, who appeared to grow frustrated at the Crown's line of questioning, shaking her head and audibly scoffing, which prompted an OPP officer to caution her to be quiet.
This is a developing story with more to come. A security video of the incident in question was submitted to the court in October 2022. On Tuesday, Feb. 7, 2023, Justice Geoffrey Griffin granted Kingstonist an Exhibit Request to view the video in the coming days. Kingstonist will provide more coverage of the matter before Justice Griffin once that video is received and studied.