Construction of Queen's University's Indigenous gathering space takes shape
Those who've enjoyed the warmer weather with a walk around Queen's University campus recently may have noticed a new addition next to Tindall Field.
Currently, the construction of an Indigenous gathering space is underway. The large, wooden dome structure is intended to be a place where Indigenous gathering, teaching, and storytelling can happen. Located next to Mackintosh-Corry Hall, the building is strategically placed.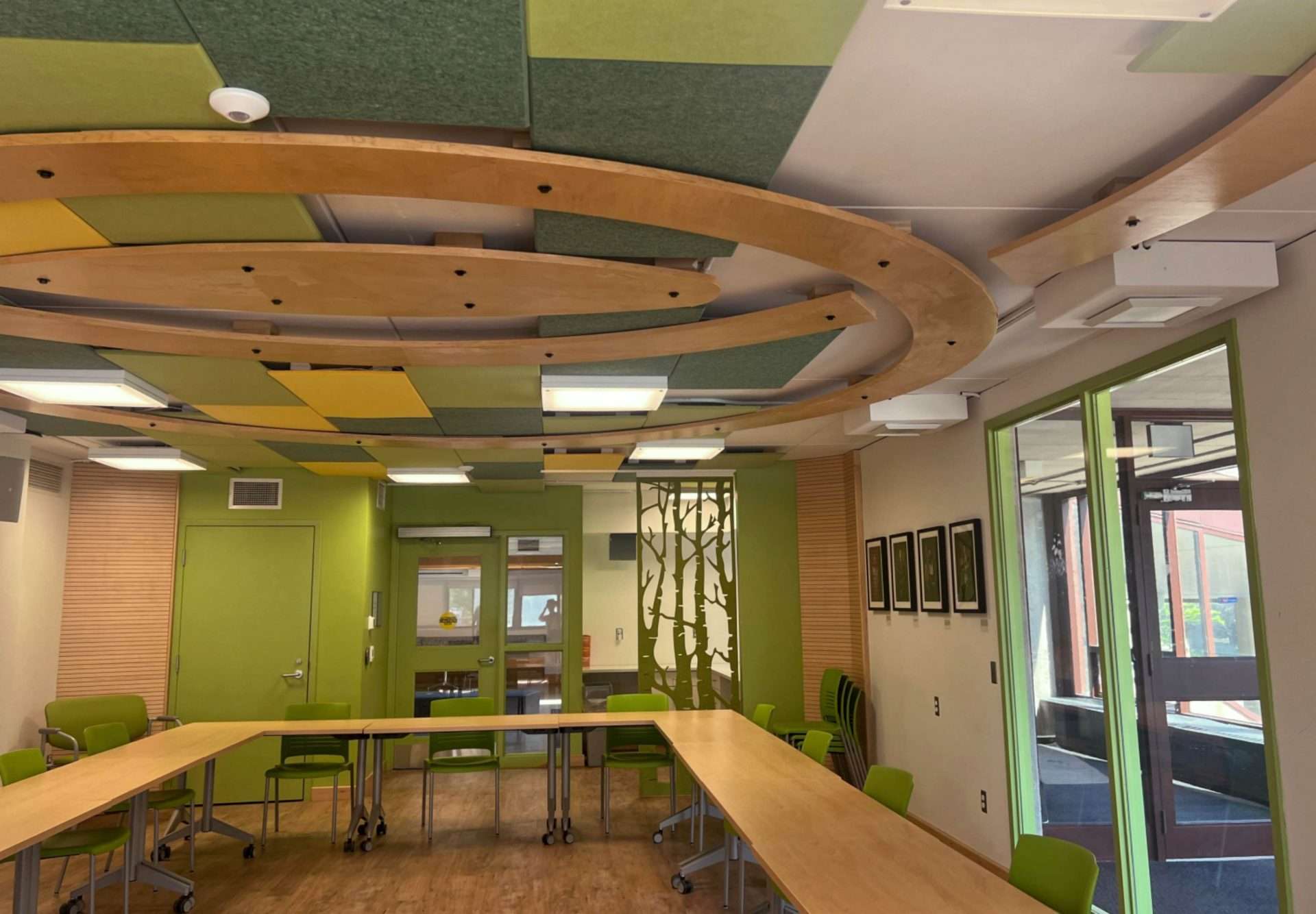 The outdoor gathering space is an extension meant to be paired with the Welcoming Room, a classroom located within Mackintosh-Corry Hall. The indoor teaching space is used for Indigenous events, as well as teaching Indigenous culture. It is bright and appropriately welcoming, detailed with light green walls, an open-floor concept, tables arranged in a rectangle, a small kitchen, and large windows that feature a view of the Indigenous gathering space.
"The idea was 'how do we bring this outside?'…which is our original teacher," says Kandice Baptiste, the Associate Director of the Office of Indigenous Initiatives at Queen's University.
After years of planning and hard work, the Indigenous gathering space is scheduled to be completed in the late summer. The concept originated from Kanonhsyonne Janice Hill, who leads the Office of Indigenous Initiatives at Queen's University. Hill "envisioned a place where students could have a learning experience both indoor and outdoor here at Queen's," says Baptiste.
When the gathering space is completed, it will be available to be used as a place for ceremonial fires and Indigenous teachings, as well as a place to build community. Having access to this kind of teaching space is of particular value, as it creates an environment that is vastly different from the traditional lecturing one expects to find at an educational institution.
"I think [it] includes the land in a more meaningful way than reading about it on a slide or… it in a textbook. You're actually experiencing it, you're feeling it, you're breathing it, you're smelling it," Baptiste says.
According to the university, the structure will incorporate Indigenous symbology.
"Entryways were positioned facing east and west, denoting the rising and setting of the sun, and the overall design nods to the medicine wheel and is designed for sacred ceremonial activities like smudging," the university said in a press release.
Baptiste acknowledges the importance of Indigenous visibility and representation on campus. Crediting Hill with the phrase, Baptiste says, "students at Queen's go on to be leaders… so I think it's critical that students that come to Queen's understand the territory that they're on, the history of it, and their role in reconciliation."
There has been a demand for more ceremonial space on campus, both by Indigenous and non-Indigenous folks, and having an accessible physical space for teaching to happen is being met with widespread excitement and anticipation. Baptiste also says it is important that Indigenous representation is throughout campus, rather than limited to specific areas.
"This is an example of actually infusing Indigenous knowledge and ways of being and living on campus, in ways that people can't avoid," she said.
According to Queen's University, the construction for this project is being funded by an amalgamation of sources including the Bader Philanthropies, the Office of the Provost, and the Faculty of Arts and Sciences.
An official unveiling of the structure is set to happen at some point this fall, although a date has yet to be determined.