Kingston City Council to decide future of street hockey, other on-street sports
During its regular meeting on Tuesday night, Dec. 6, 2022, Kingston City Council will consider several options related to whether to allow additional sports besides street hockey, as well as other activities, to be played on City streets. Since 2008, the City has officially regulated the playing of street hockey on local roadways in residential neighbourhoods through a specific Street Hockey Policy and Code of Conduct in the Streets Bylaw. Now, councillors are being asked to consider the regulation of additional street sports, such as basketball, football, and soccer, as well as other activities.
During a meeting on June 21, City Council passed a motion directing staff to explore options to amend the Streets Bylaw to allow for additional sports and activities on residential roadways. A staff report being presented to Council on Tuesday gives three options related to the enforcement of sports and other activities on City streets.
Option one would officially amend the Streets Bylaw to allow additional sports and activities on residential roads "during daylight hours when there is good visibility and under prescribed conditions to encourage responsible participation," the report says. Staff note that by "expressly" permitting additional sports beyond street hockey, the City may become limited in its ability to control "activities that could be inherently unsafe or pose a danger to others."
The report continues, "Staff recognize that while promoting play is critical in fostering vibrant, healthy communities, formally permitting all sports and games on a highway, without appropriate mitigative measures, poses a safety risk to individuals, as well as an increased risk of liability to the City."
The second option in the report takes a very different approach. Instead of amending the Streets Bylaw to allow for additional games and activities, option two would see the City remove all references to on-street sports from the bylaw, effectively making street hockey and other games unsanctioned activities.
"This can be further interpreted to mean that the City would neither expressly permit, nor expressly prohibit, the playing of sports and games on a highway." According to the report, this approach is actually in line with the practices of similar municipalities throughout Ontario, which neither allow nor ban on-street sports.
While the second option would deregulate on-street sports in the City of Kingston, right-of-way provisions under the Street and Encroachment Bylaws would still ensure that sports-related equipment neither obstructs the flow of traffic nor impacts City services, should residents choose to continue to play hockey and other sports on public streets.
The report's third option would see the Streets Bylaw remain as is, with express permission for on-street hockey but no mention of other sports or activities.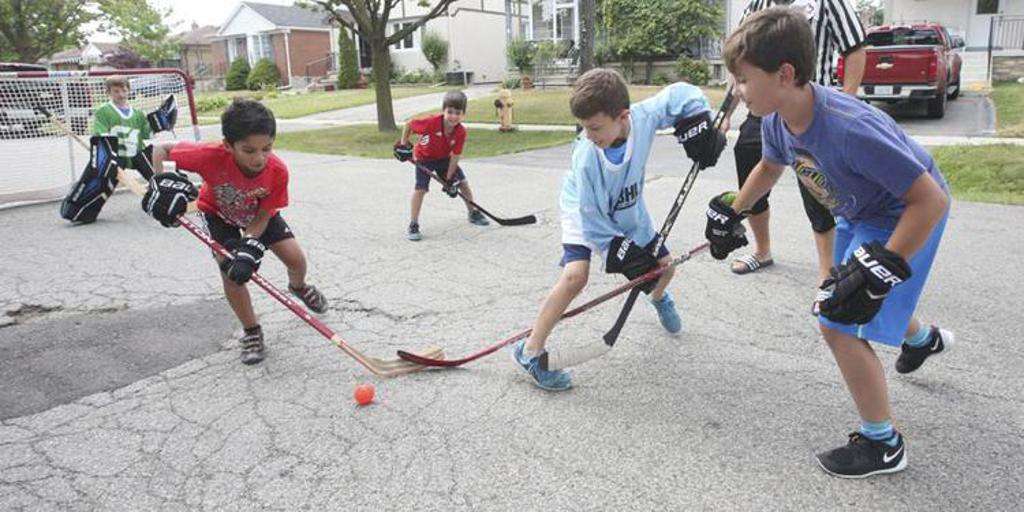 In terms of the impact existing policies have on Kingston residents, the report notes that complaints regarding street hockey and other sports tend to pertain to the encroachment of nets and other objects on the roadway. "By-Law Enforcement Officers have addressed these concerns through education and in some instances the issuance of written warnings."
The report goes on, "By-Law Enforcement Officers have not deemed it necessary to issue fines or lay charges for violations related to the playing of sports and games on City streets or to the placement of sports equipment within the road allowance. If this level of enforcement was ever considered necessary, a ticket could be issued under an applicable section of the Streets By-Law."
The report indicates that a public consultation process occurred this past summer, with the majority of respondents expressing general support for the inclusion of additional sports and activities within the Streets Bylaw. In general, street sports were associated with a number of health and social benefits for children, as many respondents also noted the roadway is "a public space" that should be shared among residents.
In terms of resident concerns regarding additional on-street sports, the report says, "Some residents expressed concerns over the potential for injury, damage to vehicles/property, noise levels, conflicts with on-street parking, and potential disputes between neighbours, should additional sports or games be permitted."
Whichever option councillors choose on Tuesday night, City staff are recommending that concerns related to on-street sports, such as the placement of equipment, be handled through "appropriate, stepped and measured enforcement." If such measures fail and officers are unable to resolve issues through "education and warning-based approaches," the City would be prepared to issue tickets under the Streets Bylaw.