City: New temporary art projects in downtown Kingston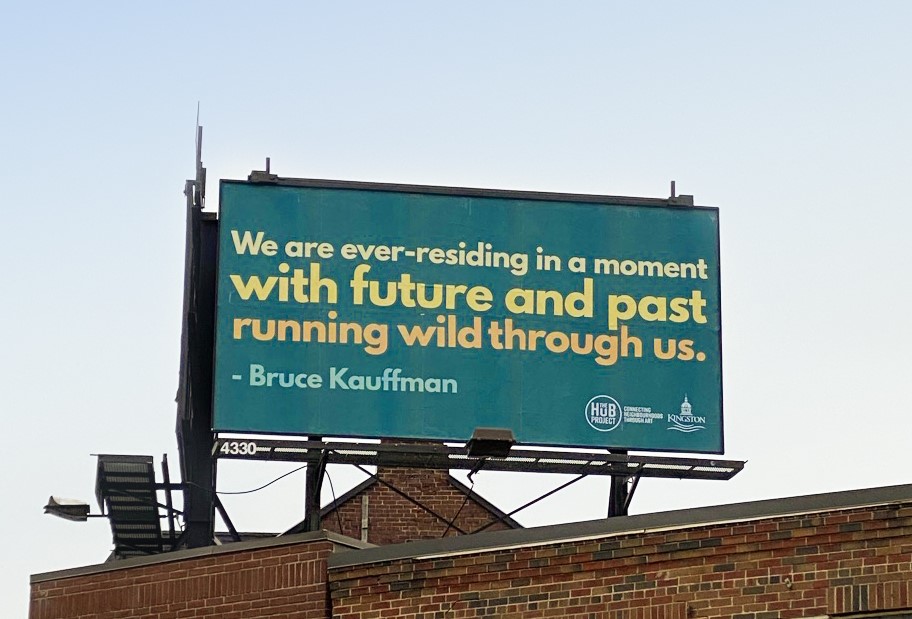 The City of Kingston has announced three new temporary public art projects featuring Kingston-based artists for 2021.
Paved Paradise 2021, Storefront Public Art, and the Billboard Poetry Project will promote diverse cultural expression in a variety of mediums in spaces and places throughout the downtown core, according to a release from the City, dated Tuesday, Mar. 16, 2021. 
"Public art enhances our urban experience and invigorates public spaces in a uniquely accessible way," notes Danika Lochhead, Manager, Arts and Sector Development. "These three distinct projects showcase a range of dynamic and impactful artworks created by local artists and work together to contribute to a vibrant, high-quality public realm that is especially important now as a way to engage residents and make the arts accessible as we transition into the second year of the pandemic."
According to the release, the City's Public Art Program supports creation of contemporary public art by emerging and established artists through commissions and artist collaborations. Through this program, the City said they are committed to working with artists, residents and the public and private sectors in the ongoing development and implementation of public art projects to establish Kingston as a hub of creative placemaking that recognizes and builds on the City's diverse history, engages its community and inspires its future leaders.
The City shared details on each project:
Call for Submissions: Paved Paradise 2021
Kingston-based artists are invited to submit proposals for Paved Paradise, an outdoor public art platform of seven pedestrian-level billboards found on the north side of Brock Street at Ontario Street. Now in its fourth year, the selected work will be presented as a temporary project from June to November 2021 as part of the Love Kingston Marketplace program that is reimagining downtown Kingston to help respond to the impacts of COVID-19 on residents, businesses, culture, tourism, and the local economy. The deadline to submit proposals is Friday, Apr. 23, 2021.  
Learn more about Paved Paradise project and the call for submissions at www.CityofKingston.ca/explore/culture-history/arts/public-art/temporary.
Storefront Public Art
The Public Art Program, in partnership with Tourism Kingston and Downtown Kingston! BIA, presents a series of five public artworks in vacant storefronts created by local artists. The featured artists and locations are:   
77 Princess St. – Cultivate by Marney McDiarmid and Arriving by Aida Šulcs.  
237 Princess St. – Take My Hand by Jennifer Demitor.   
239 Princess St. – Phony Bologna, Dead On Collective including Kelsey Pearson, Bree Rappaport, and Eric Williams.  
330 Princess St. – Unsolicited Life Advice by Floriana Ehninger-Cuervo (coming soon). 
Kingston residents are invited to explore downtown Kingston safely to discover new public artworks and learn more about the artists. The exhibitions create new opportunities to work with local artists impacted by the pandemic and will be in place until May 2021. The spaces for the exhibits were donated by CaraCo Group of Companies and Keystone Property Management.
Learn more about Storefront Public Art Project at www.CityofKingston.ca/explore/culture-history/arts/public-art/temporary. 
Billboard Poetry Project
A new poetry work by Bruce Kauffman has been installed on a billboard at the intersection of Princess and Division streets as part of The Hub Project. The billboard features poetry-based works by local poets, from January to September 2021, selected by Jason Heroux, the City's Poet Laureate. Kauffman is a local poet, editor, and organizer of literary events. In addition to his collaborative work with other artists, his written work has appeared in anthologies, journals, four chapbooks, and four collections of poetry, with an evening absence still waiting for moon (2019) his latest. He is also a recent recipient of the Mayor's Arts Awards.  
Learn more about the Billboard Poetry Project at www.CityofKingston.ca/city-hall/projects-construction/the-hub-project.