City invites community to participate in Street Art Wall pilot project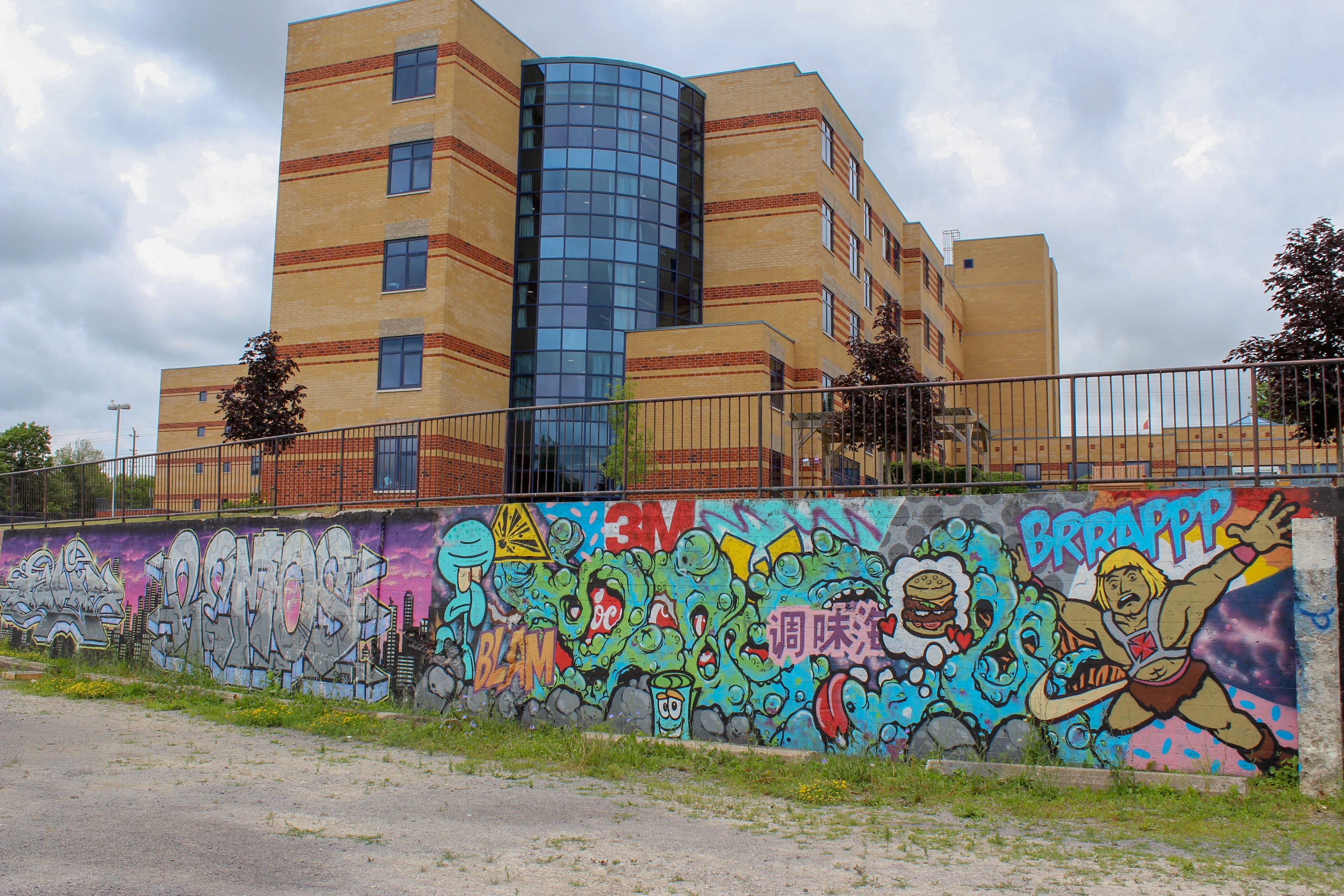 Community members are allowed to create street art and murals on the Rideaucrest retaining wall adjacent to Douglas Fluhrer Park from now until Thursday, Apr. 30, 2020 through the City of Kingston Street Art Wall pilot project. 
Located at the end of Wellington Street, the wall is intended to be a platform for artistic expression that supports the creation of street art in Kingston. It is open daylight hours seven days a week.
Approved by Kingston City Council in March 2019, the Street Art Wall pilot project is a response to the City's Public Art Master Plan in support of temporary public art, street art and public art to promote diverse cultural expression in a variety of mediums in civic spaces, places and neighbourhoods. The idea for the Street Art Wall, however, began a couple of years ago, explained Donika Lochhead, manager of arts and sector development for the City of Kingston.
"The Street Art Wall pilot project was born out of local community interest, specifically by representatives from the 'Friends of Kingston Inner Harbour' who have organized community-led events that temporarily used the retaining wall as a place where local artists working with community members created murals," Lochhead said.
"In 2017, Council passed a motion that directed staff to look at establishing the Rideaucrest retaining wall as a sanctioned legal wall for murals and street art and staff reported back in 2019 with proposed operations to explore this as a 10-month pilot project."
The wall is free to use and participants are allowed to paint anything they like within the wall guidelines. Murals, street art tagging, and painting are allowed. Prohibited content, including art that depicts violence or explicit sexual content, incites hatred, promotes stereotypes, contains offensive language, or includes references to gangs or crime, will be painted over by the City. To report prohibited content, contact City Cultural Services at 613-546-4291 ext. 1158.
Anyone wishing to use the street art wall must bring their own supplies. Only standard exterior latex, acrylic and aerosol paints are permitted, and supplies must be removed when participants leave. Lead and oil based paints are prohibited, and no physical additions or alterations are allowed to be made to the wall. The City is also asking that artists respect the work of other artists.
"The wall is self-regulated and managed by the community. Paintings on the wall may be painted over by other users. Please be respectful of fellow artists and share the wall," the City's website page on the project says.
Participants are encouraged to document their artwork and share on social media platforms using the hashtag #YGKStreetArtWall.
Community members who are visiting the wall should be aware that turtle nesting season will continue throughout this week and take caution to not disturb nests. Lochhead explained that the City will be monitoring the area to ensure all guidelines are adhered to — both with regard to the wall, and to the nesting turtles.
"As part of City staff's work on this project, we developed guidelines for participation to promote a positive experience for everyone involved. The City is mindful that Douglas Fluhrer Park is a turtle nesting area and the guidelines alert wall participants to this," she said.
"Additionally, the pilot project timelines were established to work around the prime turtle nesting season from May to early July. Staff will be monitoring the wall and park area to ensure the guidelines are being followed and the area maintained."For more information, visit The City of Kingston Street Art Wall webpage or the Street Art Wall Pilot Project Frequently Asked Questions.
The 'Street Art Wall' at Douglas Fluhrer Park. Photo by Michelle Allan.

The 'Street Art Wall' at Douglas Fluhrer Park. Photo by Michelle Allan.

The 'Street Art Wall' at Douglas Fluhrer Park. Photo by Michelle Allan.

Turtle nest protectors are in place in front of the 'Street Art Wall' at Douglas Fluhrer Park. Photo by Michelle Allan.