Chalk Your Walk fundraiser by The Rocking Horse supports Kids Inclusive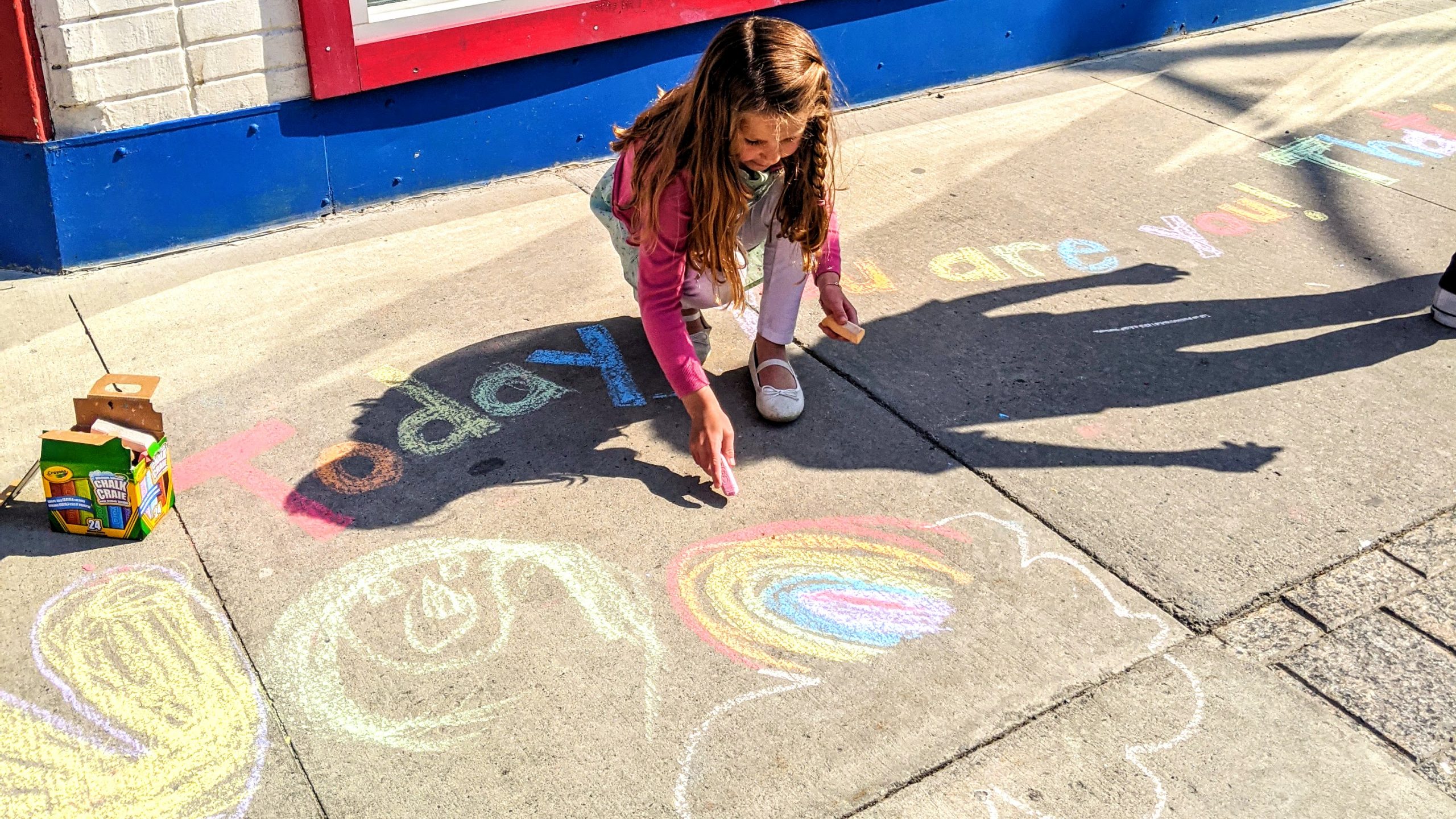 During the current province-wide lockdown, The Rocking Horse is hoping to spread joy, optimism, and inspiration to the people of Kingston through their Chalk Your Walk Fundraiser.
For every chalk drawing or message shared with The Rocking Horse on their event page, the business will donate 50 cents to Kids Inclusive.
"We wanted a way to support families in our community and felt that Kids Inclusive aligned with our vision," shared Monica Brown, owner of The Rocking Horse. "They help empower kids and youth with special needs to reach their full potential in our community. We are quite familiar with Kids Inclusive, as we have organized fun events to fundraise for them in the past, such as our Pedal Car Derby or Splash N' Dash Race for Kids."
Tabitha Lawson-Morton, Coordinator – Data & Communication Support for Kids Inclusive, told Kingstonist that they did not know The Rocking Horse was planning this fundraiser. "They hosted a Car Derby for Kids in 2018, which raised some money for us and they have been a sponsor to our Run/Walk since 2017, but we did not have advanced notice about their Chalk the Walk and were pleasantly surprised!" she said.
"The funds that come our way help support our clients and their families through the purchase of specialized equipment, training and education, programs and initiatives, and to assist families with the exceptional costs of raising a child with special needs," Lawson-Morton continued. "I think it's always a nice surprise for us to hear about fundraising efforts happening in our community for the clients we serve. It's never an expectation and is always appreciated."
Kids of all ages (that means adults too!) are invited to draw or write encouraging messages on their driveway or sidewalk anytime until the end of May. Snap a photo of your handiwork and upload it to the Rocking Horse Chalk Your Walk event page.
"We wanted a way to engage families and kids while staying safe at home," Brown continued. "We thought that Chalk Your Walk is a great way to inspire creativity and put smiles on peoples' faces."
Lawson-Morton echoed these sentiments, as well. "During this time of isolation it's uplifting to see encouraging messages. It's a great motivator to get people outside in the fresh air," she said.
All Chalk Your Walk submissions are entered to win swag from local Downtown Kingston businesses. Brown said winners will be chosen at random once the lockdown is over. She also thanked her neighbours downtown for donating prizes for this fundraiser. "People can win gift cards and prizes to some of the following businesses: Chere Mere, Trailhead, Mio Gelato, Happy Thoughts, Atomica, Harpers, Black Dog Tavern, Novel Idea, The Grocery Basket, Schumaker, Minotaur, Send in the Clowns, and so many more," she said.
Visit the Chalk Your Walk event page on Facebook to see the uplifting images, and add your own. The Rocking Horse will be making their donation up to a maximum of $500. For those who would like to support Kids Inclusive directly, donations can be made on their website.
The Rocking Horse is a locally-owned, independent toy store in the heart of Downtown Kingston. They are known for our selection of classic and retro toys, board games, wooden toys, stuffed animals, and unique novelty items.