CFRC celebrates its 100th anniversary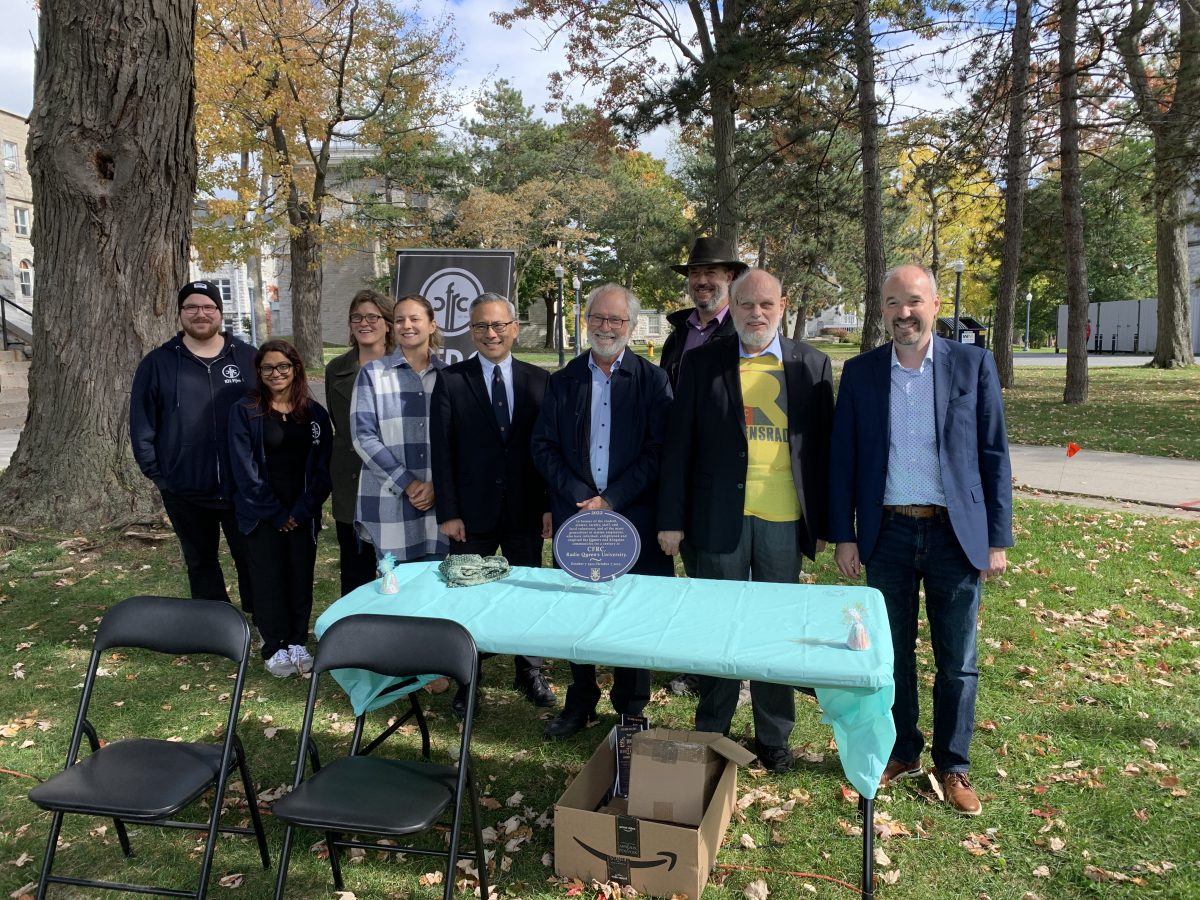 Local dignitaries, radio volunteers, and station staff were on-hand today, Friday, Oct. 7, 2022, at Caruthers Hall, as CFRC celebrated its 100th anniversary. It was on this day in 1922 when the station launched its first-ever broadcast; 100 years later, CFRC is still going strong as one of the world's longest-running campus and community radio stations. CFRC's centennial was marked with the unveiling of a commemorative plaque at a special reception outside the station's current headquarters, as those in attendance remarked on the significant milestone. 
"100 years is a remarkable period of time for any kind of technology-based human activity. And that CFRC is thriving, and a critical part of this community — University community and the broader community — still, after 100 years, is absolutely amazing to think of," noted Queen's University Principal Patrick Deane. "Campus-based radio still has a critically important place in building and maintaining good communities like this one."
"I think [a] 100-year anniversary speaks to the quality and the longevity of what this project has been and what it's grown into, said Kingston's Mayor Bryan Paterson, who noted that one of his first-ever media appearances was conducted by CFRC. "I think I was grilled harder in that interview than just about any interview I've had in the 12 years since and I think I was just incredibly impressed just by the passion and the interest of the student who was interviewing me."
Kingston and the Islands MPP Ted Hsu said CFRC is an organization that "ties the community together."
"I really think broadcasting is important to the social cohesion of our community… [it's] the public square, the existence of things that we talk about and we share together instead of going off in our different corners on social media," Hsu said. 
CFRC was officially launched in 1922 by engineering professors Douglas M. Jemmett and Robert L. Davis, who constructed a small AM radio transmitter inside Fleming Hall in order to broadcast sporting events and live concerts. Throughout its first decade in existence, the station was largely a passion project of members of the Electrical Engineering Department, as it broadcast for several hours each week, providing coverage of Queen's Golden Gaels sporting events, as well as local concerts, lectures, and convocations. 
In the decades since, CFRC would continue to expand, launching additional programs, and eventually broadcasting 24/7. The station would move on from its humble beginnings within the Engineering Department, and eventually become an independent organization, launching its own studio inside Carruthers Hall, where the station remains to this day. In 1954, CFRC transmitted its first FM broadcast on 91.9 FM. By 1990, the station had established an even greater reach throughout most of the Kingston region, as it began broadcasting at its current spot of 101.9 FM on the local dial.
Throughout the years, CFRC has largely remained a volunteer-run organization, with students and community members handling the majority of the day-to-day operations, including on-air broadcasting. "We have a lot of volunteers, about 100 of them, who come in every week, students and community members alike, really being able to share their voices, their ideas, their perspectives, their creativity, and their passions," said Dinah Jansen, Executive Director of CFRC.
"We have long served both of our communities in Kingston and right here on campus insofar as voices from the community come to present, whether it's music or spoken word programming, every single week," added Jansen. 
As one of the oldest campus radio stations in the world, CFRC has been considered a staple of the Queen's University and Kingston communities for decades. The organization has long supported Kingston's artistic scenes, promoting local musicians, writers, artists, and other performers. Through its dedication to community-oriented programming, CFRC has often provided an opportunity for local volunteers to try their hand at broadcasting, with many eventually going on to host their very own shows. 
One Kingston-based volunteer who's found her voice on the radio is Laura Palma, who currently hosts Let it Happen every Saturday at 1 p.m. For Palma, the opportunity to volunteer at the station has allowed her to further her own passion for music. "I love music, and [hosting my own show] keeps me up to date with new music and indie artists… [There have] been so many opportunities to go to live shows and interview artists… things I never thought I would do before." 
Palma credited CFRC's wide range of distinct on-air programming as one of the station's key strengths. "We're a platform for a lot of voices that maybe don't get to be heard on commercial or mainstream radio… And we have a lot of diverse broadcasters. We do a lot of spoken word shows, we have a poetry show, we have a show that is spoken [entirely] in Portuguese, we have a show that only plays female artists… We kind of just dip our toes into everything."
Despite CFRC's long-standing history and connection to Queen's University, the station itself is a not-for-profit organization, with the majority of its funding coming from optional student fees and public grants, as opposed to funding from the university itself.
"We are supported largely through student fee levies, annually, as most if not all campus stations are across the country. We do not receive direct funding from Queen's University, however, we are pleased to be able to occupy space on [campus]," noted Jansen.
Thankfully, after clamouring for support after changes to student fees disrupted consistent budgeting, CFRC was able to come back stronger and remain the Kingston entity it has for the past century. But donations remain the station's critical source of financial support.
CFRC receives donations from members of the public and is able to issue tax receipts through Queen's University. As part of its centennial celebrations, the station has once again launched its annual fundraising drive, which runs through the end of 2022. This year, organizers are looking to secure funds for a new accessible website that will expand the station's streaming and booking capabilities. More information can be found on CFRC's website.