'Century of Crises' event looks at food systems solutions for Kingston and around the globe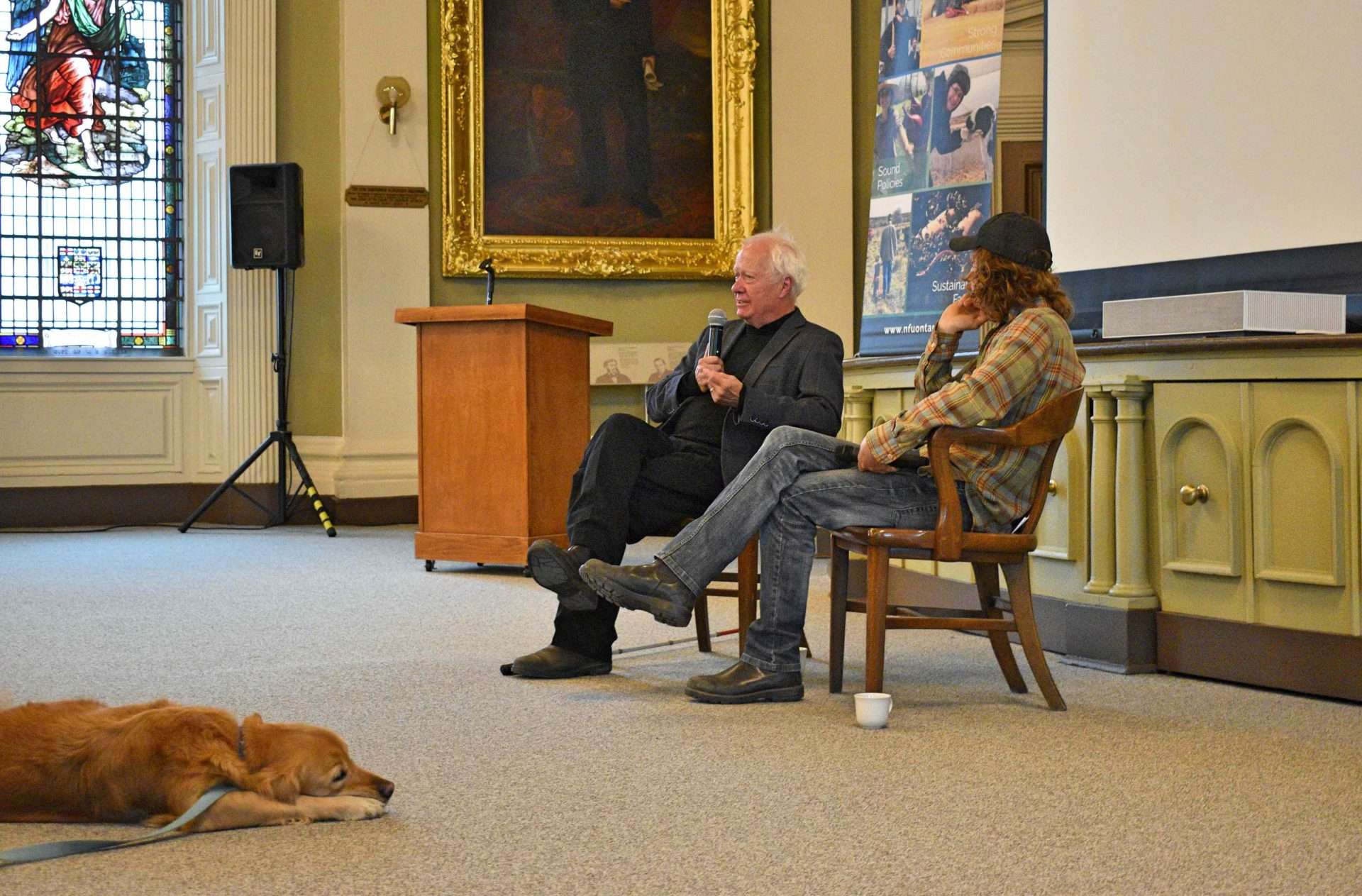 Discussion at a free event on Saturday, Nov. 19, 2022, focused on the future of local and global food systems in the current "century of crises," including biodiversity loss, climate change, and geopolitics.
The event, which took place at City Hall, was organized by the Kingston chapter of the National Farmers Union and co-sponsored by the Food Policy Council for Kingston, Frontenac, Lennox and Addington (KFL&A); the Kingston Area Seed System Initiative; Loving Spoonful; the National Farmers Union (NFU) Local 316; and the Sisters of Providence of St. Vincent de Paul. The featured speaker was Pat Mooney, a Canadian author and agricultural development expert. NFU Local 316 President Joshua Suppan moderated the event's discussion around a 2021 report titled "A Long Food Movement: Transforming Food Systems by 2045," which Mooney co-authored.
The report lays out two food futures: what the current global industrial food system will look by 2045 if it stays on its "(agri)businesses as usual" trajectory, and what the food system could look like in an alternative scenario where the food system is transformed through a "Long Food Movement" led by civil society and social movements, including international NGOs (non-governmental organizations) and farmers' and fishers' groups. The second pathway, the report argues, would create more equitable and resilient food systems that would "deliver incalculable benefits to the lives and livelihoods of billions of people over the next 25 years."
"We have a very interested community in local food production and eating and buying local food," said Suppan, who operates Fat Chance Farmstead, a local fruit and vegetable farm just outside of Kingston. "Our food system here locally needs to take the next steps to provide more equitable food and to increase production and make food production more viable for producers. Pat [Mooney] has some applicable ideas for that. He's going to give us real ideas and solutions [which] there are already examples of and [which] are hopefully possible for us to apply so we can have that food system."
Mooney, co-founder of ETC Group (an international organization which focuses on research and advocacy of agricultural biodiversity and the impact of new technologies on rural communities), spoke to attendees about the vision for a food system that is just and equitable, not only for those who consume food, but also for those who produce it. Food crises like recent inflation and pandemic-caused shortages will continue to happen in the future, especially combined with a changing climate, he told attendees. Therefore, a food system which emphasizes long-term strategies, food sovereignty, and crop diversity will help make the system less vulnerable to these inevitable crises. Mooney fielded a variety of questions from attendees, ranging from land and food affordability to the consideration of colonial structures.
Mooney also warned about the temptation of technologically advanced "silver-bullet" solutions, like using artificial intelligence to manage a farm, robotic tractors and drones, geo-engineering, and inventing new highly-processed foods.
"These are the kinds of proposals they're making as 'agribusiness as usual' to help deal with food crises in the future — they just aren't reliable," Mooney said in an interview with the Kingstonist. "They make those who are hungry [into] guinea pigs for technologies that haven't been proven to work."
While changing food systems on a global scale can be daunting, Mooney offered some ways for Kingstonians to influence change in the food system right here at home.
"As much as they're financially able to, they should be supporting local farm production. Whether it's organic or not, to be local is the most important thing," he said. "More importantly, they can join something. They can be members of the National Farmers Union, they can join consumers cooperatives, they can purchase CSA (community supported agriculture) food from local farmers, if they can afford that."
Mooney also emphasized avoiding highly processed foods and supporting efforts to get nutritious foods to kids in school.
For more information about the organizations involved in the event, as well as local CSA producers, visit the links below: