CarOne customers may be eligible for financial compensation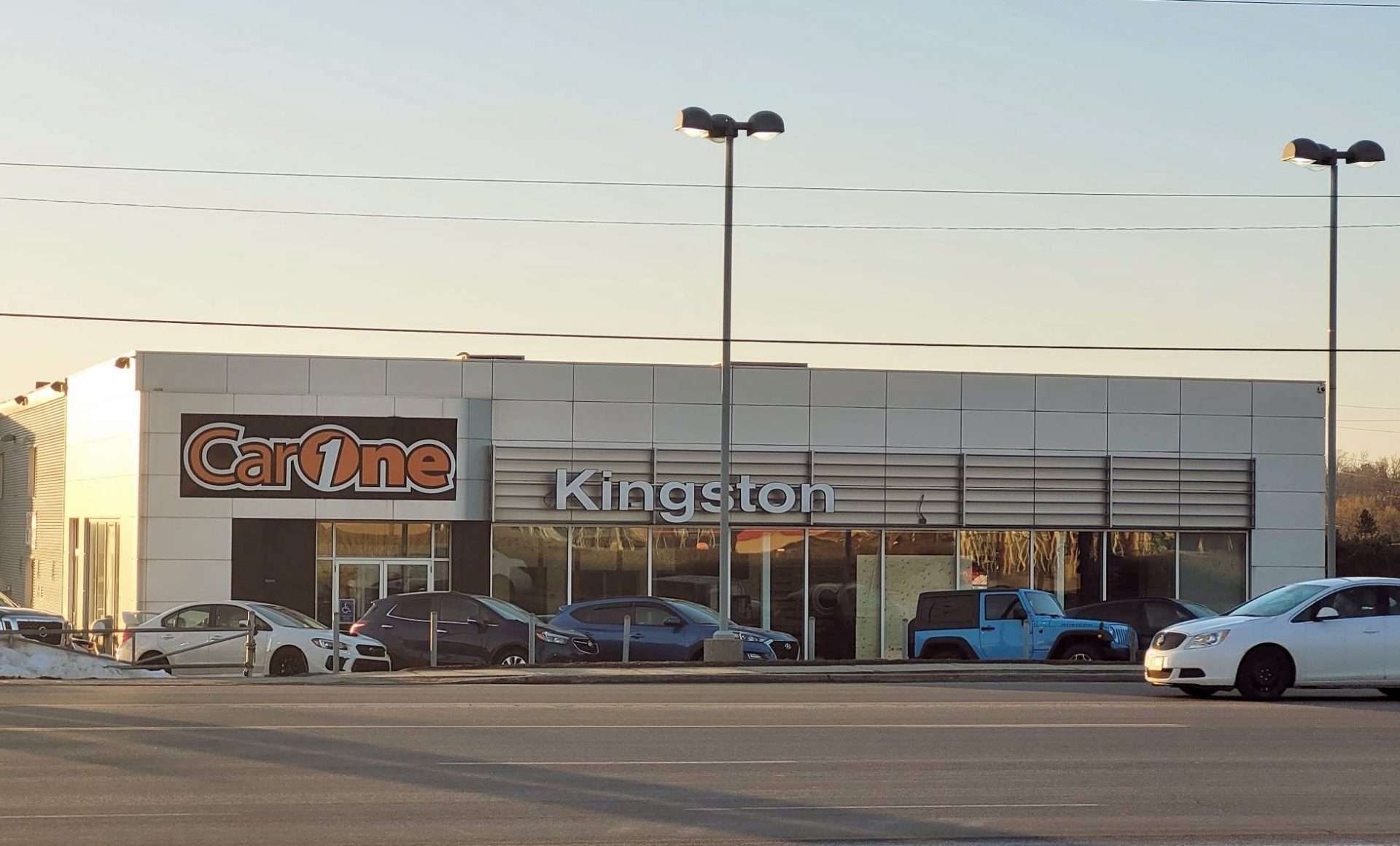 Editorial note: This article has been updated with further information (as of Monday, Mar. 6, 2023) in response to questions submitted by readers, which Kingstonist took back to the Ontario Motor Vehicle Industry Council (OMVIC) for answers.
Consumers impacted by the recent closures of CarOne locations in Kingston and Belleville may be eligible for financial compensation under the Motor Vehicle Dealer's Act.
As previously reported by Kingstonist, CarOne recently closed both of its locations in Kingston and Belleville after declaring bankruptcy, with numerous customers now looking to reclaim their losses. The Ontario Motor Vehicle Industry Council (OMVIC) is now stepping forward to compensate customers who may have faced losses related to warranty issues, deposits on undelivered vehicles, and lien non-payouts. Eligible consumers can apply to OMVIC for financial compensation up to $45,000, as part of the regulator's Motor Vehicle Dealer's Compensation Fund (MVDCF).
"As the regulator of motor vehicle dealers and salespersons in Ontario, OMVIC exists to protect the public interest and consumers. The MVDCF is a consumer protection program [which] reimburses eligible consumers who have suffered a proven financial or out-of-pocket loss related to a vehicle purchase, lease, or consignment transaction," said Maureen Harquail, CEO and Registrar with OMVIC, in an interview with Kingstonist.
"The fund helps maintain a safe marketplace for consumers by offering added financial security when buying a car from a registered dealer."
To be eligible for a claim, customers must have suffered "a loss as a result of a transaction involving the purchase or lease of a motor vehicle from an OMVIC-registered dealer," which includes CarOne. Eligible losses include when a dealer has failed to provide payment for an extended warranty, gone bankrupt, or failed to properly satisfy a court ruling. In the case of CarOne, Harquial noted the main complaint from customers stems from issues related to the dealership's in-house warranties.
"Now that CarOne has closed, consumer warranties are void, as they have nowhere to have the repairs completed. Other issues include not being refunded the warranty premium paid by the consumer, failure to return deposits on undelivered vehicles, and lien non-payouts from consumers," she explained. Both dealership and third-party warranties are eligible for compensation. In terms of third-party warranties, Harquail recommended that consumers "follow up with the third-party warranty provider to determine if the dealer submitted payment for the warranty."
To receive compensation, customer claims must be submitted within two years of CarOne entering into receivership. All transactions must have occurred within Ontario. "CarOne consumers can contact OMVIC at 1-800-943-6002 or email [email protected] to see if they are eligible to receive financial assistance from the Compensation Fund," Harquail said.
At this point in time, applications need to be mailed to OMVIC, however, the regulator is working on an online application system, which it hopes to launch in the near future.
"The application process will be moved online to automate manual tasks, like following up with consumers for additional documents. These efficiencies will reduce service barriers and simplify claim submission requirements by offering step-by-step instructions," noted the CEO.
"OMVIC will assist consumers with the Compensation Fund application to ensure the process is as smooth as possible. Claims are reviewed by an independent Board of Trustees, who determine whether a claim is eligible for compensation or not. Consumers must send the dealer written notice of complaint at the time they are completing their application to the Compensation Fund."
Despite the fact the dealership is currently closed, customers must still send a written notice via registered mail or courier "to the last known address of the dealership." This is a requirement under provincial legislation.
After CarOne shut its doors rather unexpectedly, there were also reports of customers having their personal property withheld by the dealership. Customers were initially told to contact Raymond Chabot Inc. to retrieve personal property, such as tires being stored at the dealership. According to Harquail, the dealership's receiver has been working with customers to resolve the issues.
In terms of how many consumers have been impacted by CarOne's closure, Harquail was unable to provide an exact number, but she did say it could be "significant." As for how much money OMVIC has at its disposal, the CEO noted there is no set amount earmarked for specific dealerships, however, the Compensation Fund is currently at a "healthy" amount.
"Legislation allows OMVIC to go back to dealers if the Compensation Fund is anticipated to go below $3 million or falls below that threshold. It should be noted that this [has] never happened before in OMVIC's 25-year history," added Harquail. In 2022, the regulator provided Ontario consumers with $413,000 in compensation through the fund, which represented a total of 22 claims.
For customers looking to avoid similar financial issues in the future, Harquail provided some helpful tips.
"Always remember that if you're looking for an OMVIC-registered dealer, keep an eye out for the blue and yellow decal on dealership doors and windows, ask to see their registration, or use the find a dealer/salesperson search on OMVIC.ca," she said.
"As there is no cooling-off period in Ontario, consumers are encouraged to reach out to OMVIC when looking to purchase a vehicle to help better understand their rights during the car-buying process. It is essential to get any agreements in writing on a contract or bill of sale, as it becomes a binding document once signed."
It should also be noted that MVDCF compensation does not apply to private sales with unregistered sellers.
If customers have any questions or concerns about the car buying process, they are encouraged to take advantage of OMVIC's free online recourses and guides. Questions can also be directed to OMVIC's consumer support team, Harquail said.