Bun-Bun comes home: Kingston girl and lifelong pal reunited thanks to community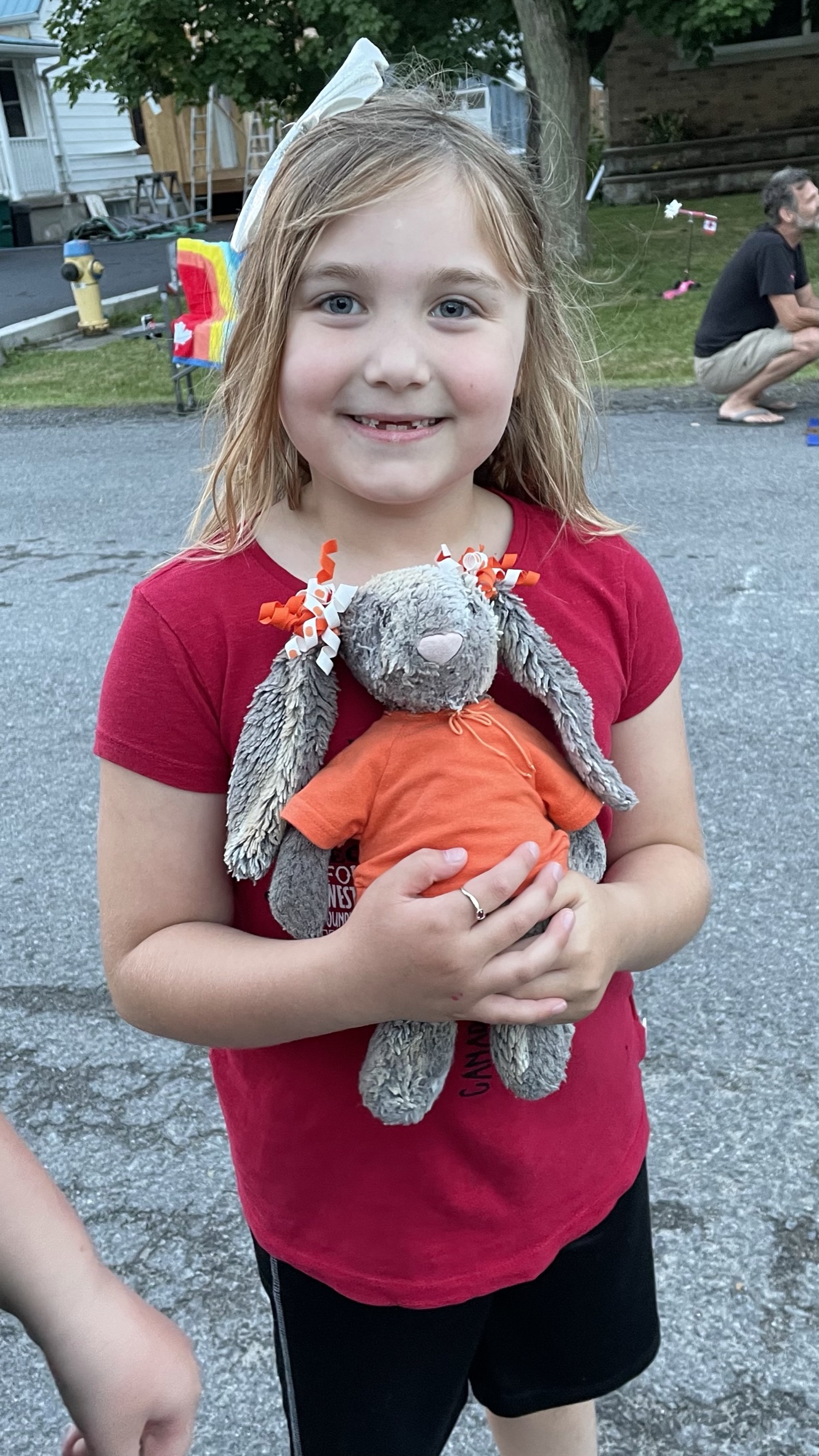 Samantha and Kori Francis were filled with excitement when they found out they were expecting their second child, a girl, in January of 2014.
When called with the good news, Kori's mother, Tracey Francis, was shopping at Chapters in its former location in Kingston's west end. She saw the Jellycat toys and decided that a 'Woodland Bunny' was what her future granddaughter needed to have.
"'Bun-Bun,' as we would later come to call her, became a part of our family before Zoë's arrival," said Samantha.
When Zoë was born, she had to stay in the neonatal intensive care unit (NICU). Three and a half weeks later, she was on an apnea monitor. The device was a band with a maze of leads and cords that went around baby Zoë's chest and under her arms. It was attached to a monitor that, if baby Zoë stopped breathing in her sleep, "would wake the dead it was so loud," Samantha shared, noting the whole situation was very traumatic for the family.
Bun-Bun was the constant friend who lived in Zoë's crib during that time.
"She was always there looking out for Zoë. As Zoë got older, she loved waking up and hugging her little friend each day," said Samantha.
When Zoë was about three years old, she insisted that Bun-Bun join her on outings.
"It started with pushing her lovingly through the field in a baby stroller behind our house, then in time, bringing her to the park on her bike in the seat. She even made sure that Bun-Bun was safe with her own helmet. These two were inseparable," Samantha added.
Bun-Bun even accompanied Zoë on a trip through the Eastern Caribbean by plane and cruise just before Zoë started Junior Kindergarten in 2018. Her most recent adventure was to her Aunt Samantha and Uncle Aaron's wedding this past March. Samantha would find herself reminding Zoë to hold onto Bun-Bun, so she didn't get lost, and even to this day, Zoë still carries Bun-Bun with her when she can. That is, until Bun-Bun suddenly went missing.
The family realized that Bun-Bun was missing on Tuesday, Jan. 11, 2022, when Zoë was heading to bed. She always looks for Bun-Bun at bedtime, Samantha said.
"When we couldn't find her, it was a terrible night. She eventually fell asleep and woke up early in the morning, missing her friend. We continued to look high and low, and we scoured the house and left no stone unturned. After two days, I decided to post on Facebook to a few groups that I am a part of. I have seen stories of other missing things that have been returned in the past," she recalled.
Samantha thought that, if she posted on social media, hopefully, someone who'd seen Bun-Bun would see the post and know who to contact — the mother could see her upset child was feeling worse as time passed. Due to the pandemic, Zoë, like many children, has been upset many times, Samantha relayed, on occasions such as not having a birthday party or being confused about wearing masks.
"I can't bring back or change those situations, but I can find that bunny, and I am going to!" Samantha recalled saying to herself at the time.
When Samantha finally posted on social media that Bun-Bun was missing, hundreds of people offered to help, offering suggestions or advice, and sympathizing with her daughter's feelings. Some people even offered up their little friends or offered to search online and find a replacement Bun-Bun for Zoë.
A replacement seemed impossible, as Jellycat stopped producing the toy in recent years, Samantha learned. And, as days turned into weeks without her daughter's beloved friend, locating the fluffy stuffed bunny was beginning to seem impossible, as well.
Then, after much searching, by the family, and community, Bun-Bun was found late in the evening of Tuesday, Jan. 25, 2022, downtown, in the snow, on Ontario Street, right near Kori's workplace. Someone picked it up and placed it on a fire hydrant to be more visible to people passing by. And as fate would have it, Elyse Lindsey, who had seen the social media posts pleading for Bun-Bun's return, just happened to be walking right by there with her dog. She took some photos, and contacted Samantha when she returned home.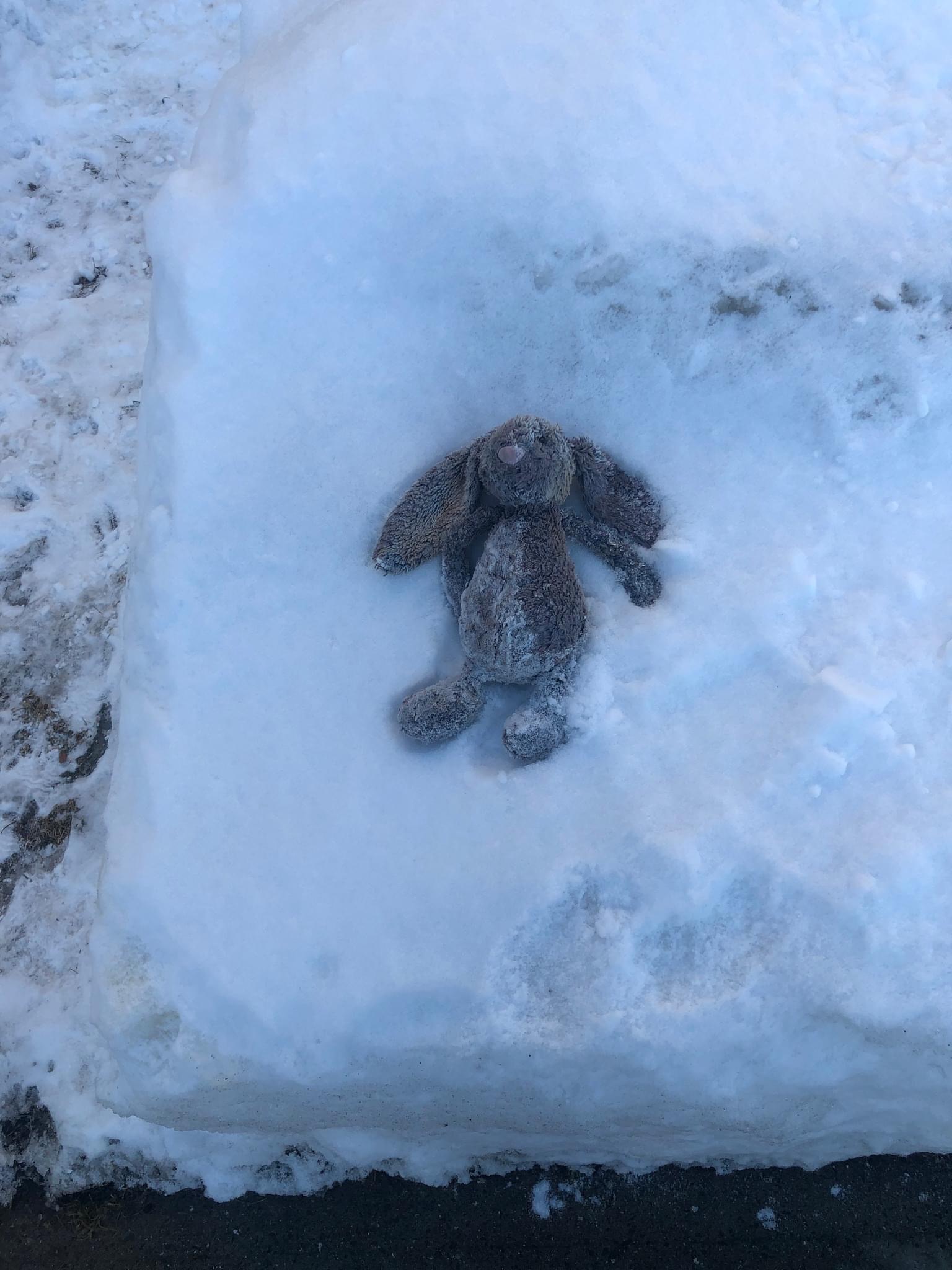 "When she got home, she contacted me [on social media] and sent me pictures and let me know that she went back to get the bunny and that it was safe with her until I could retrieve it. I discovered her post when I was helping to get my children to bed," Samantha explained. "It made for an extremely chaotic time for my husband because, right after I contacted the individual, I ran out the door with my 11-year-old son, who insisted on coming, leaving him to try to get Zoë in bed."
With the excitement of the pending reunion with her cherished friend, Zoë was still wide awake when Samantha returned with Bun-Bun. She met her mother at the stairs before running to her with a glowing smile, and tears of joy. As she took Bun-Bun in her arms and hugged her tight, Zoë was a very happy little girl again, Samantha conveyed — her best friend was safe and had returned home to her.
Samantha expressed her gratitude, both in an interview and on social media, noting how, once again, the Kingston community had shown its willingness to come together — albeit virtually — to help one another.