B's Bike Bites: An innovative business model with a bit of nostalgia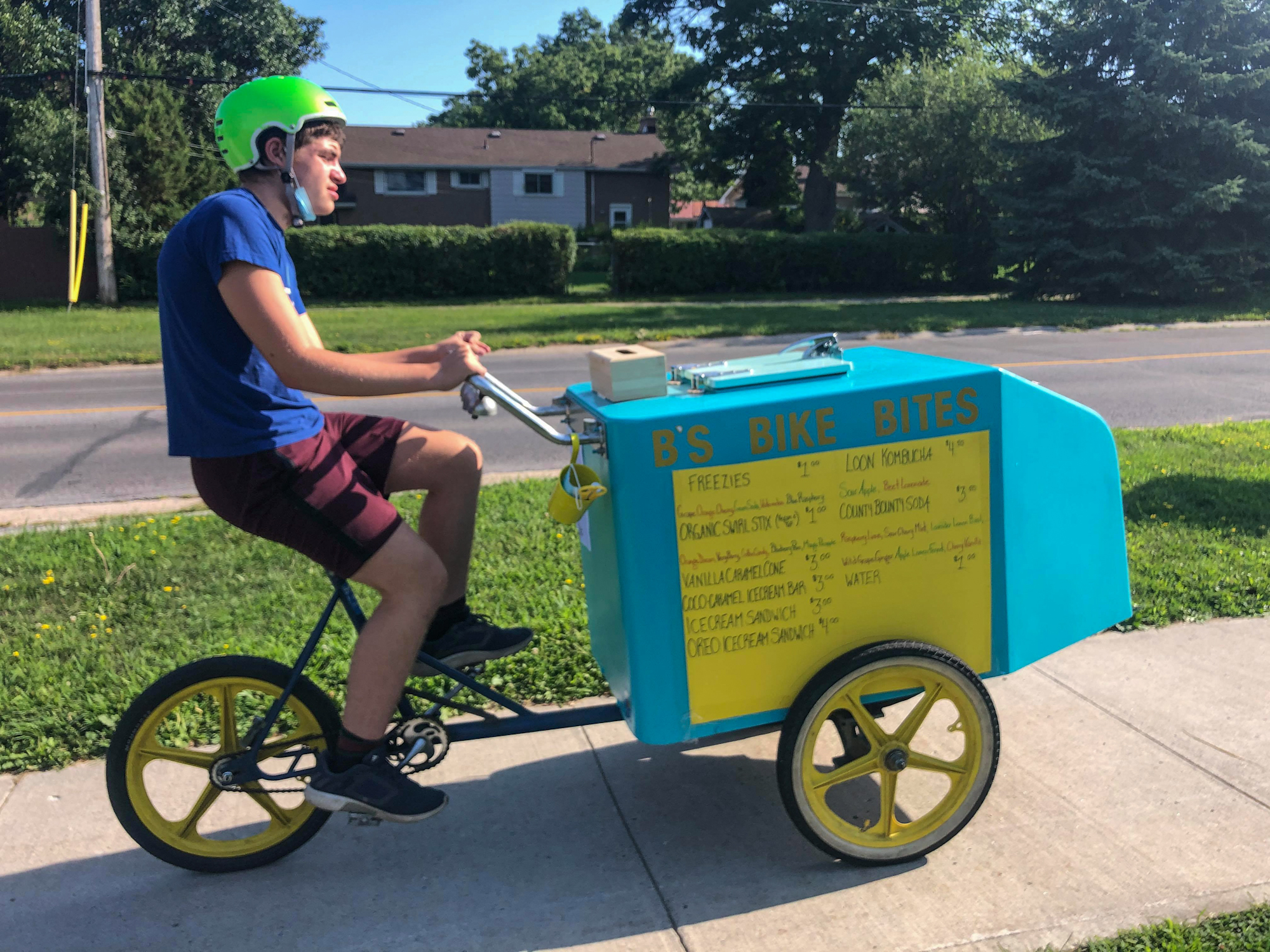 There are times when it seems things happen for a reason – that all the factors in a project somehow come together perfectly at exactly the right time.
B's Bike Bites, a new mobile ice cream and beverage business here in Kingston, is one of those projects – but not for lack of hard work. B, or Bailey, a 17-year-old non-verbal autistic Kingstonian, developed the dream for the business with his parents, Amber Potter and Aaron Visser. The initial goal was for Bailey to start earning his own money with a job that combined some of his passions with something most people in Kingston haven't seen for years: a mobile ice cream cart, which most Ontarians refer to as a Dickie Dee.
Bailey's two older siblings have each had summer or full-time jobs for the past few years, Potter explained.
"Bailey really sort of looks up to them, and we try to offer Bailey as much normalcy as anything else. I think the big thing for him is that a lot of people discredit him because he's non-verbal, and with certain limitations," she expressed.
So, she and Visser set out to find something that would allow Bailey to actively participate in earning his own money, while also allowing him to be himself, enjoy himself, and "essentially just be a regular teenager," Potter said. As the couple thought about it, Potter happened to see a used Dickie Dee ice cream cart on a local online buy-and-sell page. She immediately reached out to the seller, but received no response. That's when the kismet of the whole project began to take effect.
The couple recalled that a friend of theirs had an old Dickie Dee cart stored in his garage. They reached out to the friend, who kindly agreed to loan the cart to the Bailey and his family, at least for the season. This would allow Bailey to hopefully raise enough money to buy a cart of his own, Potter explained.
Connecting with their friend came with another set of benefits: having been a vendor in Kingston a few summers ago, he was able to give the family pointers on how to set up and file paperwork to become a vendor in the city.
Beyond that, Potter herself has years of restaurant management experience, so she set to work helping Bailey to get his Master Business License and insurance, filling out the paperwork to get the required permits, and lining up the necessary Public Health inspections.
"We wanted to make sure everything was legit and above board," Potter said. "We just knew that, for Bailey, especially, with the autism, if we were going to start this, we didn't want any interruptions – We didn't want him to be disappointed."
Both Potter and Visser said working with the City to get everything set up was a great experience, and one that moved very quickly. Two weeks after Visser biked the cart across Kingston to their home, B's Bike Bites was ready for business.
Another piece of the puzzle that seemed to fit perfectly was the fact that Potter has connections with a lot of vendors from her days working in restaurants. In an effort to support local businesses, she put out some calls to get the cart stocked. Among the local offerings are Loon Kombucha and County Bounty Soda.
"We're actually trying to include more and more local vendors, that's going to be sort of a project for us, to try to help more and more local businesses, because I think the whole idea is a community-based project," Potter said. "The support and everything that he's got from the community has just been astounding and overwhelming!"
Just a few weeks into his project, Bailey is drawing the attention and excitement of children and adults alike. Either Potter or Visser accompany Bailey on his daily routes (weather permitting), which they post on B's Bike Bite's Facebook page to let customers know when they'll be in the area. As Potter said, the response and support from the community has been great thus far, and there's an interesting juxtaposition within the positive reactions the business receives from those of different generations.
"I would say that it's very interesting because kids are completely immune to the bells. They have no idea what a Dickie Dee is. They're just like 'That kid has a funny bike,' essentially," Visser said with a laugh. "But the adults! No matter where they are, if there is a window that's cracked open, or they're mowing their lawn, or they're in the backyard, they hear the bells, it's like they just pour out of their houses!"
He said parents often go to get their children to show them the cart and explain how the whole thing works. Then, Visser said, the kids are immediately hooked.
"It's very wholesome, and every interaction is positive… What kid doesn't like ice cream coming to their house?" he said.
"It's like raising new generation of the Dickie Dee-appreciative crowd!" Potter agreed.
The benefits for B
The concept for B's Bike Bites is an extension of a program Bailey has been a part of through his School to Community class at Frontenac Secondary School. There, he is part of the Coffee Club, where teachers order their beverages and treats in advance, and Bailey delivers the items on a cart at designated times. This has helped prepare Bailey for his new summer job, Potter said, pointing to the benefits B's Bike Bites has already had on her son.
"He is just nothing but smiles, this has been the highlight of his summer," she said. "Two things that Bailey has gotten from this: He is meeting new people, which helps to increase his social skills, which is part of one of his challenges having autism. He really loves to meet new people, but he can be a little shy sometimes. The program [at Frontenac] and this experience have helped bring him out of his shell."
The other benefit of the business is the food service aspect, similar to what he's learned through the program at school – life skills that can help him gain employment and experiences throughout his life.
But above all else, the biggest benefit (besides the physical activity Bailey and his family are getting daily) is Bailey's true enjoyment of bike riding and being outside, two of his absolute favourite things, Potter expressed.
"It's been really organic and really natural for him, and he absolutely loves it," she said.
"He's just so natural at it," Visser agreed. "It's one of those bikes where you have to pedal backwards to brake, which is not at all most bikes nowadays, so it took him a while to get used to. And the thing is a beast! Like, it's incredibly heavy, it's difficult for an adult to drive it. But he's just got a real good knack for it."
And they know Bailey must enjoy it if he'll spend five hours biking around – Bailey's autism means he has a tendency to stop doing things he doesn't want to do, and that hasn't happened at all since the family launched B's Bike Bites, they expressed.
For now, Potter and Visser say the best way to connect with B's Bike Bites is through the Facebook page. There, they hope to post a new, more routine schedule that will allow customers to know when they'll be in the area in the near future. But that's not the only plan.
Breaking down the areas while breaking down the barriers
On top of Bailey and his family participating in the Great Cycle Challenge Canada to raise funds to fight childhood cancer (and donating profits from B's Bite Bike sales to the cause, as well), the family has a more long-term goal for the cycling ice cream cart business – all of this aimed to better the future for others.
"The community response has been amazing, and we've actually had a couple of people reach out to us about the concept. Our long-term goal was that Bailey actually turn this into a proper business where hopefully he can hire some other people with different exceptionalities, or other people that might be overlooked by the system. Our hope is that we get a fleet of bicycles for Kingston, so we can break the areas down [between the cyclists], and to offer job opportunity," said Potter. "So our hope is, by next summer, to have at least one or two more young people on bicycles, so then we can spread this out and spread the bounty and enjoyment – and give other people an opportunity, too. I just think it's worked brilliantly for Bailey."
To stay up to date on B's Bike Bites offerings and routes, follow their Facebook page here.