Bring home a bouquet of colour from Ontario's longest blooming sunflower farm
*Paid Business Feature*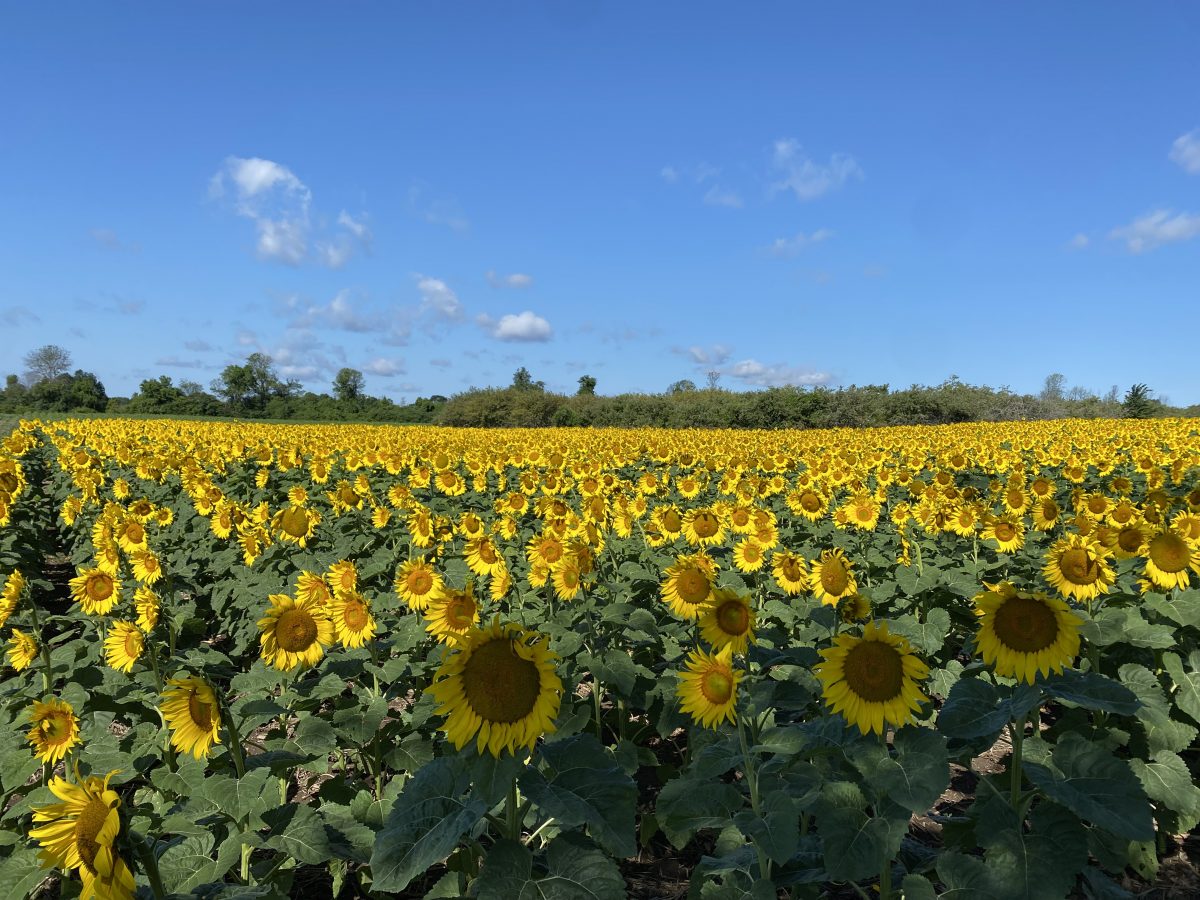 For 30 years, families have visited Wynn Farms for their apple orchard, corn maze and pumpkins, and now Jim and Sarah Wynn, along with their three young children, are ready to welcome you to their new Sunflower Fields and Flower Farm, bursting with dazzling summer colour.
Just west of Kingston, the Sunflower Fields and Flower Farm is now open seven days a week, and the cutting gardens and yellow fields of sunflowers are a destination for flower lovers across the province.
With an abundance of blooms and an ice cream stand, families can spend an afternoon walking the paths in the sunflowers, taking pictures at their photo stations, and picking sunflowers to take home. Bring a picnic and enjoy some freshly scooped ice cream to top off the day!
According to Sarah, her love of flowers and the Wynn's love of uniting farming and fun inspired them to create these new flower features. "We love watching people enjoying the farm, and spending time with loved ones, and wanted to add something in during the summer months. We also have incredible staff and wanted to bridge the gap between pruning season and fall harvest," she shared. "A summer addition allows us to keep some of our staff on most of the year."
"I'm a strong believer that fresh air, sunshine, and time with friends and family is vital for mental health," Sarah continued. "The farm allows people to rejuvenate and connect with others. There is something about human connection that is important for the soul — I think we all learned that during a pandemic. Jim and I love connecting with people at the farm and getting to know our guests."
Throughout the summer, the farm will be hosting special events, including a Teddy Bear Picnic, Girls Nights, Date Nights, and Floral Crown Making.
"Date Night and Girls Night will be hosted regularly," Sarah shared. "The evening includes a sunflower field walk, pick-your-own bouquet in the garden, and charcuterie board in a box with sparkling lemonade, which can be enjoyed at the waterfront."
Wynn Farms Sunflower Fields and Flower Farm is located at 9592 Highway 33 in Greater Napanee — just minutes past the orchard. You can visit the flowers during the following hours:
Monday — 10 a.m. to 8 p.m.
Tuesday – 10 a.m. to 7 p.m.
Wednesday & Thursday – 10 a.m. to 8 p.m.
Friday & Saturday – 10 a.m. to 9 p.m.
Sunday – 10 a.m. to 7 p.m.
Don't let the signage confuse you – while the orchard and corn maze isn't yet open for the season, the flower fields are.
Learn more and see a full schedule of events on the Wynn Farms website. Watch for news and updates on their Facebook and Instagram pages.
This article is sponsored by Wynn Farms Flower Fields. Interested in a Business Feature on Kingstonist? Contact [email protected]